Before we get started with this weeks reviews, I just wanted to note that because of the Thanksgiving holiday next week I will be on vacation and so there will not be any new comic book reviews for next week. I will try and catch up the week after. There maybe some post next week but dependent on time. Have a great and safe holiday!
Evolution #1
Image Comics Writers James Asmus, Joseph Keatinge, Christopher Sebela, Joshua Williamson, Artist Joe Infurnari, Colorist Jordan Boyd, Letterer Pat Brosseau
In today's comic market it's really hard to be surprised by a comic but I have to say that Evolution was a very pleasant surprise. Getting a horror comic right is a big challenge and the key to its success is the set up and Asmus, Keatinge, Sebela and Williamson do that spot on here. They make sure to not only set up the story but to make well-rounded characters with this first outing which is hard in a first issue. One of the reasons the story works so well is that it gets the tone of the story perfect and slowly build an unnerving feeling that pays off as the issue goes along. Considering that there are four writers on the book the story flows very well and works as one voice that is a problem for most books with multiple writers. It's one thing to have a good story but for a comic to work well it needs and artist that can bring the script to life and fortunately Infurnari is the perfect choice here. His art is able to ebb and flow with the story. What I love the most about his artwork on the book is the facial expressions on the characters that makes this book work so well. He also doesn't visually overplay the story elements and while there is a good amount of blood and gore he doesn't dwell upon it or overplay it that makes the book that much more creepy. Another thing that works in the books favor is the color work by Boyd that does a very nice job of complementing Infurnari's line work and adds a layer of mood that gives the book a wonderful reading experience. This is a really great looking comic book.
Is this book worth your time and money? I really liked this first issue and it's off to a great start with a solid story and gorgeous artwork that delivers a comic that gets under your skin and leaves you wanting more. It's paced exceptionally well for a first issue and the creative team gives you a great reason to come back for more. VERY RECOMMEND!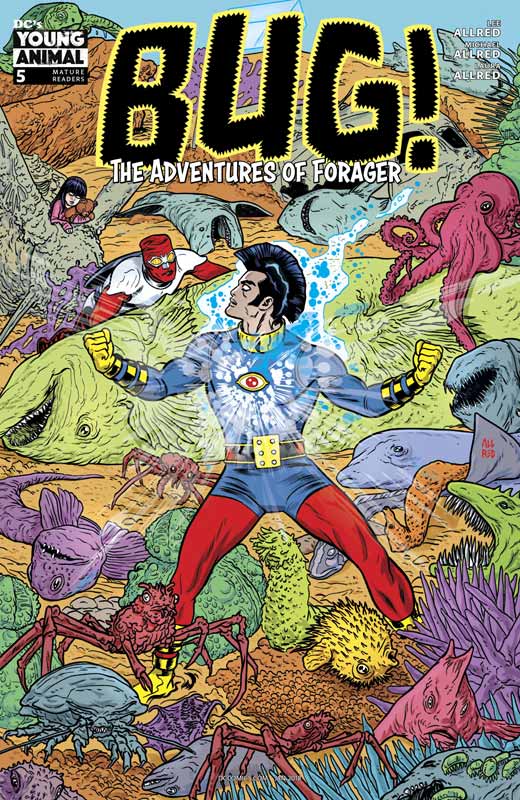 Bug! The Adventures of Forager #5
DC's Young Animal Writers Lee Allred and Michael Allred, Colorist Laura Allred, Letterer Nate Piekos
Sometimes when a comic book runs late you tend to forget about it but in the case of BUG! you glad that your old friend is back and you find out that your really missed them. The book has been a very wild journey so far but I think that this might be my favorite issue to date and I have loved every issue so far and so that's saying a lot. One of the joys of the book has been that each issue is pretty self-contained but there is an overall story arc that has been a great ride for this book. The one thing that has been the real treat of this book is that both Lee and Michael's love of Kirby and yet the book is all their own. It's one thing to do an homage to someone but for it to truly work you must make it your own and team Allred has done that so well here. This issue brings us another great Kirby character Omac the One Man Army and not only that but a bunch of Kirby inspired monsters that is simply icing on the cake with this issue. You could say that the book gets pretty weird but that is not only what makes it charming but also heartwarming because they always make sure that the characters steer to the truth and heart and that is where the book shines. As always Laura brings her gorgeous color work to this book and always makes this book pop is such a lush and wonderful way that show how color can and should be done.
Is this book worth your time and money? I have been praising this book from day one and its rare for a book to just get better and better each issue but team Allred always seems to find a way to make the journey a fun time. It's a book that Kirby himself would have loved as much as the regular reader would. It doesn't get better than this. HIGHEST RECOMMENDATION!
Brilliant Trash #1
Aftershock Comics Writer Tom Seeley, Artist Priscilla Petraites, Colorist Marco Lesko, Letterer Marshall Dillon
I've been a big fan of Aftershock comics and while there are some good ideas here the book just doesn't come together well in the end. Seeley script tends to jump a round a bit and lacks the focus that I would have liked to normally seen. I think the biggest problem with the story is that there really isn't any of the characters that you care about. The character development is not the best and with the story being scattered it doesn't help things either. By the time you get to the end of the issue and there is the revel you pretty much don't care at that point and it ends up being super cliché. Petraites artwork on the book is a bit of a mixed bag. There are times where it's good but there are some panels that seemed rushed and poor perspective. I will give her that it's not bad but just needed a bit more polish.
Is this book worth your time and money? The book has some pretty big story problems that you just cant forgive. It wasn't a terrible read but after I read it I simply didn't care and it was pretty forgettable. The artwork was a bit uneven and that didn't help the book either. Sadly this book is a rare miss from Aftershock and is not worth it. SKIP IT!
Mage The Hero Denied #4
Image Comics Writer and Artist Matt Wagner, Colorist Brennan Wagner, Letterer Dave Lanphear
Wagner has teased the coming battle for Kevin Matchstick and this issue goes full throttle into the action. Wagner hits the ground running with this issue and while it does breeze along quickly it however very satisfying read. We also get to see that Kevin is really struggling with being a hero in this final chapter. The addition of him having a family in this story arc has really changed the dynamic of the story and gives it a more personal and deeper feel than the previous two arcs. The other thing that is Kevin is beaten down by the turn of events and with no back up he is broken and alone that gives the story a greater depth than I had anticipated. Visually this issue was a real tour de force with one of the most amazing battles yet and rivals some of the previous one pretty well. Let's just say that there are some really messed up things in the visuals but that is where the book shines is that Wagner is a master illustrator and knows how to hit all of the right beats. Brennan does a great job with the colors on this issue and creates a wonderful tone with the color palate.
Is this book worth your time and money? This issue was a real nail biter and sets things up very well going forward. Wagner has continued to surprise me with the scope and tone of this final chapter and he is building a story that had made the wait for this all that much sweeter. VERY RECOMMEND!
Batman #35 (#800)
DC Comics Writer Tom King, Artist Joelle Jones, Colorist Jordie Bellaire, Letterer Clayton Cowles
The final chapter of The Rules of Engagement is one that I didn't quite expect but it was very satisfying in a way that I never saw coming. I love that King is taking a very different approach to this mini stories and it allows them to continue the overall plot threads of the book but allows new and old readers to enjoy smaller bite size stories without a huge commitment. While there is the "final battle" in the story, but that ends up not what the real story is about. The one thing that really surprised me about this story is that there was a lot of humor that works well in the stories favor. The best part is the way that King ended the story with grace and heart that you never see coming but that made it work that much better. It also goes deeper in to Bruce's soul and shows a very different side of him that is hard to pull off but King handles it perfectly. I can't imagine a better artist for this story than Jones who brings a wealth of emotions to the artwork and captures the delicate balance of King's script. It's very hard to visualize drama in comics and few do it well and Jones is one of those who seems to do it with such effortless ease that is one reason this story works so well. I must not forget Bellaire's gorgeous color work on this story arc that pulls it all together. There are so few great colorist in comics today and Bellaire is one of the best. She complements Jones's line work but never overpowers or lets the color take over. This is what great color work is and should be.
Is this book worth your time and money? I have been waiting for the hardcovers with King's run on Batman but I was glad I picked this story arc up because it was really that good. I'm a big fan of Jones's artwork and glad she got to play with a character that hopefully will get new followers to her other great work. This was a very good read and well worth getting. RECOMMENDED!
Maestros #2
Image Comics Writer and Artist Steve Skroce, Colorist Dave Stewart, Letterer Fonografiks
I loved the first issue of this book and so I was excited to see where Skroce was going to take the story. The very good news is that he had built upon the first issue very nicely here and adds a lot of new layers to the story that he can continue to build upon. This second issue is pretty dialogue heavy but Skroce gives it a great flow and none is wasted here. There is a great flow to the story and while we learn more about the princes past that adds to the present there are many other threads that he is weaving into the story. Humor is a strong element and one that Skroce uses well but he is very careful to no over use it so it doesn't lose its effectiveness. The only very minor complaint is the ending of this issue was a bit too cliché but I imagine that Skroce has something up his sleeves on that one. The one thing that there is absolutely no complaints is his simply stunning artwork on the book. The level of detail that he puts into the book is simply breathtaking. Where this really pays off is the characters facial expressions that capture every little nuance and brings this amazing story to life. Skroce is lucky to have Stewart as his colorist because he adds great layers to his line work and shows why he is one of the best in the business.
Is this book worth your time and money? I really loved the first issue of this book but this second issue really blew me away because he really moved the story forward quite well and there is a lot going on here but he makes sure not to overwhelm you and lets it unfold very naturally. This is one of those comics that sucks you in and takes on a very wild ride that is exceptionally satisfying and a must read. HIGHLY RECOMMENDED!
Future Quest Presents #4
DC Comics Writer Jeff Parker, Artist Ron Randall, Colorist Veronica Gandini, Letterer Dave Lanphear
I was a huge fan of Parkers Future Quest series and glad that this spinoff book is hitting a very nice sweet spot. This issue is his take on the origin of the Galaxy Trio that fits it very well into the Future Quest mythology. The one thing that I has impressed me with the Future Quest books is that Parker keeps it simple like the original Hanna-Barbera animated series but builds a much deeper story to the characters. One of the reasons that these stories work so well is that he gives you a reason to care about the characters and while we have always likes them in the animated series we learn to really care about them here. He also wisely doesn't reinvent the wheel here and doesn't change what made them great in the first place. Parker keeps these stories in the all ages sweet spot but this is not to say that this is a kids book. It's far from it but is can be enjoyed by both young and old and that is what makes it both charming and good. It's nice to see Randall back on the book because he did a number of fill-ins on the first series and he does a great job of capturing the spirit of the animated series but gives it a bit more comic bookish look that has worked well for the book from day one. His style is both simple and yet detailed at the same time and makes for a nice visual look that the book is known for.
Is this book worth your time and money? So far the DC Comics reimagined Hanna-Barbera comics have been great and I'm glad to see that Parker is still telling great stories with the superhero universe. There is a lot of great characters to mine from the vaults and I love these done in one stories that are satisfying to both old and new readers. The book is a blast and each issue continues to be a treasure. RECOMMENDED!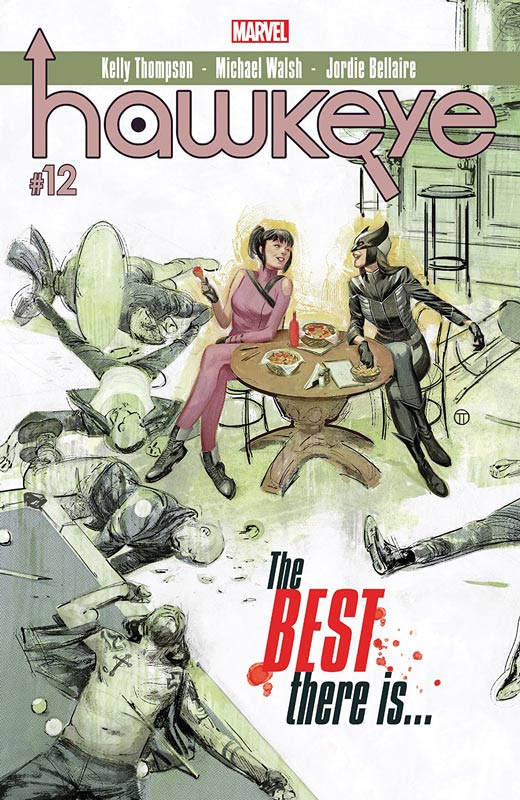 Hawkeye #12
Marvel Comics Writer Kelley Thompson, Artist Michael Walsh, Colorist Jordie Bellaire, Letterer Joe Sabino
One of the few bright spots at Marvel lately has been Hawkeye and while this issue is not a big Legacy title, it is in fact a great jumping on point to this great series. Thompson continues to deliver great stories that mixes both fun and super-heroics perfectly into a comic that is as exciting as it is fun. This issue is a great stand alone story that gives you all of the flavor of the book so far and gives you a great reason to see why this book is so good. While there have been some complaints about Marvel and the whole diversity issue, I find this book to be simply good and that has to do with Thompson being a talented writer first and foremost. The reason that the book works so well is because of her snappy writing and giving the book a heart and soul that is missing from a lot of superhero comics today. She shows that, yes you can do it all here and that is why the book is working so well with simply telling good and compelling stories. The other reason that the book works is because of Walsh's wonderful artwork on the book. His style has a nice roughness to it that gives the book a unique and great look. His simple and yet very detailed style fits Thompson's script like a glove and is a perfect marriage of story and artwork. I loved his drawing of the real Wolverine that was both vicious and adorable at the same time.
Is this book worth your time and money? This book just keeps getting better and better and with the reveal at the end of this issue, it's going to be really interesting to see where they take it. Thompson and Walsh simply deliver a wonderful comic each and every month that hits the sweet spot every time. If you're not reading this book than shame on you because your missing something special. RECOMMENDED!