After the past few crushing weeks of new number one titles this week was a bit smaller. So we have two new ones and two returning titles to the list. So lets get on with it.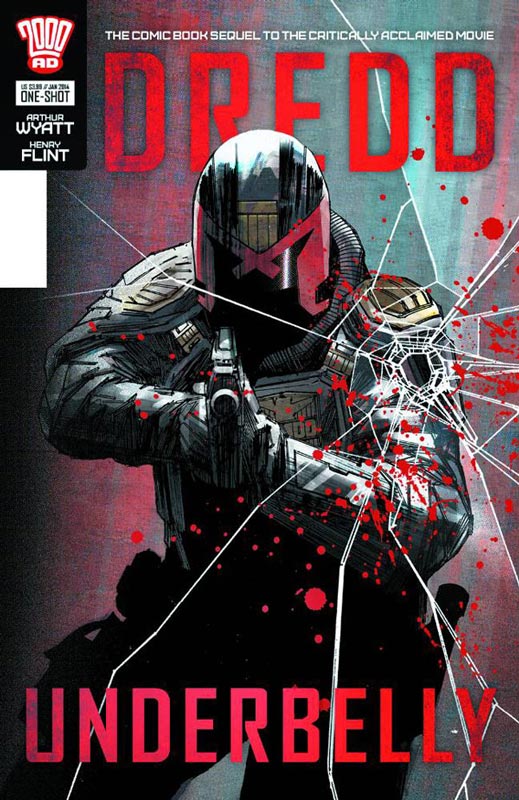 DREDD: UNDERBELLY (One-Shot)
2000 AD Comics Writer Arthur Wyatt, Artist Henry Flint, Colorist Chris Blythe, Letterer Ellie De Ville
Billed as the sequel to the underrated Dredd film from last year. The plot synopsis from 2000 AD is, The one-shot comic book sequel to the critically acclaimed movie. In the wake of Ma-Ma's death, other criminal gangs in Mega-City One are moving into the power vacuum, trying to fill the gap in the market left by the Slo-Mo drug. When a corpse dump is discovered in a rad-pit, the bodies are all revealed to be mutants. Could the dead be connected with an outfit smuggling illegal refugees into the city from the Cursed Earth? Judge Dredd once again teams up with Psi-Judge Anderson as they scour the underworld for the perps responsible, and bring them to justice! The Dredd film was good even with the slight flaw of a story that had been told a million times before (everyone points out The Raid: Redemtion but it goes back to John Carpenter's Assault on Precinct 13 among others). I was looking forward to this one-shot comic and after reading it I was a bit baffled. The story is kind of all over the place. At the beginning Wyatt sets up the story OK but then inserts all of these side missions that Dredd is doing that seem to have little bearing on the main story. It seems like odd filler and really does nothing for the main story. It's not a bad read it's just seemed very disjointed for no reason. Flint's art is nice and does a nice job of bringing Mega-City One to life but doesn't leap off the page but I will say that the layouts are really nice.
Is this book worth your time and money? I really can't recommend it. It's not terrible but it just didn't really bring any feel of the movie that it's supposedly a sequel to. If you had never seen the movie and read this book, I think you would walk away from it with an average Judge Dredd story. I didn't feel any sequel to it at all. Sadly very disappointing.
Miracleman #2
Marvel Comics Writer Alan Moore, Artist Garry Leach, Steve Dillion, Alan Davis & Paul Neary, Colorist Steve Oliff, Letterer Joe Carmagna, Original Marvelman by Mick Anglo and Don Lawrence
Marvel continues to reprint the original run of Miracleman with remastered art and new coloring. The synopsis for issue #2 is, KIMOTA! With one magic word, a long-forgotten legend lives again! Freelance reporter Michael Moran always knew he was meant for something more — now, a strange series of events leads him to reclaim his destiny! Mike discovers that Kid Miracle is really alive but it seems that he is not the John he once was. Relive the ground-breaking eighties adventures that captured lightning in a bottle — or experience them for the first time — in these digitally restored, fully re-lettered editions! Issue 2 includes material originally presented in WARRIOR #3, #4, & #5 and the original Marvelman #65 & #102 The nice thing about the second issue is that the interlude story "The Yesterday Gambit" from Warrior #4 is seeing print in the US for the first time. It's a very interesting story because it gives a glimpse of where Moore was going to take the story. This is also the first time that Alan Davis would draw Miracleman and later took over the art from Leach. If you have not read Miracleman before then as I had previous noted with the first issue you might want to wait for the eventual trade editions as Marvel is really milking the price on these individual issues. While there are some nice supplementary behind the scenes material and the original Mick Anglo reprints it's tough to shell out five bucks for it. The main reason to get this second issue is "The Yesterday Gambit" story. But both the story and art are definitely top-notch and Alan Moore was really at the top of his game on this book.
Is this book worth your time and money? While it's pretty pricy for these single issue comics they are still worth reading. With the new to the US story it make the cover price a little easier to swallow. The ultimate decision that you have to make is do you want to get the individual issues or wait for the collections to come out. Either way this is ground breaking storytelling that is worth your time no mater how you choose to read it. Highly Recommended!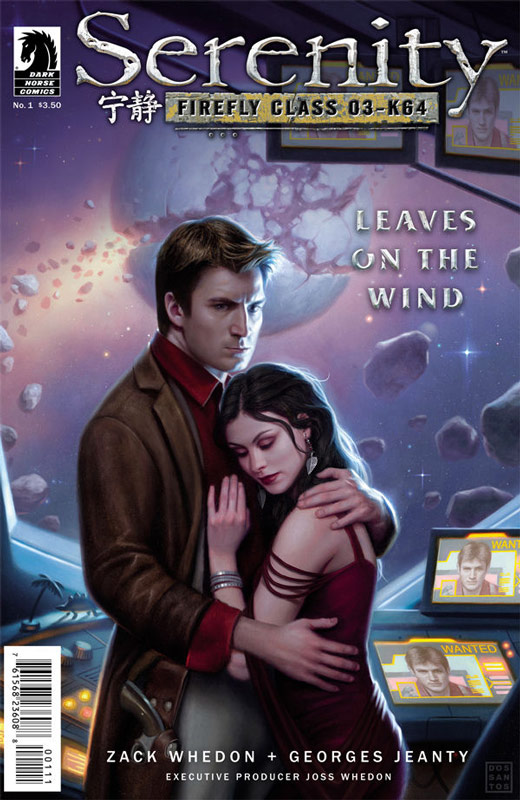 Serenity: Leaves on the Wind #1
Dark Horse Comics Writer Zack Whedon, Pencils Georges Jeanty, Inker Karl Story, Colorist Laura Martin, Letterer Michael Heisler
Ironically the same week as the Dredd sequel comic came out there is another sequel and this book shows how to do it right. The plot synopsis from Dark Horse is, Malcolm Reynolds's crew shook the 'verse to its core when they laid bare the crimes against humanity undertaken by their sinister government—the Alliance. Always outlaws, Mal, a very pregnant Zoe, new pilot River Tam, and the other surviving crew members are in greater danger than ever. Meanwhile, everyone is asking the same question. The story pick up after the events of the Serenity feature film by Joss Whedon and the repercussions of it. I have not seen the film in quite a while but the good news is that you just have to know the basic events that happened in it. Zack Whedon does a nice job of easing the reader back into the Firefly universe. Time has passed about nine months and you can see that the crew is in a very different place due to the events in the film. The thing that I really applaud Whedon is that he captures the growth and changes to the characters very naturally. We are lost along with the crew of where they are going and what are their next moves, but the events in this first issues change the game up very quickly. Jeanty and Story do a very nice job of depicting the actors from the series and the feature but bring their own style to it at the same time. Jeanty really gets the visual flow from the series and feature and make this book fit into that very well.
Is this book worth your time and money? If you are new to Serenity then before you read this book you at least need to see the film, because you will totally be lost if you don't. For the Browncoat's you are in for a real treat. It's been way to long that we have seen our Serenity family and I am glad to say that they are back with a great new story that I can not wait to see unfold. Recommended.
The Saviors #2
Image Comics Writer James Robinson, Artist J. Bone
I really fell in love with the first issue of this book and thankfully the second issue keeps its footing very well. The plot from Image is, Tomas's safe, uneventful life is no more.  He knows aliens walk among us. As a result, Tomas is now on the run for his life, desperate for answers and his own survival in a world where suddenly nothing makes sense and nowhere is safe. And…where the aliens are unbeatable. The second issue does have a bit of a transition issue to the story it's still very good. Robinson is setting up his story and this issue has a pretty good amount of exposition to it. Not that it's boring but there is a lot of set up to try to explain what the hell is going on and how Tomas is trying to cope with discovering that the town is filled with aliens that now want to kill him. Robinson has now brought Nate back to help Tomas get the hell out-of-town and help explain to Tomas what is going on. Robinson is setting up a big story here but needs to tell us more without revealing too much. So while the pace is a little slower this issue you know that there is much more to come. Bone delivers another great issue that really captures Thomas's near breakdown of the events with such great visual storytelling that with a lesser artist would have never pulled off. The thing that I love about Bone's art is the fact that he does everything so well. From the big things like the explosion but is able to capture the very small and subtle moments with such ease.
Is this book worth your time and money? This issue there is a lot going on but it's for sure a transition issue to give you more of the story but is very much setting up a much bigger picture. While on the surface it may not seem like there is a lot going on but, there really is. Solid story with really great art makes this book a real winner for me. I am really excited to see where Robinson and Bone are going to take us on this very wild ride. Very Recommended!