E3 2015 has come and gone there is still a lot to cover about the show. While everyone has covered the show I hope to give some alternative things that a lot of other sites don't cover about the show. One of my favorite exhibits is the Videogame History Museum that brings classic arcade games, consoles, and rare prototypes and merchandise to the show.
This year they teamed up with Sony Pictures and their new film Pixels that fit perfectly into the theme of the area. They had all for screen used Fiat Pac-Man ghost cars and the Dojo Quest arcade game from the film on display. They also gave out prizes from the film.
This was the first year that they brought a display of rare Atari Computer equipment including prototypes and very unusual items.
There was a lot of great stuff that they had on display along with playable console systems and a nice selection of arcade games. Here are my photos of the area with select comments.
Very rare vintage Halloween costumes that would scare the crap out of anyone that came to the door. The Asteroids one makes the kid look like a burn victim or Jason Voorhees. To actually see them in their original packaging is very impressive. Most got destroyed after wearing them once.
I have seen these before but they are both one of a kind prototype machines. The Puppy Pong was tested at a Chuck E. Cheese and the dr. pong was tested at a pediatrician office.
There was a nice selection of buttons, patches and other promotional items from the Atari era. The Activision patches are the ones that if you got a certain high score on a game then you could take a picture of the high score send it to Activision and they would send you a patch for the game. This was pretty awesome back in the day.
The Atari Mindlink was supposed to read your thoughts and control the game. Well that what they promised it would do but it really didn't work that way. This could be considered the first Virtual Reality unit in some ways.
Videogames were so big back in the day there was lots of merchandise based on both home and arcade games. Here are a very small fraction of items that were made. There are also some peripherals including the Nintendo Power Glove, Sega Master System 3-D glasses and a Atari Touch Me handheld game.
This is a really neat item. The Atari Test Console was sold to store so that you could bring in your joystick or power supply and test to see if they were working properly.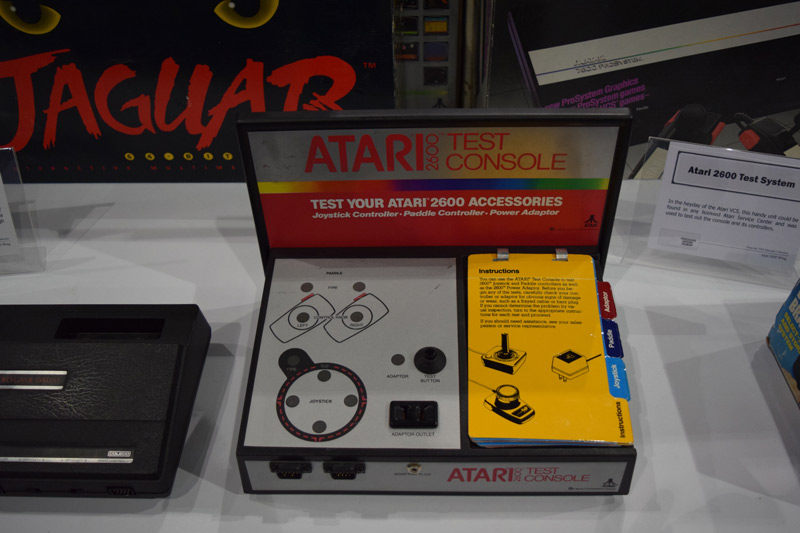 I have seen most controllers but I had never seen this Atari Track & Field controller before. It was packed in with the Atari 2600 version of Track & Field. The game came out in 1983 around the time of the great videogame crash of the time and that is why you probably don't see very many of these controllers.
The Atari Video Music system is one of the stranger things that Atari made that was not a pure videogame system. You  would put on your favorite 70's music and power up your Video Music and by playing around with any of the 12 buttons and 5 knobs you could custom create an effect on your TV that would dance, bounce and gyrate to the beat of the music you were playing. It would generate graphics on your television that was timed to the music.
Here is a video of what it looks like. Pretty trippy!
Here are some of the Atari computer items that they had on display at the show. As you can see Atari did a lot of development in computers and there are some items that were very advanced for their time. The Vidcom device were used in the healthcare industry as communication devices. The AtariTel was developed as a line of consumer electronics and this very rare item is a fascinating look at all of the development that Atari was doing at the time.
Of course Atari made videogames and they also had many other concepts that they were working on over the year but probably the most infamous is the Cosmos Hologram system. The system was shown at the 1981 Toy Fair and they had an initial order for 8,000 units. Just as they were doing a test run of 250 units Atari shut the project down and no one knows how many were actually made of that run. They had made sale flyers and boxes were made but after the plug was pulled no one ever talked about the project. There are only 3 known in existence today and only 2 have been made operational. They were first only shells that probably were shown at the Toy Fair. Another odd ball item is the Atari Graduate that was going to be an add-on computer to the Atari 2600 but was never made because of the videogame crash of the early 1980's. The Kee Games 2600 was a strange color variation of the system. Kee games was a wholly owned subsidiary of Atari. This is the only prototype know to exist. The Mirai prototype shell there is little known about this system. This is only a shell and the odd thing is the larger cartridge port.
They had a nice selection of arcade and home systems on display that were playable and it gave a chance for people play games and or systems that they may have never owned.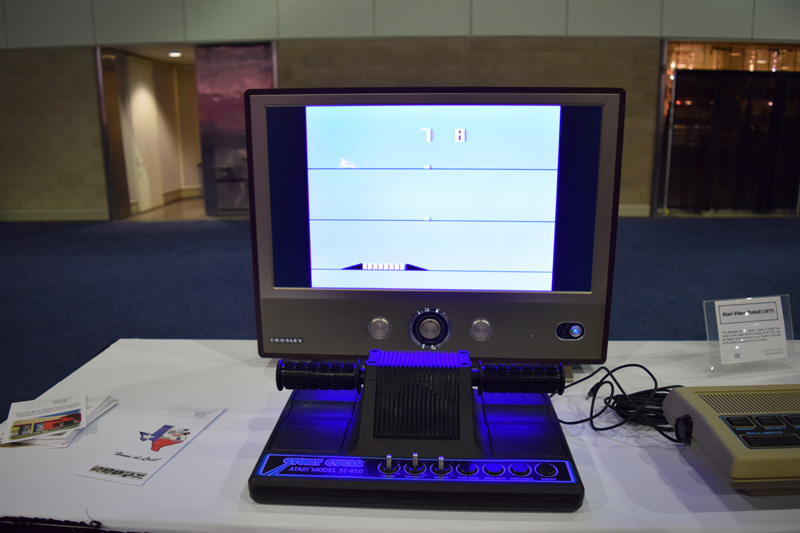 It's great that E3 donates space for the Museum each year to allow attendees to see where the games of today started off from. It's always a treat to see both the games and the rare items that they bring to the show. Seeing the Atari computer items was a real pleasure for me and shows how many thing that Atari was developing. Now that they Museum has a permanent home in Texas, I hope that they are still able to bring this great history to E3 each year. It would be a huge loss not to have them attend the show.