It's hard to believe that Pee-Wee's Big Adventure celebrates its 30th anniversary this week. Released on July 26th 1985 this little film went on to become a huge hit for Warner Bros. The film with a 6 million dollar budget went on to gross over 40 million dollars on its initial release. The film has went on to a continuing life on home video and is being enjoyed by a new generation of kids each year.
The film was directed by first time director Tim Burton who had worked in the animation department at Disney and was recently fired was chosen by Paul Reubens to direct the film after seeing Burton's short Frankenweenie and the two had a lot of the same things in common and hit it off the first time they met. Reubens had been writing a feature script but after being on the Warner Bros. lot and noticing all of the bicycles being used he scrapped the script that he was working on and focused on Pee-Wee having a bicycle stolen. Reubens along with Phil Hartman and Michael Varhol created a brilliant script that was witty, smart, well paced, timeless and very fun and you could even say it's perfect.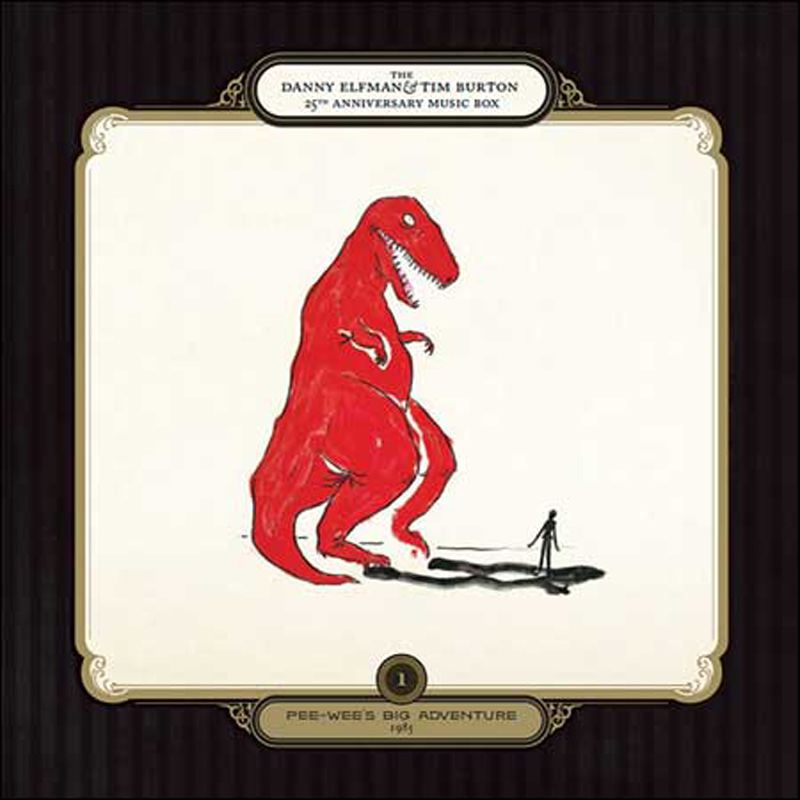 Another first was Danny Elfman doing the score for the film. While he was very well-known for being the lead singer for Oingo Boingo he was new to doing film scores but with the help of fellow band member and guitarist Steve Bartek who helped Elfman with the orchestrations and arrangements.
Reubens had caught the attention of Warner Bros. with his successful stage act The Pee-Wee Herman Show that was the main inspiration for the Pee-Wee's Playhouse Show on CBS in 1986. Filmed around the Los Angeles area in Glendale, Pomona, Santa Clarita, Santa Monica, Burbank, Cabazon and the front of the Alamo in Texas. Most of the locations still exist today and The LA WEEKLY'S Jason Cowan went to the locations and took photographs of them now. Here are a few of the comparisons of then and now.
Paul Reubens has been posting on his website to celebrate the 30th Anniversary with behind the scenes pictures along with fan made posters and foreign release posters. Here are some of my favorites.
The film has grown to cult status with people quoting the movie all of the time. Here are some of my favorite ones.
Pee-wee: There's a lotta things about me you don't know anything about, Dottie. Things you wouldn't understand. Things you couldn't understand. Things you shouldn't understand.
Dottie: I don't understand.
Pee-wee: You don't wanna get mixed up with a guy like me. I'm a loner, Dottie. A rebel. So long, Dott.
Pee-wee: I'm here to see Francis!
Butler: Francis is busy.
Pee-wee: Busy doing what?
Butler: He's having his bath.
Pee-wee: Oh, really?
[shouts]
Pee-wee: Where are they hosing him down?
Pee-wee: I wouldn't sell my bike for all the money in the world. Not for a hundred million, trillion, billion dollars!
Francis: Then you're crazy!
Pee-wee: I know you are but what am I?
Francis: You're a nerd!
Pee-wee: I know you are but what am I?
Francis: You're an idiot!
Pee-wee: I know you are but what am I?
Pee-wee, Francis: I know you are but what am I? I know you are but what am I? I know you are but what am I? Pee-wee: Infinity!
Francis: No, I'm not.
Pee-wee, Francis: You are! No way! Knock it off! Cut it out!
Francis: Shut up, Pee-wee!
Pee-wee: Why don't you make me.
Francis: You make me!
Pee-wee: Because. I don't make monkeys, I just train 'em.
Francis: Pee-wee listen to reason.
[Pee-Wee cuffs his hand around his ear in a listening motion]
Francis: Pee-wee!
Pee-wee: Sh! I'm listening to reason.
Francis: Pee-wee!
Pee-wee: That's my name, don't wear it out.
Francis: Remember the first time I saw your bike? You came riding past my house and I came running out to tell you how much I liked it even way back then?
Pee-wee: I love that story.
[jumps on bike and pedals away]
Francis: You'll be sorry, Pee-wee Herman!
Simone: I know you're right, Pee-wee, but…
Pee-wee: But what? Everyone I know has a big "But…? C'mon, Simone, let's talk about *your* big "But".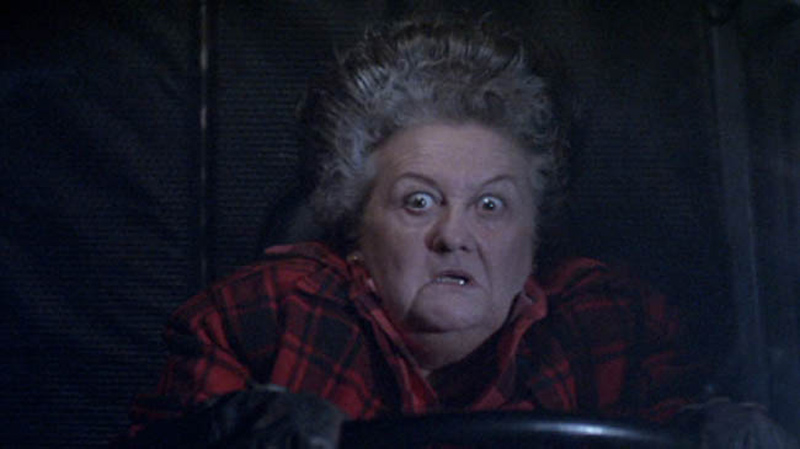 Pee-wee: Have a nice day.
Large Marge: Be sure and tell 'em Large Marge sent ya! Heh heh heh heh heh.
Mr. Breakfast: Good morning, Pee-wee!
Pee-wee: Good morning, Mr. Breakfast!
Mr. Breakfast: Can I have some Mr. T cereal?
Pee-wee: Okay!
[imitates Mr. T as he prepares his Mr. T cereal]
Pee-wee: I pity the poor fool who don't eat my cereal!
One of the best things about the film is that it's a great all ages film. There is no profanity in the film and the only thing that might scare younger children are the Large Marge scene and the animated dinosaur and the clowns in Pee-Wee's dream. There is no violence to speak of and there are a few minor sexual innuendo references that are very minor. Kids also love Pee-Wee because he is a big kid at heart and the can relate to him.
I saw the film when it was first released and it literally blew my mind. It was funny and visually imaginative. I had seen the Pee-Wee Herman Show on HBO and so I had an idea of the humor of the character was but was quite taken with the film. Rarely does a film capture so many things so well considering that it had a first time director and an untested character that honestly is not very mainstream. It's a real testament to all of the talent both in front and behind that made such a special film that people are still enjoying today.
I have owned the film on Laser Disc, DVD and now Blu-Ray. It's one of those films that you can easily watch over and over and it feels a fresh to me as the first time I watched it in the theater. I love to share the film with family and friends so that they can enjoy the film and share it also. The film is still as relevant today as it was in 1985 and is truly a modern classic that will endear for generations to come.
https://www.youtube.com/watch?v=xSaEVmg0q5k
And when I am near Cabazon I always make sure that I stop and visit some old friends.