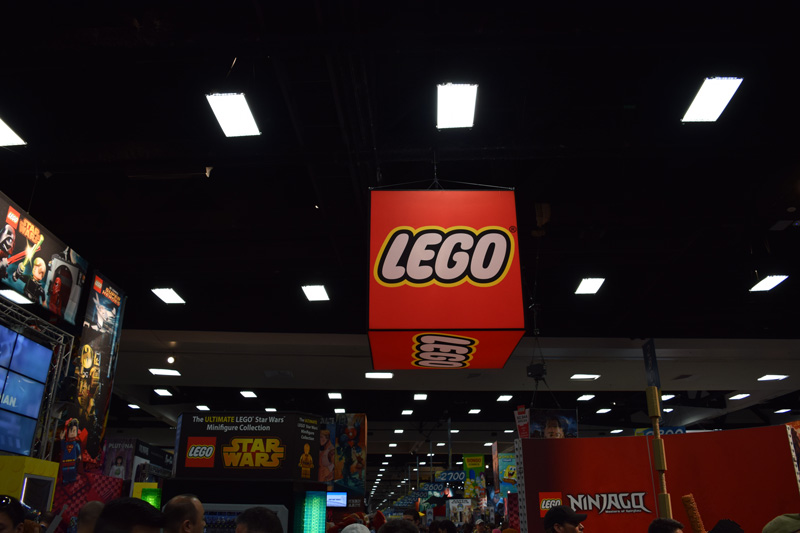 Lego is one of the best-selling toys worldwide and every year at San Diego Comic Con they are consistently one of the busiest booths on the show floor. While their exclusives are highly sought after at the show they do one thing that no other toy company does at the show. They bring thousands of bricks to do what is the best thing you can do with Lego's, build original ideas.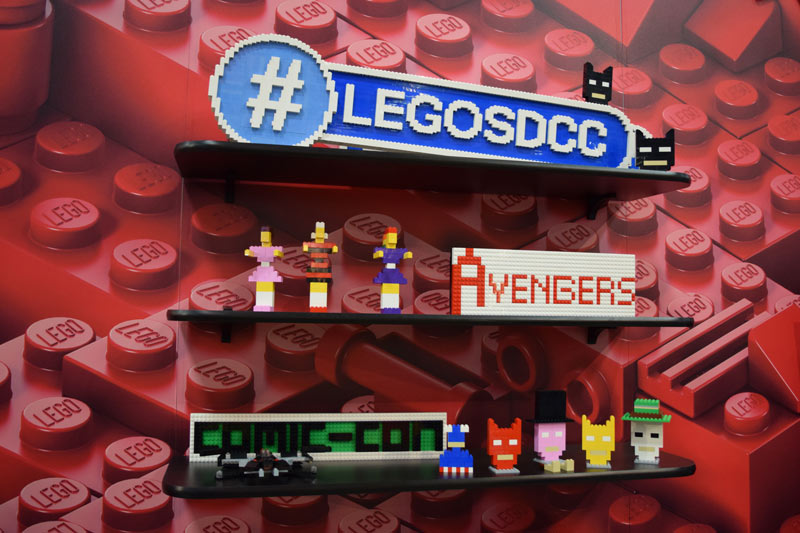 One of the great things that they do each day is select creations that are built by kids and adults and display the best ones for the day in the showcases.
They also have huge displays of characters made of Lego's each year and this years were very impressive.
The Iron Man Hulk Buster suit vs The Hulk was very impressive from the Avengers Age of Ultron movie and a real crowd pleaser.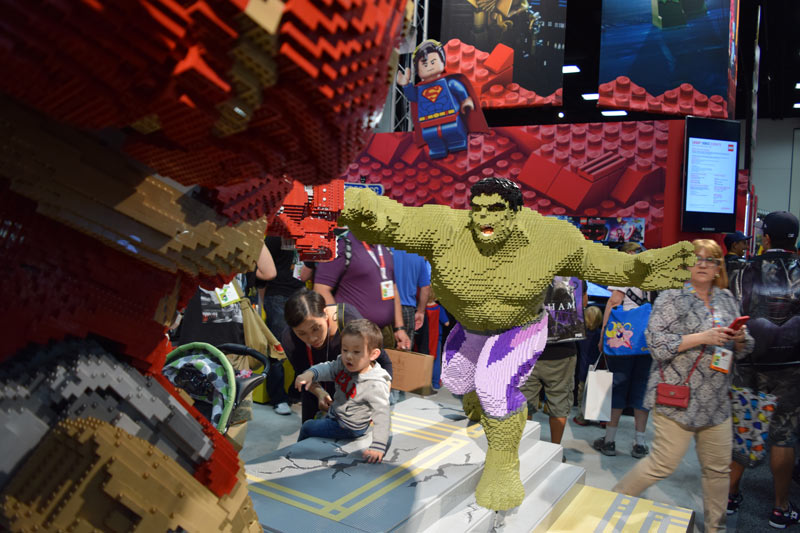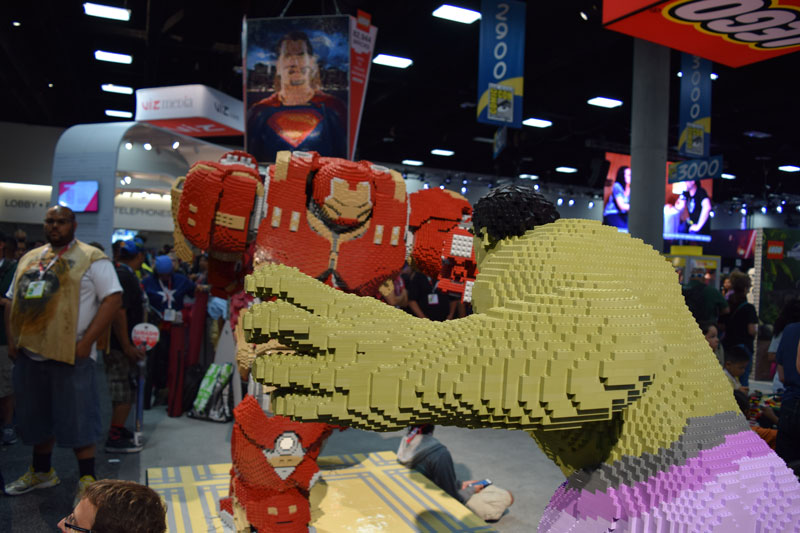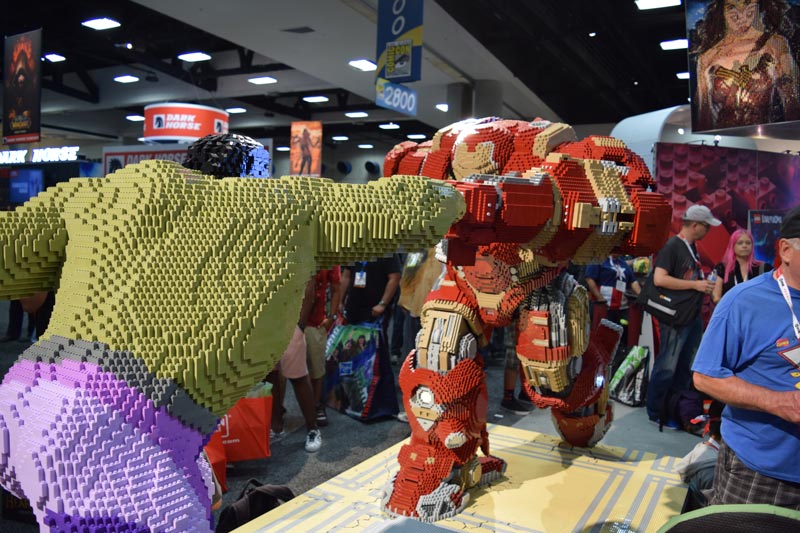 Creating Lego displays of make-believe characters is one thing but their master builders did a wonderful job of capturing the likeness of Chris Pratt from Jurassic World on the motorcycle from the film.
Of course there was Star Wars Lego. With the new film coming later this year they had a full size Stormtrooper and every Star Wars Lego mini figure that has ever been made in a huge display case.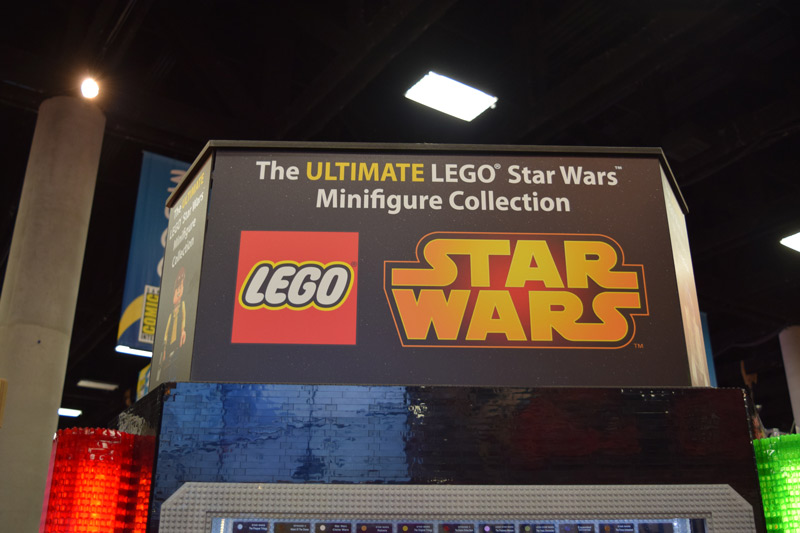 Over at the Warner Bros. booth there was the cast of Scooby-Doo and the Mystery Machine to promote the upcoming Scooby-Doo Lego release later this year. You could get your picture taken with the whole Scooby gang.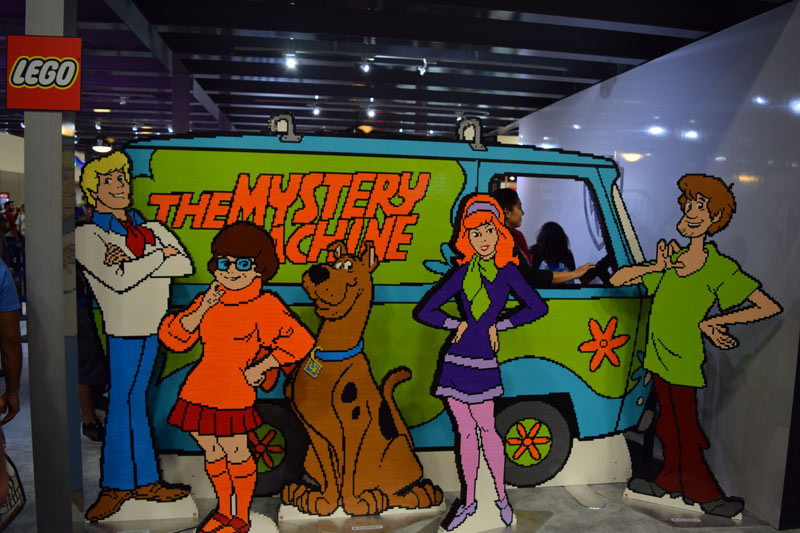 One of the more ingenuous displays was a newspaper headline that you could stand behind touting Lego at SDCC.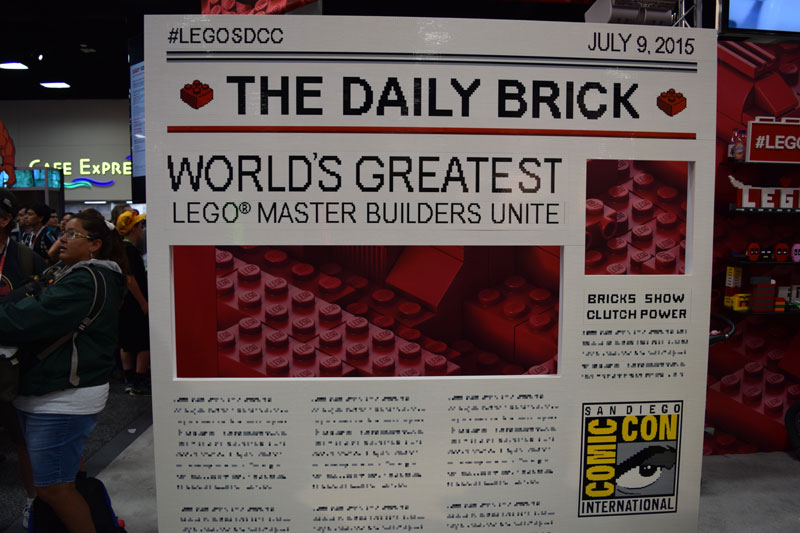 One of the most anticipated set from the Lego Ideas submissions was the first public display of the Big Bang Theory living room set that will be on sale starting August 1st.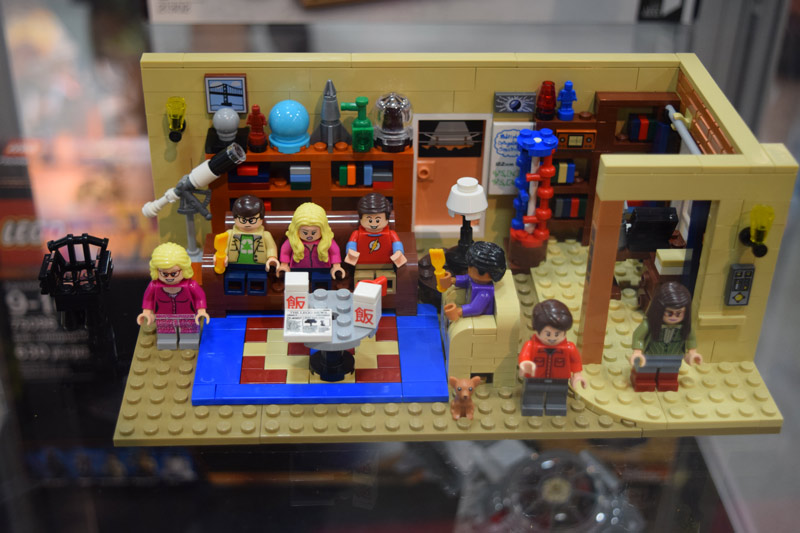 The special Lego SDCC exclusives are some of the hardest to get because you have to get a ticket from a random drawing each day of the show to be able to purchase them. People line up for hours for a chance to get a ticket. They literally the golden ticket of SDCC. This years exclusives were very impressive. They included a recreation of Action Comics #1 starring Superman.
An Arsenal from the hit CW Arrow mini figure,
And a Throne of Ultron.
My absolute favorite thing at the Lego booth is the thousands of bricks that are in very large dump bins and watching kids build their own things. While the sets are all neat they have zero imagination involved with them because you follow the instructions and that's it. When I was a kid the only "sets" were the Technic sets but those original sets had much more user creativity because of the advanced parts compared to the original bricks. Giving a kid a pile of bricks and letting them have at it really opens their imagination to creatively building things.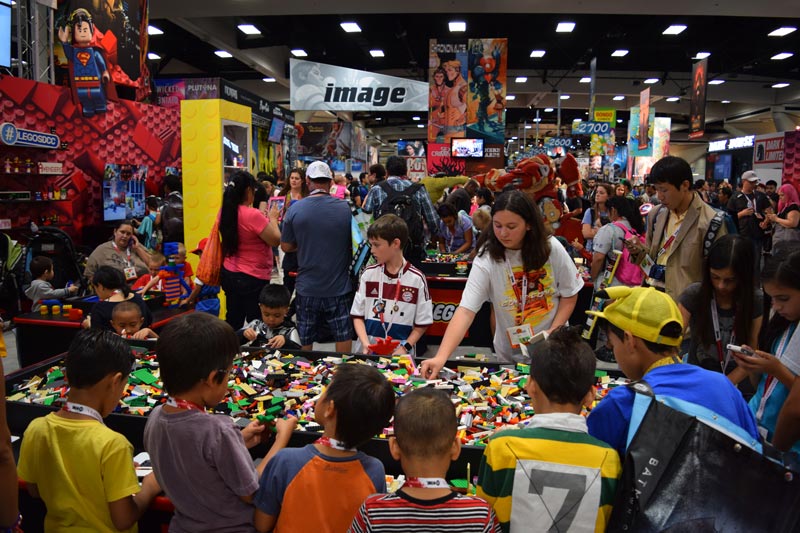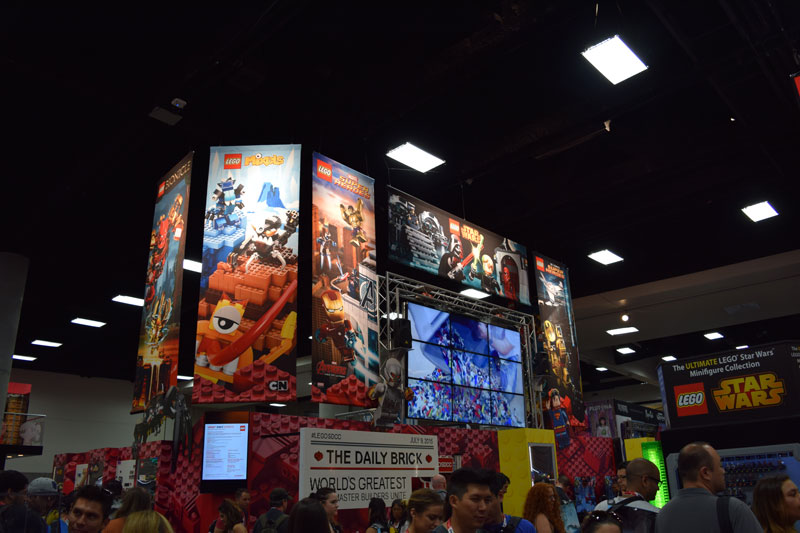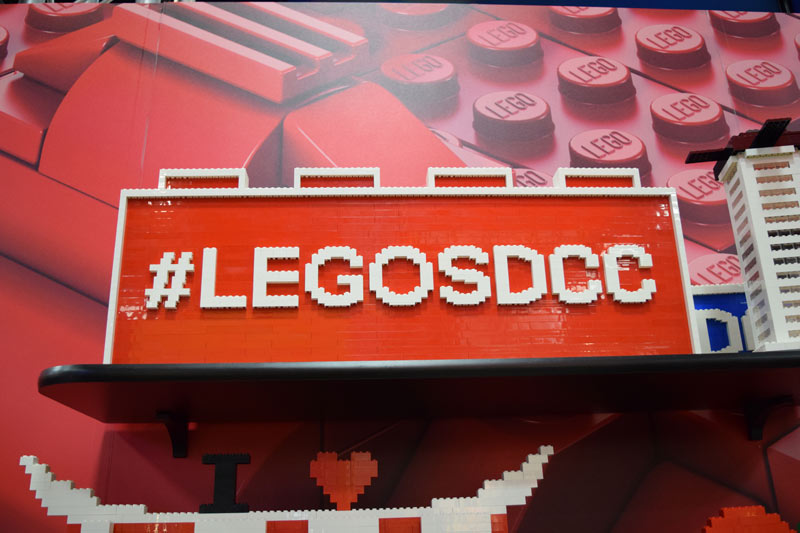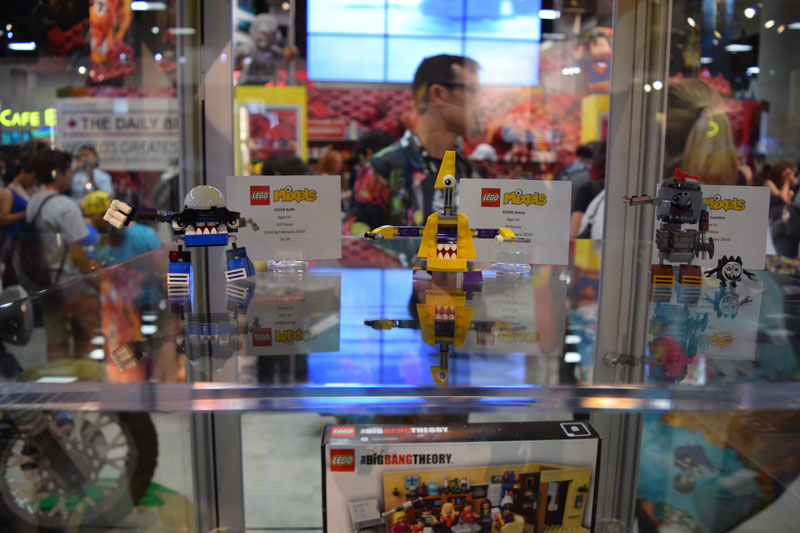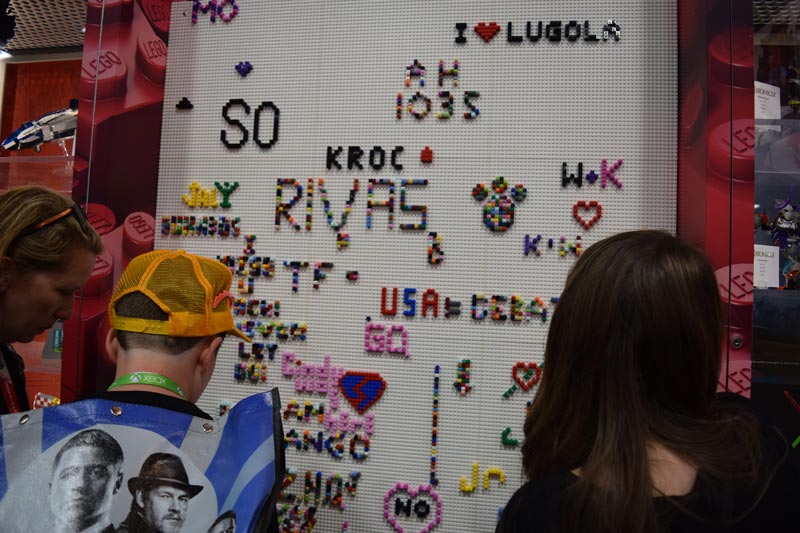 The Lego booth is by far the most popular booth with kids of all ages and is always worth stopping by the booth during the show to enjoy playing with thousands of Lego's