I wanted to review the new Mad Max comic this week but I have yet to see the film so I plan on seeing the film this weekend so I will throw it into next weeks reviews to catch up on it. With that out-of-the-way, let's get on to the reviews for this week.
Convergence: Swamp Thing #2
DC Comics Writer Len Wein, Artist Kelly Jones, Colorist Michelle Madsen, Letterer Rob Leigh
Sadly the majority of Convergence books have been a real train wreck with lots of really bad books a handful of decent ones and only two that were some of the best written and drawn comics from DC in years. One was SHAZAM! and the other is Swamp Thing. Wein and Jones has simply delivered one of the best horror/supernatural/superhero comics at DC to come along in quite a long time. While other writers stumbled over the whole Convergence dome fiasco that plagued so many of the titles, Wein acknowledged it but didn't rehash or dwell on it unnecessary or even waste story on it. He has weaved both classic and modern Swamp Thing and then he added the Batman Vampire Elseworlds in and you have one of the best Swamp Thing stories I have read in years. Wein really gets it and combines all of the elements to pull the whole story together. There is no other living artist that could have done this book better than Jones. Beyond that he knows how to draw these characters his artwork brings the stories emotional impact to such vivid life that each panel is a joy to look at. The mood just oozes from the artwork and when Batman sacrifices himself is one of the best written and beautifully brought to life by Jones that I got very misty eyed. Beyond the whole Convergence thing the story just really works for both new and older readers that know the material that Wein and Jones are culling from. These two great creators showed nearly everyone how it's done right.
Is this book worth your time and money? I can not recommend this book enough. DC Comics really needs to let Wein and Jones do any book they want to now. Wein is a great storyteller and this book proves that when able to tell a story that he wants to it can be really great. Jones is one of the finest draftsmen to grace the comic pages and very few deliver the mood in the artwork like he does. While he is known for his horror work this book shows that not only can he do that but also very satisfying superhero stories too. This is what a great event book can be like but so very few attain this gold standard level of great storytelling and beautiful artwork. This is THE comic book of the week and has my HIGHEST RECOMMENDATION! 
Archie VS. Predator #2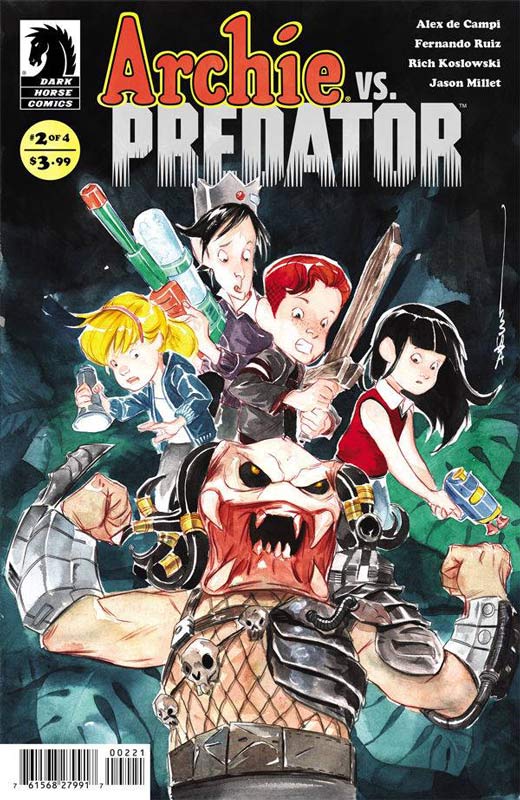 Dark Horse Comics Writer Alex de Campi, Penciller Fernando Ruiz, Inker Rich Koslowski, Colorist Jason Miller, Letterer John Workman
The weirdest team up just got a lot wilder in this second issue. The first issue was much tamer than the blood bath that the second issue is. De Campi really nails the story because it just a regular run of the mill Archie story that has inserted Predator and then shakes it all up and you get a unique and very fun book. I love how the story just runs along and then BAM Pop's get's his head blown off by the Predator. One of the smart things that de Campi does with the story is keep it very much in the Archie universe story wise and that is why the book is working so well. Ruiz and Koslowski artwork is very impressive by doing the whole book in the Archie visual style make the whole thing work on a wild new level. They really impressed me with their art on the action scenes that are not the norm for an Archie book but make the whole thing come together amazingly well.
Is this book worth your time and money? I am loving this book that is working when the whole idea is one of the strangest team ups of all time. De Campi keeps the whole story working and is very careful of the balance between the two worlds and blends them so well it's actually frightening at times. Ruiz and Koslowski visually pull the artwork off very well and the artwork on this issue is very impressive. I have fallen in love with this book and can't wait to see how it's all going to turn out. VERY RECOMMENDED!
A-Force #1
Marvel Comics Writers Marguerite Bennett & G. Willow Wilson, Penciler Jorge Molina, Inkers Jorge Molina & Craig Young, Colorist Laura Martin & Matt Milla, Letterer Cory Petit
A-Force is one of the most missed opportunity at Marvel Comics. I was really looking forward to the book because of Ms. Marvel writer Wilson and the thought of a mainstream superhero book with an all female cast that might appeal to both male readers but the far underserved female comic audience. But alas at least based on the first issue it fails on a number of accounts. First let me say that the book is far from terrible but the biggest mistake is that if you are a new or lapsed Marvel comic reader you are going to be very lost on what is going on. I really wished that they book was much more new reader friendly. While there is a recap of the events that lead up to the book, I felt that I came into the middle of an ongoing story. There was virtually no exposition for the most part of what the point of the story is. It was a pleasant read and there are some good ideas buried in there, I just felt by the end of the story that not a huge compelling reason to read the next issue. On the plus side of the book is the artwork by Molina and Young that is one of the better looking Marvel books I have seen in a while. He does a nice job of the female characters  and they are good-looking without being exploitive or overtly sexualized that can sometimes happen in comics today. The shark fight is very well done and he also handles the dramatic scenes quite well also.
Is this book worth your time and money? If you have been reading the whole Secret Wars then you will probably get what is going on but, if you are a new reader and decided to pick up only this book then you might be disappointed. Marvel generated a lot of general public publicity for this book but after reading the book I doubt that any new reader will be overwhelmed after reading it. The blame of this lies squarely on Marvel and not the creative team. They were locked into the terrible Secret Wars crossover fiasco that simply could have left out and made this book a lot more interesting than it is. Not bad but not great either.
Oh, Killstrike #1
Boom! Studios Writer Max Bemis, Artist Logan Faerber, Colorist Juan Manuel Tumburus, Letterer Jim Campbell
I nearly didn't pick this book up this week but thanks to my local shop offering it as a half price book of the week I gave it a try. Boy am I glad that I did because this is one of the funniest books I have seen in quite a while. Bemis script is dead on about the comics industry of the 1990's and the outrageously overblown heroes from the period that were all the rage and speculation of the time. Bemis does a great job of capturing the feel of an overblown superhero and having him come to life in the real world and playing off of the situations that arise. I enjoyed Bemis's humor that while there were a few times that I laughed out loud a lot of it was ironic humor. While the premise is not new Bemis did a nice job of at least making the story feel fresh that a lot of other writers tend to forget. I liked Faerber's visual take on the story. His artwork reminded me of Richard Sala but that is just a visual example to give you and idea of the style of the artwork. I mean that as a great complement because I really enjoyed the art on the book that gave it a very fresh style that you rarely see at Boom! Faerber gives the story the visual push that brings the book alive and made for a very enjoyable read.
Is this book worth your time and money? While not a new concept Bemis and Faerber bring a fresh look to the story and made the first issue a fun read. The book is off to a good start and the second issue will really need to solidify the book. The book has a great sense of humor and looks great. If you are looking for something off beat and are a longtime comic fan then you should give this book a try. I did and I really enjoyed it. RECOMMENDED! 
Dirk Gently's Holistic Detective Agency #1
IDW Writer Chris Ryall, Penciller Tony Atkins, Inker John Livesay, Colorist Leonard O'Grady
Douglas Adam's beloved Dirk Gently has been revived by IDW and the good news is that it does a nice job of bringing the characters back to life as a comic book. If you have never read the original novel that is not going to be a problem because Ryall starts the story fresh for everyone. The only thing that you need to know is that the comic follows the same premise as the books when it comes to the format. Both the novel and the book follow Dirk in a quest to connect seemingly random events that will ultimately fit together like pieces of a puzzle. Ryall does a nice job of connecting the random events into a grand adventure that by the end of the first issue you will start to see how the story will unfold. Ryall thankfully keeps intact the snappy dialog that Adams was famous for in his novels and while comic readers may struggle with the format just go with the flow and it will all become clear. I'm a big fan of Atkins from his work on the Jack of Fables series over at Vertigo and he does a fine job on the artwork here also. It's the sign of a great artist who can keep up with a dense script like this one and be able to visually bring the reader into the story that has a ton of dialog. Atkins not only nails it but keep the flow of the comic nicely.
Is this book worth your time and money? This book is not going to be for everyone because it's one of those comics that you really have to take you time reading because there is a lot going on and you really have to pay attention while you are reading it. That being said I rather enjoyed the first issue and there is certainly enough for me to come back for more with issue #2. If it sounds like your cup of tea give the book a shot. You might be surprised.
Kaijumax #2
Oni Press Written and Artist Zander Cannon
Zander Cannon's offbeat giant monster comic got off to a great start with the first issue and thankfully the second issue keeps the momentum going. We are starting to learn about the black market of the prison and he eludes to that there are other monsters that live on the moon and there is a deeper story that he is slowly peeling back the story elements nicely. There is less action in this issue but it found a great balance to still keep those elements in there but bringing more dramatic elements to the overall story line. Cannon's style is perfect for the book with a mix of cartoony and anime that make for a very pleasant visual experience.
Is this book worth your time and money? There is a lot to like here and Cannon is setting the stage story wise for the long haul. This second issue really impressed me with the story elements that he introduces and there is a lot going on that is being revealed very nicely so far. This is a book that is well worth checking out and is shaping up very nicely so far. I'm looking forward to more in the next issues. RECOMMENDED.