Hannibal Blu-Ray Contest Winners Photos.
As season two or Hannibal comes to a close this week I wanted to post photos of the Hannibal Blu-Ray contest winner on the site. So in the future make sure that you stay tuned to Pop Culture Maven for more upcoming contest.
The Grand Prize Winner from Rochelle Illinois is REBECA CHIRINOS showing off the Blu-Ray and the signed script.
First Prize Winner from Mechanic Falls Maine is AUSTIN BAROUDI showing off the Blu-Ray and t-shirt.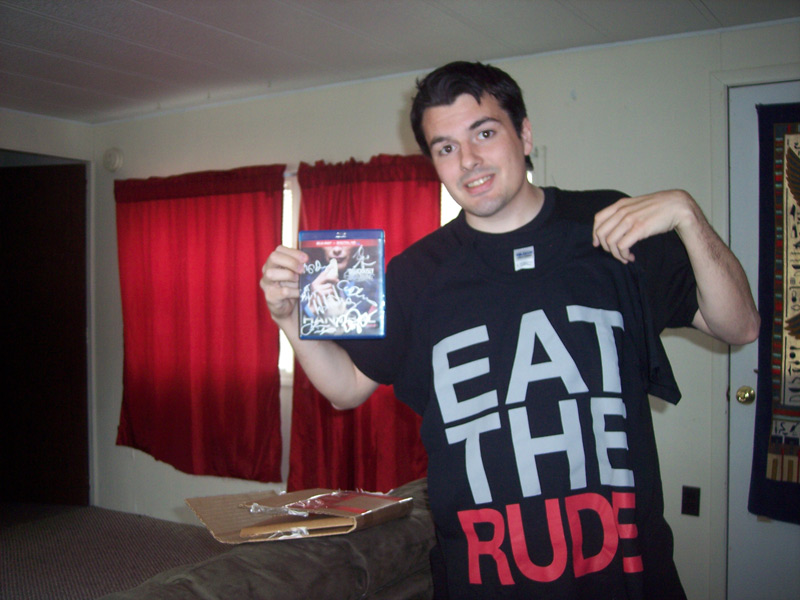 Second Prize Winner from Boise Idaho is AMINDA PEREIRA who was able to wear the awesome Eat The Rude t-shirt (they only had size small left) and holding the Blu-Ray.
Congratulations to all of our winners who are all loyal Fannibals. Thanks again to Lionsgate Home Video for supplying copies of the Hannibal Blu-Ray to giveaway. A huge Thank You to Bryan Fuller who took time out of his busy schedule to not only sign the Blu-Rays but to do an interview for the site (CLICK HERE if you missed it). Loretta Ramos Associate Producer for Hannibal who help coordinate the Blu-Rays off to the set to be signed by the cast and crew and getting the signed script and t-shirts for the giveaway. Thanks to all of the people who entered the contest on the site. I am hoping to have another contest for Hannibal Season 2 if all goes well, so stay tuned!