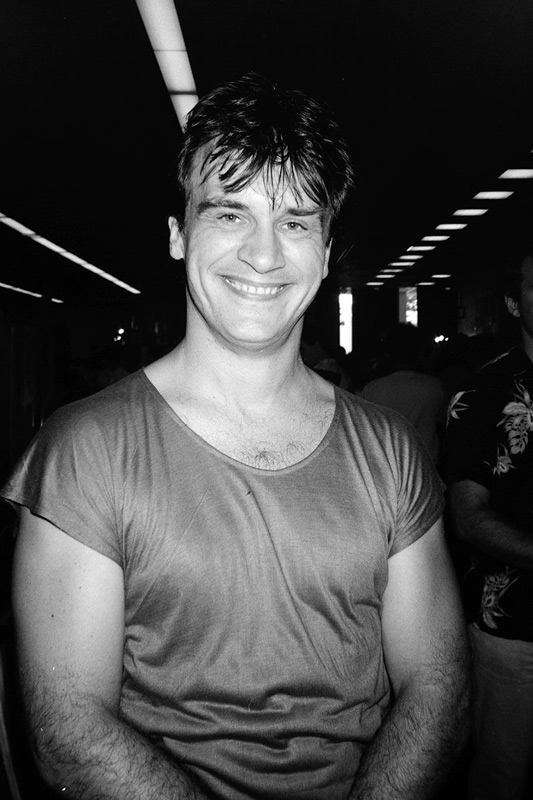 Photo courtesy of Jackie Estrada
It's with a very heavy heart that master illustrator Bernie Wrightson has passed away after a long fight against brain cancer. His wife Liz broke the new late Saturday night.
It is with great sorrow that I must announce the passing of my beloved husband, Bernie. We thank you for all the years of love and support. His obituary is below:
After a long battle with brain cancer, legendary artist Bernie Wrightson has passed away.
Bernie "Berni" Wrightson (born October 27, 1948, Baltimore, Maryland, USA) was an American artist known for his horror illustrations and comic books. He received training in art from reading comics, particularly those of EC, as well as through a correspondence course from the Famous Artists School. In 1966, Wrightson began working for The Baltimore Sun newspaper as an illustrator. The following year, after meeting artist Frank Frazetta at a comic-book convention in New York City, he was inspired to produce his own stories. In 1968, he showed copies of his sequential art to DC Comics editor Dick Giordano and was given a freelance assignment. Wrightson began spelling his name "Berni" in his professional work to distinguish himself from an Olympic diver named Bernie Wrightson, but later restored the final E to his name.
His first professional comic work appeared in House of Mystery #179 in 1968. He continued to work on a variety of mystery and anthology titles for both DC and its principal rival, Marvel Comics. In 1971, with writer Len Wein, Wrightson co-created the muck creature Swamp Thing for DC. He also co-created Destiny, later to become famous in the work of Neil Gaiman. By 1974 he had left DC to work at Warren Publishing who were publishing black-and-white horror-comics magazines. There he produced a series of original work as well as adaptations of stories by H. P. Lovecraft and Edgar Allan Poe. In 1975, Wrightson joined with fellow artists Jeff Jones, Michael Kaluta, and Barry Windsor-Smith to form "The Studio," a shared loft in Manhattan where the group would pursue creative products outside the constraints of comic book commercialism. Though he continued to produce sequential art, Wrightson at this time began producing artwork for numerous posters, prints, calendars, and coloring books.
Wrightson spent seven years drawing approximately 50 detailed pen-and-ink illustrations to accompany an edition of Mary Shelley's novel Frankenstein, which the artist considers among his most personal work. Wrightson drew the poster for the Stephen King-penned horror film Creepshow, as well as illustrating the comic book adaptation of the film. This led to several other collaborations with King, including illustrations for the novella "Cycle of the Werewolf," the restored edition of King's apocalyptic horror epic, "The Stand," and art for the hardcover editions of "From a Buick 8" and "Dark Tower V." Wrightson has contributed album covers for a number of bands, including Meat Loaf. The "Captain Sternn" segment of the animated film Heavy Metal is based on the character created by Wrightson for his award-winning short comic series of the same name.
Characters he worked on included Spiderman, Batman and The Punisher, and he provided painted covers for the DC comics Nevermore and Toe Tags, among many others. Recent works include Frankenstein Alive Alive, Dead She Said , the Ghoul and Doc Macabre (IDW Publishing) all co-created with esteemed horror author Steve Niles, and several print/poster/sketchbooks series produced by Nakatomi.
As a conceptual artist, Bernie worked on many movies, particularly in the horror genre: well-known films include Ghostbusters, The Faculty, Galaxy Quest, Spiderman, and George Romero's Land of the Dead, and Frank Darabont's Stephen King film The Mist.
Bernie lived in Austin, Texas with his wife Liz and two corgis – Mortimer and Maximillian. In addition to his wife, he is survived by two sons, John and Jeffrey, one stepson, Thomas Adamson, and countless friends and fans. A celebration of his life is planned for later this year.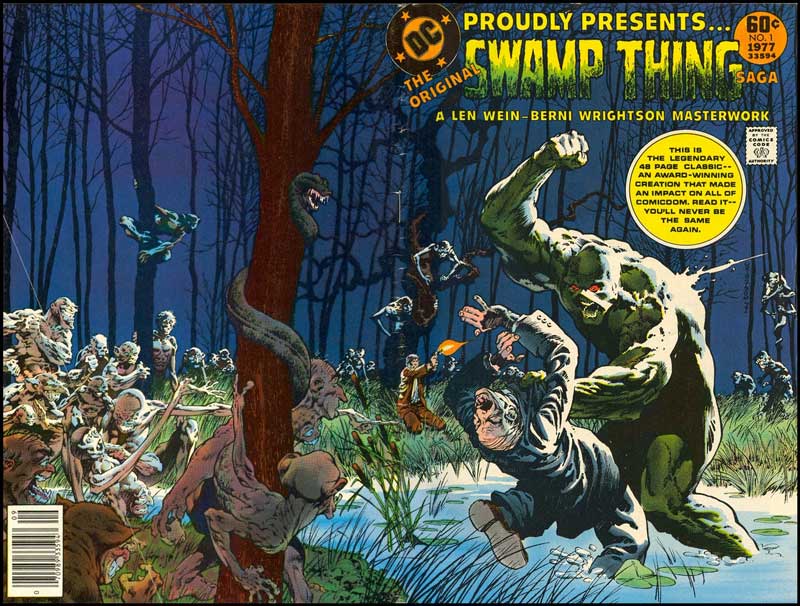 There have been many tributes and thought about Bernie from friends, admirers and colleagues. One of the ones that I loved the most was from William Stout;
It is with great sorrow I report the death of my friend, colleague and hero, Bernie Wrightson. Without going into Wrightson's entire biography, please allow me to express some random bits about our relationship and why he and his work meant so much to me.
Bernie was one year older than me — which doesn't seem like much now. A one-year difference seemed enormous in my youth, however. I followed his early fan and fanzine work (which included an formative piece of his that ran in the Creepy magazine letters section one issue), then celebrated when he finally trail-blazed into the Big League of DC comics. Bernie showed me it was possible to have that dream of being a young man and making a living drawing comics to be a distinct possibility.
Bernie will forever be linked with his impressive and groundbreaking DC Comics run of Swamp Thing (a character he co-created with writer Len Wein) and his celebrated Franklin Booth-ish Frankenstein illustrations, that brought him even more acclaim, as well as great notice from some heavy-hitting art collectors. I loved what Wrightson brought to Batman and Spiderman as well. Bernie just seemed to "get" things on every level — he recognized the "essence". He understood that certain key elements of genres that inspired him just might inspire others, too — and he was right.
Bernie was a co-founder of The Studio, an east coast phenomenon that included Michael Kaluta, Jeffrey Jones and Barry Windsor Smith. This powerhouse of talent inspired me to help form a west coast version at my own spacious studio on La Brea Avenue that at times included Richard Hescox, Dave Stevens and Paul Chadwick.
Bernie picked up the brush-inking torch from Frank Frazetta. I looked at both of these great artists for inspiration and analyzed their remarkable technique with their weapon of choice, a Winsor-Newton brush. Frank and Bernie inspired other brush-men, including Dave Stevens, Mark Schultz and Frank Cho. I dubbed our loose group "The Last Brush-men of the Kalahari" (an artistic take on the Lost Bushmen of the Kalahari). I'm happy to report that a few up-and-coming young lads (and a couple of older guys) have since taken up the torch of brush inking, seemingly inspired by our endeavors.
If I had to describe Wrightson's basic style at its very essence, I'd call it Frank Frazetta's solid drawing and ability with a brush combined with the truly disturbing and demented visions of EC's Graham Ingels. I looked at Bernie's inking when I wanted to figure out how to depict veins on well-muscled arms. His take on dinosaurs — while not the last word in scientific accuracy — nevertheless seeded my imagination with his dramatic portrayals of these great beasts, helping me to see them anew with fresh, unblinking eyes.
I was the go-to creature designer for the movie biz until Wrightson came to town. My offers immediately shriveled and shifted (rightfully so) to Bernie. Bernie was THE master monster artist. His imagination in that arena seemed breathtakingly endless. I didn't mind losing the work because it meant that I got to see more of Bernie's amazing creations up on the movie screen — and I'd much rather gaze upon his fascinating creatures than my own.
Through moving in the same comic book convention circles I finally got to meet Bernie. He was as gracious in person as his art was solid and we became fast friends, especially connecting with our shared love of monsters, dinosaurs and EC comics.
I initially passed on seeing the movie The Texas Chainsaw Massacre until I read in an interview that Chainsaw was so scary it had made Bernie pee his pants. On that high recommendation I dashed to the World Theater to catch a three-movies-for-99¢ screening of this grindhouse wonder. I was not disappointed.
In 1984 the job of production designer for Return of the Living Dead came down to being between Bernie and me — with Bernie the director's first choice. The producer gave me the gig because I had more experience in film than Bernie at the time — but I did manage to slip some Bernie-isms into some of my designs so that he might be there in spirit.
I tried to work with my pal whenever I could, but our work paths seldom crossed. When possible, we'd send each other jobs in The Biz. We mostly saw each other and hung out at conventions, though. I was delighted when he finally met the love of his life, Liz — a real sweetheart, as Al Williamson would say. Bernie's other friends agreed with me that Liz was one of the best things that ever happened to Wrightson. I've watched Bernie's talented sons grow and mature into fine young men. I feel very much like an uncle to them and share the pain of their dad's passing.
I've lost a dear, dear friend — but the world at large has lost a truly great artist. Though his mortal form has passed into the land beyond beyond, his magnificent body of work will live on forever.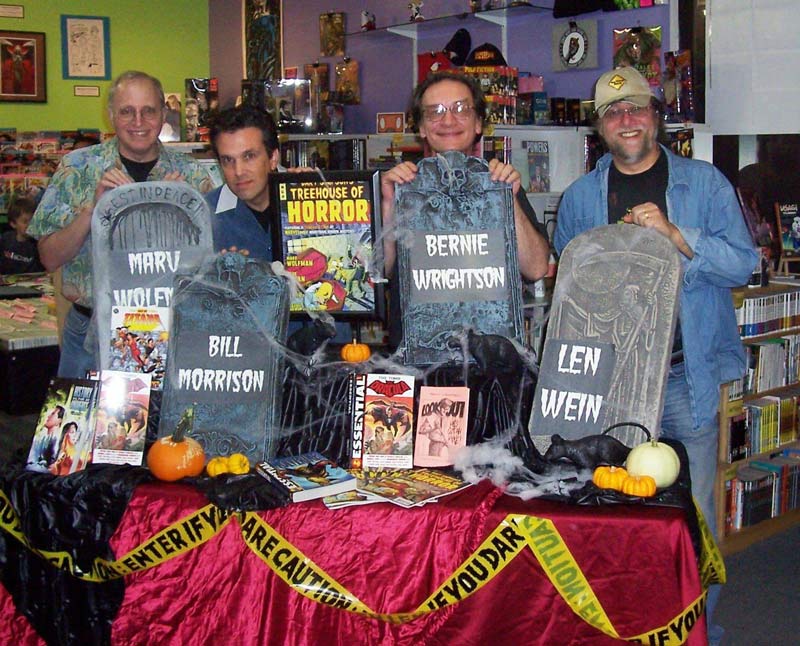 Photo Courtesy of Bill Morrison
Many other have posted their favorite Wrightson artwork and photos of him. While my own encounter with him mirror what many others have echoed that he was a generous and kind person and was always loved to meet his fans. I have two stories that I would like to share. The first one is from the late 1980's or early 1990's at San Diego comic con where he was to be in artist alley because of personal reasons he was only able to make it on Sunday the last day of the convention at a spotlight panel. He profusely apologized that he was not able to make it to the whole convention so he said that anyone who had brought to the convention for him to sign could line up and he would talk and answer questions while he also signed the items. I had him sign his Superman piece from the Superman #400 that had been released in a portfolio by DC Comics. At the time I never thought of how that meeting would show what a kind and caring person he was.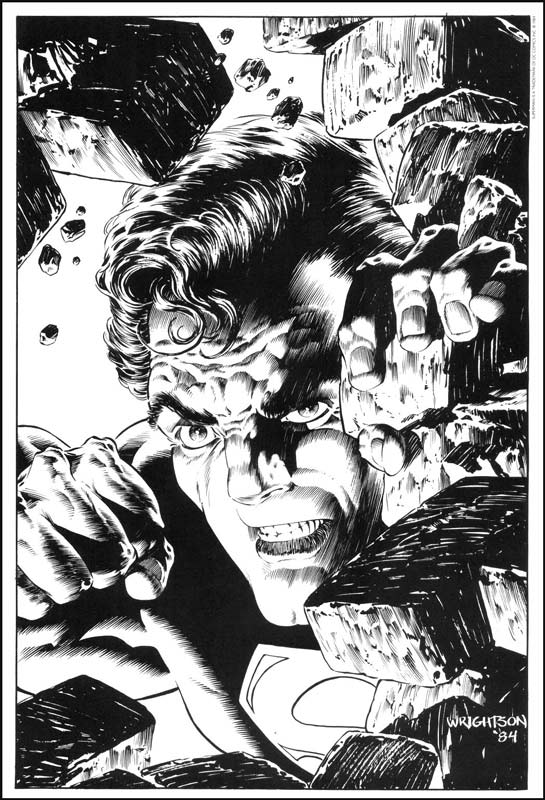 In 2011 at the Long Beach Comics Con he was a special guest. He had been working with Steve Niles who's dog Sonny had been recently been diagnosed with cancer and a number of comic artist friends had done original artwork to help raise money to help pay for treatments. Of course Bernie was one of the first to do artwork for Steve and created one of the best Swamp Thing pieces that I have ever seen. All of the artwork was auctioned off and there was no way that I could afford any of the art let alone Wrightson.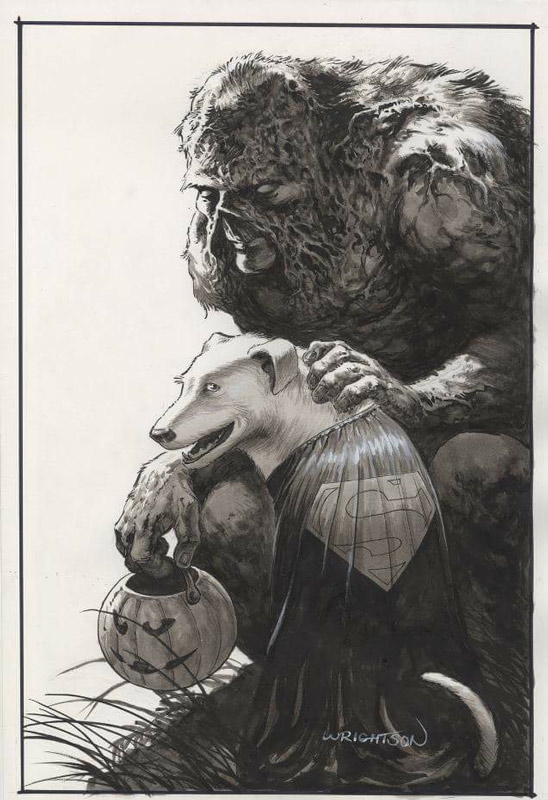 Lucky for me I had over the past few years became friends with Steve and he showed me a print of the original artwork that a friend had made for him. There were only ever five of them produced and Steve had one extra. I asked him if he wanted to sell it and he was a little hesitant at first but I proposed that what if I donated money to him to help pay for Sonny's treatment and he said that was a great idea and so that is how I got the print. Of course I had both Steve and Bernie sign it and got a picture with them both and Sonny. It was Halloween weekend and being Bernie and Steve's favorite time of the year so they were dressed up for Halloween.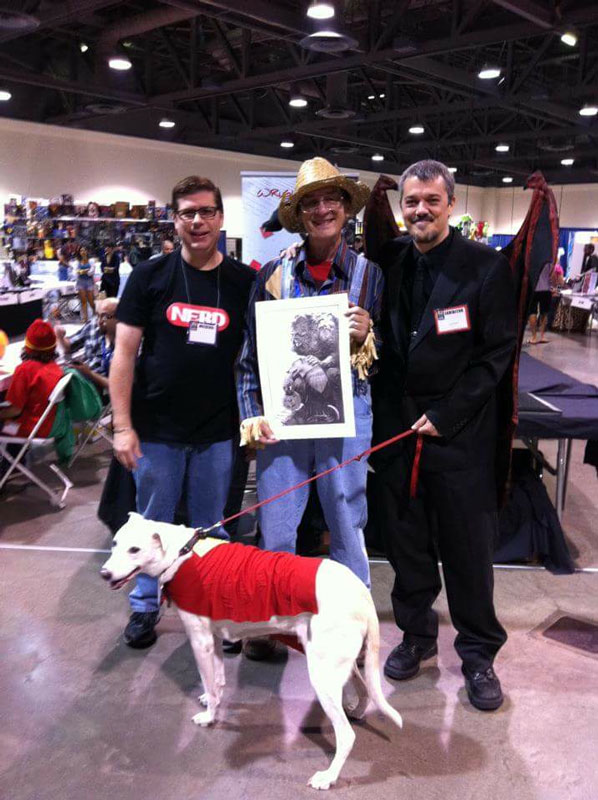 Me, Bernie, Steve and Sonny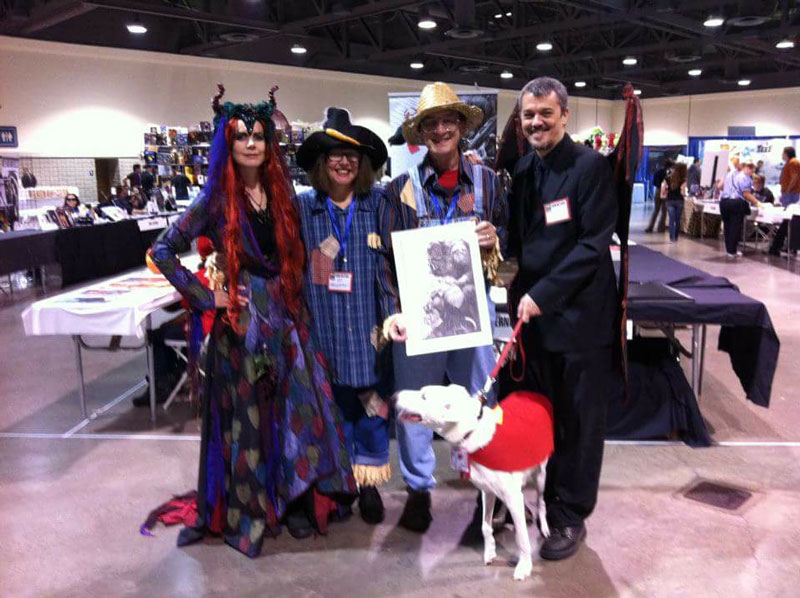 Monica Richardson, Liz Wrightson, Bernie, Steve and Sonny
What I take away from Bernie Wrightson is of course his amazing artwork from Creepy, Swamp Thing, Captain Stern, Frankenstein, and so many others. But over the years running into him at conventions I understood what so many of his friends and family already knew that he was kind and gracious. He loved meeting fans and would always sign anything for you.
Over the years I have met hundreds of comic book creators but Bernie was one of the rare ones. He understood that some fans were very nervous when they meet them and he always made you feel at ease and would take time with you to talk to you and make you feel special. I also want to say that his lovely wife Liz was as gracious as Bernie was. You could tell that they were meant for each other and my heart breaks for not only her but all of his family and friends. While I didn't know him personally but just meeting him has left an impression of a special person that I thank for not only his artwork but his kindness.
Jackie Estrada summed it up the best;
To Know him was to LOVE him-a wonderful human being along with being one of the all-time great artists. My heart goes out to his wife Liz and to all who are felling this great loss.
Photos Courtesy of Jackie Estrada
The best way to honor Bernie Wrightson is to end this with a look at his artwork that inspires, excites and will alway stick with you. A picture is worth a thousand words and his art will live on and inspire generations to come.