There were certainly a lot of fireworks in this weeks new comics. What better way to spend the holiday then reading some independent comics that came out this week. There were quite a few that were released this week and of course comics from the big two so let's get started with them shall we.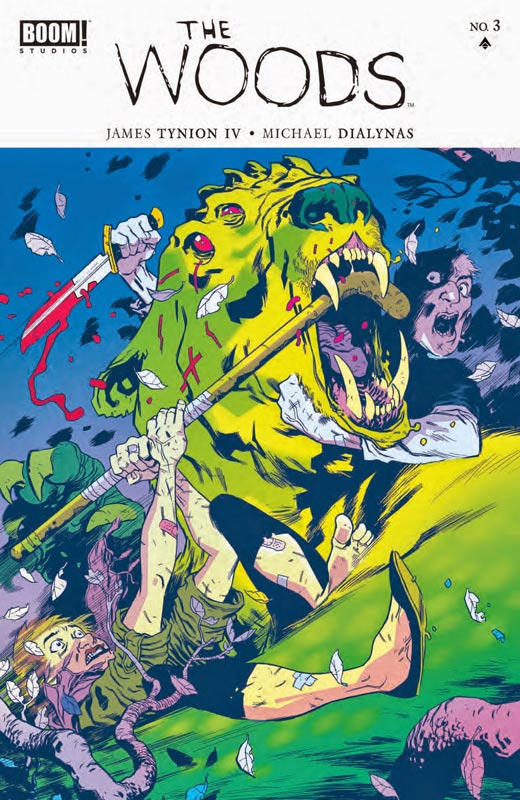 The Woods #3
Boom! Studios Writer James Tynion IV, Artist Michael Dialynas, Colorist Josan Gonzalez, Letterer Ed Dukeshire
With three issues in on The Woods and while I enjoyed the first two issues I was starting to feel a little treading water with the book. The plot from Boom! is, As the darkness of night falls, monsters begin to reveal themselves—from both outside and inside the school. Maria struggles to break free of her false imprisonment before Coach Clay succeeds in instilling martial law, and the exploratory crew finds themselves being hunted by unseen shadows. Tynion's ground work that he laid out in the first two issues finally starts to really pay off in this third issue. Not that the stories have been bad it just seemed unsure of what direction that it was moving in. The story is really starting to gel for me. He is splitting the story between the group of kids out in the woods and the staff and the rest of the kids still staying at the school. Each group is discovering the pitfalls of each location. We are starting to see Tynion's use of both George Orwell's Animal Farm and William Golding's Lord of the Flies overtures seep into the story. I really enjoyed the how Ben came to the rescue of Isaac from the creature. The group of kids in the woods is starting to splinter but they are the one that seem to be discovering what might be going on. Dialynas art may not be the flashiest work but he really is doing a spot on job that fits the story. What he does very well is the emotions of the characters.
Is this book worth your time and money? While I am glad that we are starting to get going with the story this issue, I hope that Tynion starts to put his own spin on it. Using Animal Farm and Lord of the Flies as a template is OK but he need to infuse those elements and strike out on his own. The book is good but not quite spreading it's wings either. I will continue to see where Tynion and Dialynas are going with the story but they need to bring more of a fresh take for the long run of the book. It's still worth reading at this point but we need to get going on why they have been teleported to this planet soon.
Batman '66 Meets The Green Hornet #2
DC Comics & Dynamite Entertainment Writers Kevin Smith and Ralph Garman, Artist Ty Templeton, Colorist Tony Avina, Letterer Wes Abbott
The fun continues with 1966 Bat-Mania in full swing as the team up that we thought would never happen again continues to put the fun back at DC Comics. The plot from DC is, The reunion of the greatest TV team-up of the 1960s continues! The Fearless Foursome struggle to escape General Gumm's sticky death trap, while the gloating Gumm assumes the worst and plots to take his criminal activities to the next level. His plans for expansion require some expert help from an unexpected source! Assuming our heroes escape, will they be able to overcome this new, deadly duo? Smith and Garmen pick right back up from the cliffhanger from issue one and add The Joker to the story and continue to have fun with the story. It's very difficult to capture an adaptation from another medium in comics but Smith and Garmen have really done their homework on this book. What is making the story so great is that they know what made the original television show and are instilling all of that into their story. Getting Templeton to do the art is the real icing on the cake for this book. He brings his cartoony style to a book based on a cartoony show but brings a bigger cinematic scope that the television show could never do on their budgets.
Is this book worth your time and money? Let's be honest here, this book is for fans of the original show. But what makes this book even more special is that it's a great introduction to people whom have never seen the show and are Batman fans. As long as you know that the story is tongue in cheek on propose then you can enjoy this book as much as I am. This book is really putting the fun back in to DC Comics for a change. And that is a good thing.
Figment #2
Marvel Comics Writer Jim Zub, Artist Filipe Andrede, Colorist Jean-Fancois Beaulieu, Letterer Joe Caramangna
I really fell in love with the first issue of Figment and hoped that the book would continue it wonderful journey. The plot from Marvel is,REVEALING THE ORIGINS OF ONE OF DISNEY'S MOST IMAGINATIVE CHARACTERS! An all-new steampunk fantasy story exploring the never-before-revealed first adventure of the inventor known as Dreamfinder and his famous dragon Figment! Chomped…by Chimera! Acclaimed creators Jim Zub (Skullkickers) and Filipe Andrade (CAPTAIN MARVEL) give a Marvel spin to the mind-expanding attraction Journey Into Imagination! The second issue while still very good is a transition issue. Meaning that it's now setting up the new land that Mercurial and Figment have landed in. It's a bit slower than the first issue and I do hope that  it will be fine in the overall storyline. Zub is keeping the book on a simple yet very satisfying story. While this issue is a little more exposition than I would have wanted at this point he is setting up things to come. Of course you will fall in love with Chimera a super cute dog creature that is sure to be a fun addition to the story in the coming issues. I can not praise Andrede's artwork on the book. His detail and beautiful artwork bring such a wonderful fantasy element that is so crucial to the story. So rarely does a licensed comic look this good. He really brings Zub's wonderful story to life.
Is this book worth your time and money? I was a little disappointed in the second issue because of one thing,  I want to read so much more of this story and one issue at a time is killing me. Zub has really fashioned a wonderful fantasy story that is just tough to read on a monthly book. I was left wanting so much more but sadly have to wait another month. But as with all good stories great things comes to those who wait, and I can't wait to see where Zub and Andrede take me next issue.
Nailbiter #3
Image Comics Writer Joshua Williamson, Artist Mike Henderson, Colorist Adam Guzowski, Letterer John J. Hill
Who knew that a comic about a town of serial killers could be so much fun. The plot from Image is, As the morgue continues to fill with new dead bodies, the citizens of Buckaroo violently demand that Sheriff Crane and Officer Finch arrest the Nailbiter. But in a town full of killers… anyone could be a suspect. Williamson continues to bring a great pace to his unfolding story. He keeps us on the trail of the mystery and is revealing that things may not be quite what they seem. I really love the mythology that he is creating with the town and it's long list of serial killers. The other interesting thing that Williamson is doing is making Warren a pivotal character and giving the reader very mixed emotions on how to feel about him. This is really solid storytelling. Henderson artwork really brings this book alive. He really captures every moment both with action and great subtle detail with every panel of the book. The way that he played the scene in the morgue with the flickering lights was just brilliant and shows how strong of an artist that he is.
Is this book worth your time and money? This book is becoming one of my favorite books now. The book is unfolding very naturally and nothing feels rushed or forced. The most impressive thing about the book is that it's not falling into the typical trap of feeling like you have read this before. A horror book about serial killers has been done before but this book gives it a really fresh spin. Williamson and Henderson are crafting a really special book here and so far not disappointing me and keeping me hungry for more. VERY RECOMMENDED!
DKW: Ditko Kirby Wood
Fantagraphics Books Writer and Artist Sergio Ponchione
Steve Ditko, Jack Kirby, and Wally Wood are the foundation that all comics are derived from and writer and artist Ponchione has made a loving tribute story to them. The plot from Fantagraphics is,An exquisite tribute to three of the most acclaimed comic book artists of all time: Steve Ditko, Jack Kirby and Wallace Wood! Acclaimed Italian cartoonist Sergio Ponchione pays tribute to this "holy trinity" in this wildly imaginative one-shot comic, split into three chapters, with each chapter drawn in a pitch-perfect homage to one of his idols. This is one of those books that has a pretty thin narrative because it's more of a short biography of the three artist wrapped in a connecting story. This is the type of book that you need to know about Ditko, Kirby and Wood to truly appreciate the book. The overall "story" is really a biography of the three artist but the Kirby part is more of a story than the other artist. That is where there is a small flaw in the book. I wish that Ponchione had taken that approach with the Ditko and Wood segments. His art is  really nice and does a nice job of imitating the artwork of the other artist in their segments. The really nice thing is that he still keeps his own style even while doing the segment homages. I really loved his use of a limited color palette that adds a great look to the feel of the book.
Is this book worth your time and money? This is a very specialized book and is also a bit hard to review. It's a biography story that is about how the three artist influence not only Ponchione but many other artist throughout the years. While I did enjoy the book it's not for everyone but if you are a fan of Ditko, Kirby and Wood and are familiar with their work then you really might want to check this book out. It is really great that Fantagraphics has put out this type of book because so many independent publishers have either went out of business or have lost their need to release personal book like this because they don't sell that well.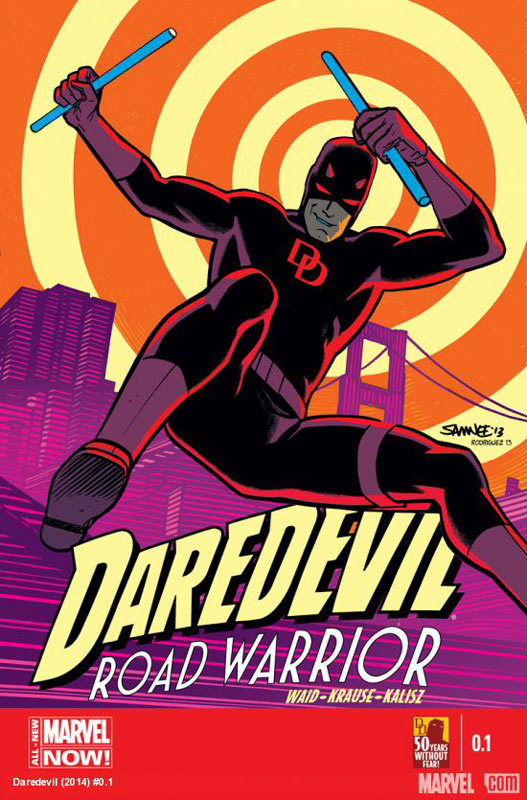 Daredevil #0.1
Marvel Comics Writer Mark Waid, Artist Peter Krause, Colorist John Kalisz, Letterer Joe Sabino
This Daredevil story take place between the previous series and the current series and was a digital first story. The plot from Marvel is, For the first time in print, the story that bridges the gap between the last Daredevil series and the all-new ongoing!  A cross-country flight pits The Man Without Fear against a man without a heartbeat! Plus, TWO DAREDEVILS (for the price of one)! Mark Waid (Daredevil, Insufferable) and Peter Krause (Insufferable) bring you the first leg in Daredevil's journey to a new life! I am not a fan of digital first projects like this because the print is later than it should have been for the loyal print readers of the previous Daredevil book that were the ones really buying the book. With that being said it was pretty easy to get back to that point in the story between the two series. Waid fashions a wonderful done in one story that is a good jumping on point for new readers. Even if you are not reading the current book (and shame on you if your not) this is a very good story. Waid is wise in not overdoing the exposition that really could have bogged down the story. He gives new readers just enough to get up to speed. It was really great to see Krause back on a mainstream book again so people can see what a great artist that he is. He does a fantastic job with bringing Waid's story to visual life.
Is this book worth your time and money?  First I just wished that Marvel would have put this book out the week before the new series to get more people to buy this fun book. That being said this is a really great story that does stand on it's own. Waid does a great job of telling a story of what being human is and can a machine have a soul?  Having Waid and Krause back again and doing a Daredevil story is always a cause for celebration. This is a solid read and really shows why Waid is the perfect writer on Daredevil.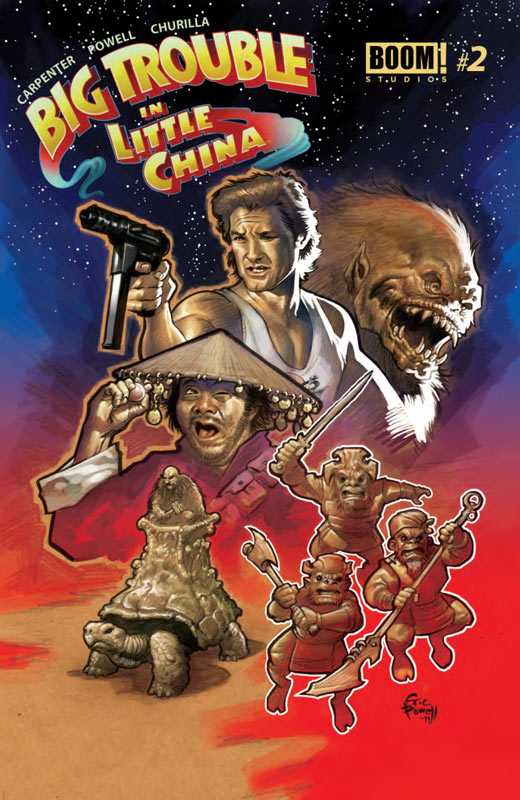 Big Trouble in Little China #2
Boom! Studios Story John Carpenter & Eric Powell, Writer Eric Powell, Artist Brian Churilla, Colorist Michael Garland, Letterer Ed Dukeshire
The first issue of this book got off to a really great start. The plot from Boom! is, Before, Jack Burton and Wang had to save Wang's kidnapped-bride-to-be. Now, Wang's the one who's been kidnapped and Jack Burton's back in action! Jack and Egg Shen travel through Chinatown's Black Road and the villains Jack faced before have something new on their mind: REVENGE! Powell continues to impress with really getting the book to feel just like the movie. Just like with the first issue I laughed out loud a few times because Powell captures the humor from the film so well. The second issue really starts to enter the world of weird that made the movie so much fun. And of course Jack Burton is still an idiot but Powell uses that to be a plot point in the story. Churilla continues to show why he was chosen to do the art on the book. His art style fits the story that Carpenter and Powell have set up and does a great job of bringing the weird to life with the artwork.
Is this book worth your time and money? The second issue shows that this book is no fluke. Powell and Churilla are proving that the book stands on its own but never forgets where it comes from. It's rare that continuation of movies in comics work and this proves that it can stand next to the original film and stand proud. This is a really great book if you are a fan of the movie. I am very happy to say that the first issue was no fluke and that Jack Burton is back baby! RECOMMENDED!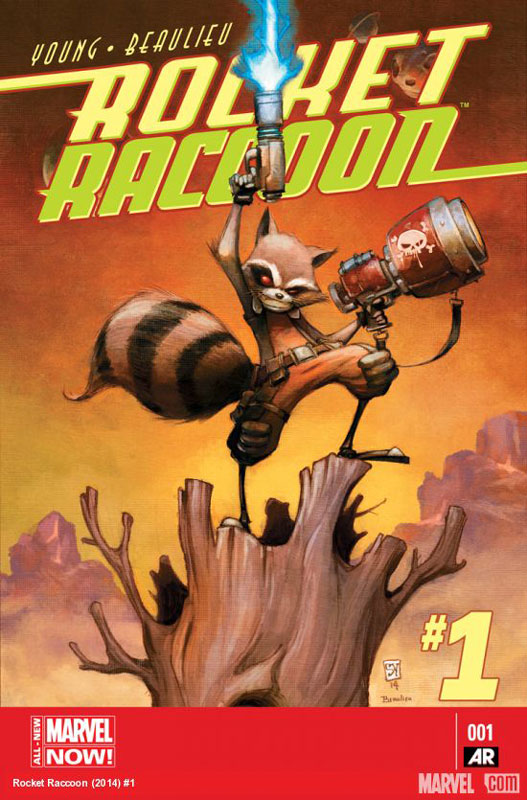 Rocket Raccoon #1
Marvel Comics Writer and Artist Skottie Young, Colorist Jean-Francois Beaulieu, Letterer Jeff Eckleberry
What no baby cover for your own book Mr. Young? The plot from Marvel is,As defenders of the cosmos go, Rocket Raccoon has faced his fair share of galactic battles. He's been a hero to the weak, a champion of good, a protector of the innocent, a heartthrob to the many intergalactic female species and now–a raccoon on the run?! ( I'm sorry, I'm sorry, a "formidable-and-expert-Guardian" on the run. Rocket is NOT a raccoon, okay?) Rocket's high-flying life of adventure and heroism may soon be a thing of the past when he becomes a wanted man and the authorities are not the only one on his TAIL! (Well definitely be overusing that pun!) Superstar creator Skottie Young brings his A-game as writer and artist on the series we've been waiting decades for. Because let's be real, this is the only Guardian of the Galaxy you actually care about. Am I right? Young has been on my radar because of the OZ books that he did with Eric Shanower for Marvel and of course the tons of Marvel baby variant covers he did. But the big question going into this book is can he write as well as he draws? The good news is that he is a pretty good writer and he did one thing very right, the book is really fun and filled with goofy stuff. It's a cleaver script that has really nice pacing. Young is keeping the book simple and fun and not over-thought. Art wise this is why most people are going to buy this book. Young is a really fantastic artist and next to Mike Mignola who are the best at drawing the furry little bastard.
Is this book worth your time and money? While Rocket Raccoon has been now turned into a smart ass character, Young does use that to his advantage. What he does is take the harsh edge off and adds a more tongue in cheek approach to the book. And that is the books best asset. This book is pure fun and hopefully Young will be able to keep the fun going for many issues to come. Fun story with amazing art deliver a very entertaining book. VERY RECOMMENDED!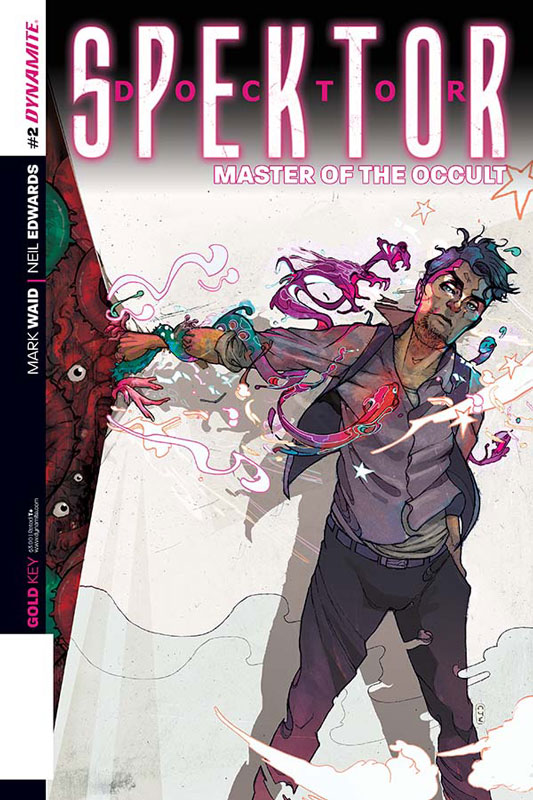 Doctor Spektor #2
Dynamite Writer Mark Waid, Artist Neil Edwards, Colorist Jordan Boyd, Letterer Marshall Dillon
Mark Waid continues his re-imagining of the Gold Key character. The plot from Dynamite is, Nothing makes sense…everything that Doctor Spektor has ever known is called into question, and he'll stop at nothing to uncover the secrets and lies that hide beneath the surface of reality. Can the Master Of The Occult overcome his fears, and learn the unfathomable secrets of the universe? I did enjoy the first issue of the book but I really was dismayed by the second issue. I really felt lost in the story and it really seemed to not go anywhere. Waid is a good writer but I think that his time jumping in this issue really missed the mark. I left the book feeling that nothing really happened in the story and I really didn't care about any of the charters. Quite honestly I wasn't even sure that this was the same book that I read issue one of. Edwards does an acceptable job on the art and there were too many time where there were no backgrounds and that got a little old quickly.
Is this book worth your time and money? This second issue really fell off the rails for me. It really jumped around and I almost felt the need to go back and re-read the first issue to help me figure out what is going on. Waid is a better writer than this and maybe the next issue will be better. I really hope so because this book is on a really short leash right now.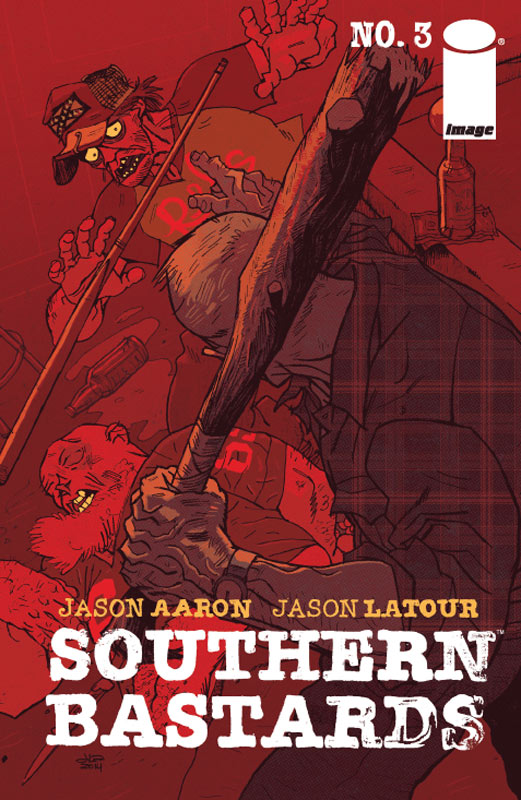 Southern Bastards #3
Image Comics Writer Jason Aaron, Artist & Colorist  Jason Latour, Letterer Jared K. Fletcher
This southern ass kicking story hits it's stride this issue. The plot from Image is, Earl Tubb's one-man war to clean up Craw County begins to rage out of control, as it claims its first casualty. Aaron is now getting to the real meat of the story with the third issue of the book. Earl has now realized that he is tied to his father and Craw County for better of worse because they need a hero. The thing that I really love about Aaron's writing is that the book is about a feeling of the south and even if you have not been there you do feel it in the story. The pacing of the story for some may be slow but you have to understand that in that part of the country the passing of time is very different from in say a city. Aaron is deliberately keeping the pace of the story to the area and the charters. Latour brings his gritty style that give the story the visual punch it needs. The ass kicking at the diner was laid out very well and yet the dialog scene of Earl talking on the phone are both captured so well by him.
Is this book worth your time and money? Aaron and Latour continue to bring their A game to each issue.  While I have only visited the south I did grow up in a fairly small town and I can tell you that this book really gets the feel of that down perfectly. And that is what makes this book work so well. It's about the soul of Earl and what he is destined to do. It's rare to have a book that has such a great feel to it and Southern Bastards continues to feel just right. RECOMMENDED!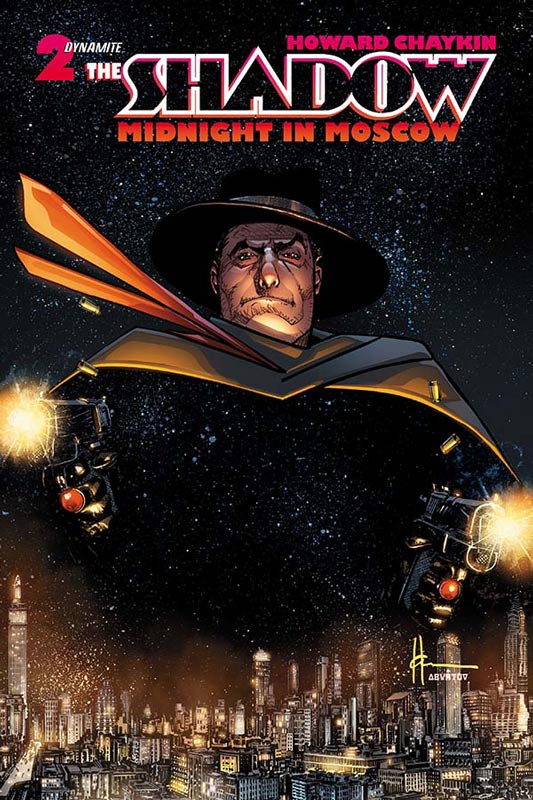 The Shadow Midnight in Moscow #2
Dynamite Writer and Artist Howard Chaykin, Colorist Jesus Aburto, Letterer Ken Bruzenak
Chaykin continues his return to the Shadow continues. The plot from Dynamite is,he streets of New York run red with criminal blood, as the families of organized crime wage war on each other. The streets of London conceal an international conspiracy that may very well put an end to humanity. And Lamont Cranston, aka The Shadow, has retired. WTF!?!! Chaykin continues his story that is very much looking at the long-term. This is one of those stories that will work best when read in one shot and not monthly. Not to say that you won't enjoy the book, it's just a long form story that is really meant to be read in one sitting. Chaykin story in this issue is a lot to take in and there is a lot of exposition to still cover with the story. This is a story that is unfolding at a pace that the younger comic book crowd will have problems with. Chaykin is delivering a real old school pulp story here that will rub some readers the wrong way. For me though the more pulp in my story the better. Chaykin continues to deliver really great art that looks as good as always. Very few artist could pull a book like this off as well as Chaykin can. Visually it doesn't get any better than this for The Shadow.
Is this book worth your time and money? If you are a fan of pulp stories and the Shadow then you have already bought this book. If you are unsure about it I would recommend waiting for the trade of the book. The reason for that is so that you can read the story in one sitting. It will work better for readers that are not familiar with the pulp style of writing. Overall I am really enjoying the book and of course loving the artwork.
Moon Knight #5
Marvel Comics Writer Warren Ellis, Artist Declan Shalvey, Colorist Jordie Bellaire, Letterer Chris Eliopoulos
Warren Ellis continues his done in one run on Moon Knight. The plot from Marvel isAn abandoned hotel in New York contains a single abductee and upwards of twenty armed mob enforcers. Moon Knight is going to go inside and rescue the abductee. Alone. Ellis approach to this mainstream comic has been really groundbreaking in many ways. Even with a done in one approach to the stories there are still threads that are under the surface of the story. This is Ellis's take on the Man With No Name type story of the lone hero going in to save the girl from a building filled with bad guys. It's a simple and straight forward story that if told well will always work. And it does work very well here. Shalvey brings Ellis's story to life with such visual impact that he is able to convey the story so well when there is no written dialog but needs to visually get the story point across. Few artist can do this well and Shalvey is one that does.
Is this book worth your time and money? You really can't go wrong with this book. Any of the issues can be read by themselves so if you haven't been picking up the book any issue will do. And the good news is that all of the issues are very well done. Solid stories and really good artwork. They may be quick reads but they are very satisfying.