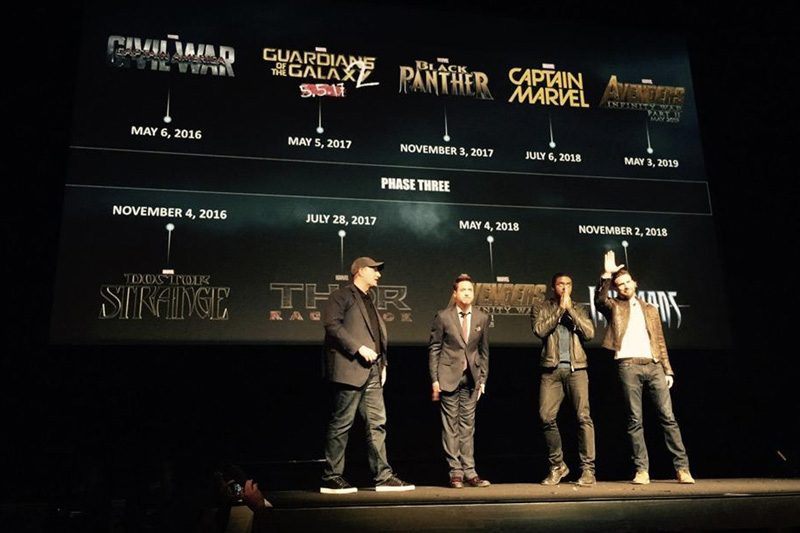 With the success of the Marvel superhero films it's was no big surprise that Warner Bros. who owns DC comics has decided to hit the overdrive button to play catch up with their own universe of films. With the announcement of 10 feature films:
Batman v Superman: Dawn of Justice, directed by Zack Snyder (2016)
Suicide Squad, directed by David Ayer (2016)
Wonder Woman, starring Gal Gadot (2017)
Justice League Part One, directed by Zack Snyder, with Ben Affleck, Henry Cavill and Amy Adams reprising their roles (2017)
The Flash, starring Ezra Miller (2018)
Aquaman, starring Jason Momoa (2018)
Shazam, (2019)
Justice League Part Two, directed by Zack Snyder (2019)
Cyborg, starring Ray Fisher (2020)
Green Lantern (2020)
And Marvel announcing their "Phase 3" films and the last two "Phase 2" films
Avengers: Age of Ultron – May 1, 2015
Ant-Man – July 17, 2015
Captain America: Civil War – May 6, 2016
Doctor Strange – November 4, 2016
Guardians of the Galaxy 2 – May 5, 2017
Thor: Ragnarok – July 28, 2017
Black Panther – November 3, 2017
Avengers: Infinity War Part 1 – May 4, 2018
Captain Marvel – July 6, 2018
Inhumans – November 2, 2018
Avengers: Infinity War Part 2 – May 3, 2019
This is only the films not the television series that are currently running like The Flash, Arrow, Agents of Shield, Gotham, Constantine, iZombie (spring 2015), & Agent Carter (January 2015). With upcoming ones Daredevil,  Jessica Jones, Luke Cage, Iron Fist, The Defenders, and Supergirl are confirmed currently. There are also more Spider-Man movies from Sony, X-Men and Fantastic Four films from 20th Century Fox.
While currently most of the films have done big box office and done pretty well in the ratings is the general public going to get superhero fatigue? I love comics and while I do enjoy a good superhero comic lets be honest while the box office has been good so far creative quality for most of them have not been the highest. While there are exceptions to that like the Nolan Batman films and the first Iron Man most have been not been more than popcorn tent poles.
I just wish that the studios would think outside the box more when doing comic book films. While at least Warner Bros. does have Sandman in development and both Constantine and iZombie are all based on Vertigo titles. Other than that all of the above mentioned films and television series are all superhero fare. The other thing that is troubling about them is that the date of release is more important than the behind the scenes creators. Marvel's Ant-Man project is the best example of that. The film had been in development since 2006 by director Edgar Wright and abruptly exited the project last May. Yet Marvel instead caring about the quality of the project went full steam ahead with hiring Peyton Reed as a replacement. I have nothing personal against Reed but with his directing resume includes Yes Man, Down With Love, The Break-Up, and Bring It On, but seems to be a rather odd choice to direct a big budget superhero film. While it's very obvious that Marvel was nervous about Wright's more creative approach to the project and wanted script changes. Wright chose to exit the project that he loved because it was becoming something that he didn't want to make because his vision didn't fit into the Marvel vision. This is not the first time that Marvel has run into this creative issue. In a story in the Hollywood Reporter they point out others that have had creative issues with Marvel.
Feige essentially is the showrunner on $150 million episodes in a Marvel universe that expands in phases. The company "Marvel-izes" its projects, as a source with ties to the company puts it. That sometimes leads to clashes with filmmakers who have strong points of view, as Kenneth Branagh found during the making of Thor. He did not return for the sequel, nor did Joe Johnston for Captain America. Patty Jenkins, who directed the 2003 Charlize Theron hit Monster, was hired for Thor 2 then fired. Edward Norton clashed with Marvel during post on The Incredible Hulk and was replaced by Mark Ruffalo for the character's return in The Avengers. Terrence Howard similarly was replaced by Don Cheadle in the Iron Man sequels. And on May 24, Drew Goddard was replaced as showrunner by Steven S. DeKnight on Marvel's upcoming Netflix series Daredevil (though Goddard is working on Sony's Marvel movie Sinister Six).
"Kevin Feige [and his top lieutenants] run Marvel with a singularity of vision, but when you take a true auteur and throw him into the mix, this is what you get," says a source. "They don't want you to speak up too much or have too much vision. People who have never worked there don't understand how they operate, but if you trust them, they have an amazing track record."
I'm guessing that the same thing is going to happen over at Warner Bros. with their superhero franchises. While the studio left Christopher Nolan alone on his Batman films, I doubt that the same will apply to their new films. As with Marvel they will hire directors and writers that will do what the studio want them to make. The question is that will the general audience really care. I hate to say it but I doubt it. Considering that one of the most successful films of the summer was Transformers: Age of Extinction with over a billion dollars worldwide is sad proof that people don't care about quality as long as it's pretty and loud.
Can we hope that there will be a chance that studios will take a chance on a creative director like Nolan again to helm a superhero film? I have hope but with such huge budgets riding on these films it's going to become more rare that the studios will gamble on filmmaker's visions over the studios desire to control them and make them the most marketable over creative quality. The ultimate choice is made by the general public and if they keep paying to see them in the theaters and watch them on television we will be seeing as many sequels to them as we did with the Friday the 13th with a whopping 10 sequels, 1 team-up (Freddie Vs Jason) and 1 re-make. We saw how well that worked out. Do we really need to see sequels to mediocre films? No but that is what the public seems to want and I hope that they can have quality too. Is that too much to ask for?