The past couple of weeks have been brutal on the wallet at my comic shop with lots of good books and there were some new and returning books on the review hit list this week. So lets crack that whip!
Bart Simpson #89
Bongo Comics Writers and Artist Various
I usually only pick up the Simpsons Halloween books because they are such a blast every year and that's about it. I do see if there is somebody I know doing the Bart Simpson book because lately they have had some really fun guest writers. This month has one of my favorites. The first story "That's Hairable!" is by Shane Houghton of Reed Gunther fame (and if you have not read that book then run out right now and pick it up!) and art by Jacob Chabot.  And when Bart brings one of Professor Frink's recent discoveries to school, it leads to some hair-raising hilarity. The one thing I like about Shane's writing is his timing. When writing humor for a 10 page story then you really have to be spot on with it and Shane really nails it. Chabot hit the beats of the story perfectly in the artwork. I also love how he pulls off the hair flood at the end of the story. The coloring by Art Villanueve adds some really nice depth and shading to the artwork. The second story "Fangs For Nothing!" is written by Ian Boothby and art by Hilary Barta After an unfortunate trip to the dentist, Principal Skinner is mistaken for a vampire. It doesn't help that Bart fuels the fire (and supplies the pitchforks) to an unruly mob uprising. While this is not a bad story it does feel a bit pedestrian, It's nice but not very memorable. The final story "Thumb Wrasslin!" by Dean Rankine has Bart and Milhouse embark on an embittered and injurious thumb wrestling battle. This is a cute two page gag that works pretty well for what it is.
Is this book worth your time and money? I will give it a yes but only because the first story is so good. I admit that I am partial to Shane Houghton's writing it definitely is the strongest one of the bunch. For $2.99 you could do a lot worse.
Sovereign #1
Image Comics Writer Chris Roberson, Artist Paul Maybury, Colorists Paul Maybury with Jordan Gibson, Letterer John J. Hill
I was a big fan of Roberson's work on iZombie so I was looking forward to his new creator owned book from Image. The plot from Image is, An epic fantasy in the tradition of Game of Thrones, SOVEREIGN is set in a world which once knew gods, demons, and magic, and to which all three are returning. New York Times bestselling author CHRIS ROBERSON (Edison Rex, iZombie) joins artist PAUL MAYBURY (POPGUN, Catalyst Comix) to tell the story of masked undertakers facing the undead with swords, of civil wars and cultures in collision, of ancient threats emerging from the ashes of history to menace the future. I should have known when you use the popular thing of the moment (Game of Thrones) to promote your book, a warning bell should have went off in my head. While the book is not terrible it's a really big mess. When you are telling so-called "Epic" tales it probably wasn't the best idea to try to tell three of them all in one issue. There are three separate stories in this issue and they all come off really poorly. You mostly have no idea what's going on because it seems that you feel as if you were dropped into the stories that had already started. You end up not caring about any of the characters because you have no motivation in the short space per story. It would be like throwing up three different novels pages in the air and grabbing random pages from them and trying to guess what is going on. It really lacks focus and is really boring to read. Maybury's art is nice and he really does try to make the confusing stories interesting.
Is this book worth your time and money? I really wanted to like this book but trying to cram three different stories into one issue turned out to make it a big mess. While the stories might be good in the long run it may take too long for anyone to stick with the book that long. This book missed the mark.
American Vampire: Second Cycle #1
Vertigo Comics Writer Scott Snyder, Artist Rafael Albuquerque, Colorist Dave McCaig, Letterer Steve Wands
The Vamps are back and are off to a good start. The plot from Vertigo is, Pearl Jones is a new kind of vampire, one of an American breed that can walk in the sun and has rattlesnake fangs. She's beautiful and powerful – and she's hiding from a tragic past. Skinner Sweet is an American vamp too – the kind you love to hate. He's good when he wants to be, but most of the time he's downright bad. He's Pearl's maker, but he's off in Mexico with an agenda of his own…Will their two stories collide, or are they separated forever? And who is this new villain on the horizon, someone bloodier and more evil than anything seen in AMERICAN VAMPIRE before? Who is THE GRAY TRADER and what does his arrival mean for Skinner and Pearl? Vertigo is touting this as a good jumping on point for new readers. So maybe it might have been a better idea to put the two page previously in American Vampires in the front of the book instead of after you have read the issue. Somebody really dropped the ball on that one. Snyder seems to be a better writer when he is doing book over at Vertigo compared to most of his superhero stuff on the DC side. The first issue really starts off nicely with a lot of set up to where he is going to take us this round. Snyder has quite the knack for blending different stories together quite nicely in the book. Albuquerque's art fits the story like a glove. The mood that he brings to the story is one of those times where the story and art blend together so well that it just immerses you into the world from page one. McCaig's color work here really compliments the art here.
Is this book worth your time and money? If you have not read any American Vampire books before this is a good starting point but I would recommend picking up the previous books in trades to really catch you up on the story. This second arc of the story promises to be quite the ride and I am excited to jump in with both feet. Recommended!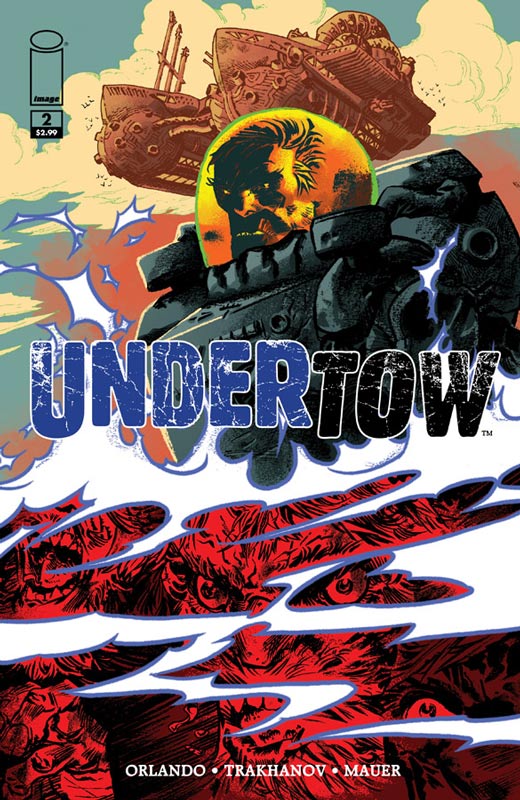 Undertow #2
Image Comics Writer Steve Orlando, Artist Artyom Trakhanov, Letterer Thomas Mauer
I reviewed the first issue and wanted to like it but it kind of missed the mark in terms of grabbing me. So with the second issue is there any hope for this book? The lot from Image is, A Sea Locust: thirty feet of armored spines, claws that strike at the speed of sound. And it's devastating Ukinnu Alal's team by the second. They're talking mutiny on the Deliverer, and Bau Zikia's the only one standing between them and Uruku's sword. Unfortunately Orlando's story is still plodding along and honestly while there are some really good ideas it's just taking to long. The main problem is the lack of characters to grab onto. The story is not bad but after reading this issue that is a bit better than the first issue I did not find any characters to grab onto. The story just seems to not be as focused as it needs to be. I really love Trakhanov's artwork and it really does fit the mood that the story needs. I did find the second issue to be a bit less cluttered than the first issue in the art department.
Is this book worth your time and money? For me it's got one issue left to keep going. We have had two issues and while it is going somewhere, it's just not very fast. I want to like it but I just am not caring what is happening in the story. And there in lies the problem.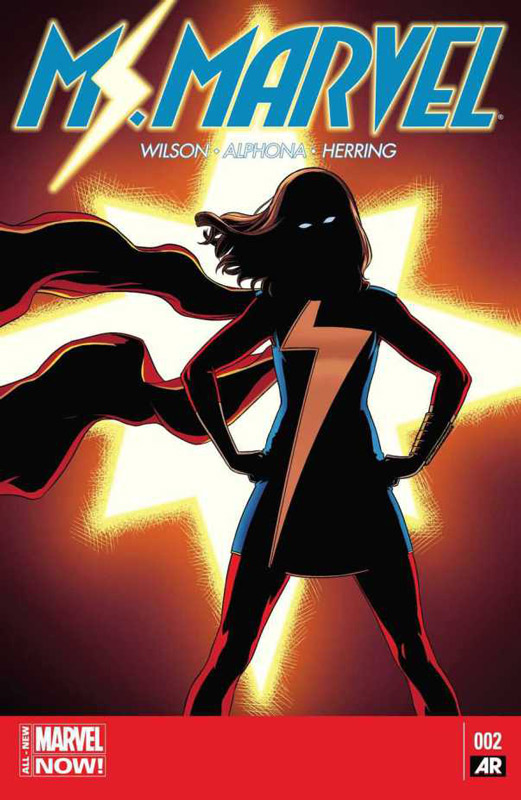 Ms. Marvel #2
Marvel Comics Writer G. Willow Wilson, Artist Adrian Alphona, Colorist Ian Herring, Letterer Joe Caramagna
I was a big fan of the first issue of this book and was hoping that the second issue would deliver. The plot from Marvel is, Kamala Khan's very ordinary life has suddenly become extraordinary. Is she ready to wield these strange and immense new gifts? Or will the weight of the legacy before her be too much to handle?Critically acclaimed writer G. Willow Wilson (Air, Cairo) and fan-beloved artist Adrian Alphona (Runaways, Uncanny X-Force) bring you the groundbreaking Marvel series that has set the world abuzz. Don't miss history in the making. Wilson is unfolding the story quite nicely. She is still keeping a lot of mystery but is still spot on with the characters development. I really like that we are finding out about Khan's powers at the same time she is and is just as surprising to us as it is her. The only minor thing is that the family scenes are a bit on the cliché side at the end of the issue but nothing fatal. Alphona's art is just so fresh and breathes so much life into the story. His layouts are just perfect and his perspective work is something you rarely see in comics today. He is the real deal and make this book so wonderful to look at.
Is this book worth your time and money? This book really caught me off guard for a Marvel book. The thing that I love about the book is how intimate it is. It's not over the top or loud but really does its own thing. This is a superhero book that is not quite a superhero book. It's a very different kind and that is what makes this book so special. Highly Recommended!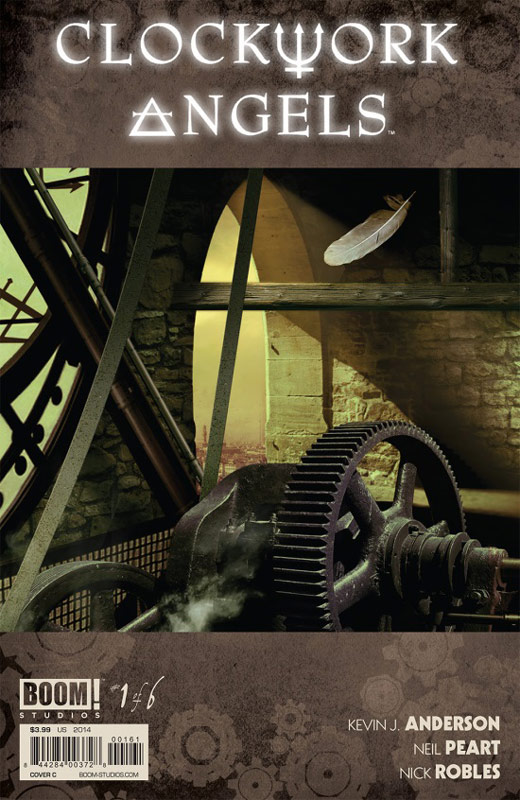 Clockwork Angels #1
Boom! Studios Writer Kevin J. Anderson Based on story and Lyrics by Neil Peart, Artist Nick Robles, Letterer Ed Dukeshire
This is the surprise book of the week. The plot from Boom! is, Owen Hardy, like all the people of Albion, has lived his whole life under the rule of The Watchmaker. His entire life has been planned down to the exact second. But what happens when a young boy decides that things should not always goes as planned? While I am familiar with Rush I went into this book with no idea that it's based upon the band material and it was really good. Anderson really sets up the idea of a world that has everything planned out but Owen wants more and takes the risk to step into a new world of making his own choices. The story really flowed well and set up the premise quite nicely. He only reveals a little in this first issue but that tiny bit is quite enough to get me interested in this story for the six issue run. Robles's artwork is the reason I picked up the book. Most books like this have mediocre art at best. Robles artwork captures the fairy tale aspect of the story. He is ability to capture both the big and the very subtle parts of the story are just amazing. The art really captures the tone and feel that the story needs.
Is this book worth your time and money? After reading this book I can't wait until the second issue to get out. This is setting up to be quite the epic story in both the writing and the art. It might be based in Rush music but the story that is being told definitely stands on its own. Very Recommended! 
Daredevil #1
Marvel Comics Writer Mark Waid, Artist Chris Samnee, Colorist Javier Rodriguez, Letterer Joe Caramagna
If you are one of the people who missed Waid's recent run of Daredevil (and shame on you!) here is a chance to jump on board this time. The plot is, BECAUSE YOU DEMANDED IT! Join Marvel's fearless hero as he begins his most awe-inspiring adventure yet in the sunny city of San Francisco! Gifted with an imperceptible radar sense and a passion for justice, blind lawyer Matt Murdock—a.k.a. DAREDEVIL—protects the Golden City's streets from all manner of evil. But big changes are in store for Matt Murdock as old haunts and familiar faces rise to give the devil his due. Hold on tight, because here comes Daredevil…the Man Without Fear! This book is pure superhero story telling at it's bet. It doesn't try and be more than it is, just good old fashion story telling. Waid knows that everybody knows who Daredevil is, but what he does do in the first issue is make him a fish out of water with the new location. There are some minor plot threads from the previous book but nothing to get in the way of new readers jumping on the book. What can you say about Samnee's artwork? Not anything bad. While some might say that his art is simple, they really don't obviously get the great subtle things that he put into it. The way that he plays with the layouts and keeps it flowing so smoothly. The way that he tackles the chase scenes is just breathtaking.
Is this book worth your time and money. This book is a real throwback to superhero books of the 1980's and that is not a bad thing. Waid and Samnee are putting the fun back in comic but not sacrificing in either the story or the art department. If this new run is as good as the last one was then you need to buy this book as soon as possible. Very Recommended!