There was such a great response to Good Family Films Part 1 that a lot of people have been asking when I will add more to the list. Well now we will get to Part 2. Just a little bit of background on what this list is about.
I have a number of friends that have young kids and they are always asking me for suggestions for good family films. Let me first start off by saying that films that are specifically made for kids or families are 99% of the time are terrible. They are terrible because they aim low and usually don't care about story or much of anything else. While most people reach for the animated Walt Disney films (and there is nothing wrong with that) there are lots of really great films out there that the whole family can watch. Meaning there good for kids and adults will actually want to watch them. I am not going to break them down in any order and some of the films are going to skew a little more for older kids. It's up to you to figure out what is appropriate for your specific family. I tried to avoid films that most people are familiar with and hopefully it will turn you on to some new choices for your family. If you click on the title of any of the films it will take you to its IMDB page that will help you with the ratings on the films.
Nominated for Best Animated Film by the Academy Awards (the other nominees were Chico and Rita, Kung Fu Panda 2, Puss in Boots, and Rango won the Oscar) is a really great hand drawn animated film that tells the story in Paris, a cat who lives a secret life as a cat burglar's aid must come to the rescue of Zoe, the little girl he lives with, after she falls into a gangster's clutches. While there is the kidnapping scene that might be a bit frightening for small children, it is a great family film that has great action and really touching moments. The really great thing about this film is that the cat does not talk like a typical american animated film (it's a French production) so it does not fall into a lot of the clichés that most animated films suffers from. As an adult you will be just as involved in the film as your kids are. The animation style is really amazing and looks like nothing you have probably seen before. There is an English dub on the Blu-Ray but if you have older kids I recommend watching it in the original French language with subtitles.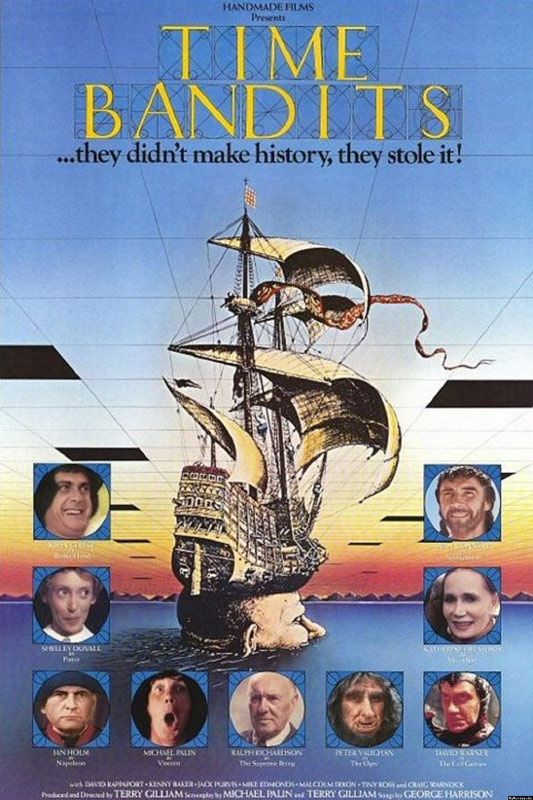 From Monty Python's Terry Gilliam and co-writer Michael Palin comes this fantasy film that amazingly is fairly family friendly. While it's definitely not for young ones because of some more adult themes and action. The plot is, Kevin, an imaginative child, goes on a time-travelling adventure with a bunch of treasure-hunting dwarves, who have "borrowed" a map to the Universe's time holes from The Supreme Being. The thing that make this film really great is that it's kind of family version of a Monty Python sketch but with a much bigger budget. Overall it's a fantastic fantasy film with a little bit of everything thrown in. If you have seen any of Gilliam's films then you pretty much know what you are in for but a bit more on the family friendly side than his other films. This is one for the older kids and is too dark for young kids. It can get a bit scary at times but everything works out in the end.
When it comes to films that made the 1980's so great this is nearly at the top of the list. A group of kids set out on an adventure in search of pirate treasure that could save their homes from foreclosure. While I loved the film the first time that I went to see it, when going back and watching it multiple times over the years it's like a fine wine that just keeps getting better. The thing that makes the film work so well is that there is a little bit of all of the Goonies in all of us. You are able to relate to each one of them and you are on the adventure with them. It might be freighting for young kids but once you show it to your kids they will fall in love with it and want to watch it multiple time too. Goonies Never Say Die!
Written and Directed by David Mickey Evans who wrote one of my favorite films Radio Flyer. Evans has a knack for pulling off that "exaggerated reality" type story. The plot is, Scotty Smalls moves to a new neighborhood with his mom and step dad, and wants to learn to play baseball. The neighborhood baseball guru Rodriquez takes Smalls under his wing, and soon he's part of the local baseball buddies. They fall into adventures involving baseball, treehouse sleep-ins, the desirous lifeguard at the local pool, the snooty rival ball team, and the travelling fair. Beyond the fence at the back of the sandlot menaces a legendary ball-eating dog called The Beast, and the kids inevitably must deal with him. What makes this film so great is that it is a great story about friendship. There are so few films that do it as well as this film does. The Beast next door might be frightening to little kids but that is about it. It will definitely take you back to your childhood when you watch it with your family.
Few films touch me as deeply as Simon Birch did. While I won't get into my opinions of religion the film is really about faith, faith it what you believe in no matter what that is. The plot is, Simon Birch tells the story of Joe and Simon's heart-warming journey of friendship. Simon Birch was born with a condition that makes him much smaller than all the other kids in town. Now, due to his condition, Simon thinks God made him this way for a reason and highly believes in God. Together, Joe and Simon go on a journey of trust and friendship to find the answers to many things. Their friendship is put to the test when some unfortunate events happen. The big thing to watch out for with younger kids is the bus crash towards the end of the film that is pretty intense. The thing that I love about this film is that I found it not to be preachy considering the plot of the story. I found it to be about what we can do if we believe in ourselves.
Batman: Mask of the Phantasm (1993)
Originally developed as a direct to video spinoff of the hugely popular Batman: The Animated Series it was given a small theatrical release that very few people went to see. I was one of the few who was in the empty theater to see it. The plot is, An old flame of Bruce Wayne's strolls into town, re-heating up the romance between the two. At the same time, a mass murderer with an axe for one hand begins systematically eliminating Gotham's crime bosses. Due to the person's dark appearance, he is mistaken for Batman. Now on the run, Batman must solve the mystery (Which eventually involves The Joker in a neat plot-twist) and deal with the romance between him and Andrea Beaumont, which is more than meets the eye. Even though it started as home video release the production did have time to know that it was going to be released theatrically and made great effort to make the production much bigger than the television series. This also allowed them to break all of the taboo things that children's television did not allow and the more adult oriented story reflected this. This means that there is a lot more action but it still based in the superhero good verses evil mode.
While this movie is definitely high cheese factor to it, if you are like me you will fall in love with this over the top production of the comic strip. The plot is, Flash Gordon is an American quarterback who is taken for a ride to the planet Mongo with his beautiful girlfriend Dale Arden, and is quickly taken in by the Emperor Ming the Merciless who seizes Dale and tries to execute Flash. However, Flash escapes and now must collect an army of strange beings to fight back the evil Emperor Ming and rescue Dale as well as saving the Earth all at the same time. This is a lot like the 1966 Batman television series and the reason why is that it was written by Lorenzo Semple Jr. whom developed the television show. It's very much tongue in cheek stuff here but it does have all of the elements of science fiction, superhero, and fantasy all rolled into a color explosion of an acid trip. While there is some mild sexual innuendo and action scenes, for older kids this film is a blast and they will have a great time with it. It's simple camp that is a ton of fun and great music by Queen that adds a whole new dimension to the film.
Walt Disney knew how to make family films and some of the live action films were just as good as the animated ones. The plot is simple, A race car driver becomes a champion with a Volkswagen Beetle with a mind of its own. Walt had help develop the original film but never lived to see the finished production. The thing that made a lot of the live action film great was that they were truly for the whole family. They did not talk down to kids and they were fun for the adults that would take them to see it. The thing that really make this film great is the cast with Dean Jones, Michele Lee and Buddy Hackett is the crew of Herbie. If you have kids that loves the Pixar Car's films then they might just fall in love with the original family Car adventure movie. And while Herbie doesn't talk he really is a great character.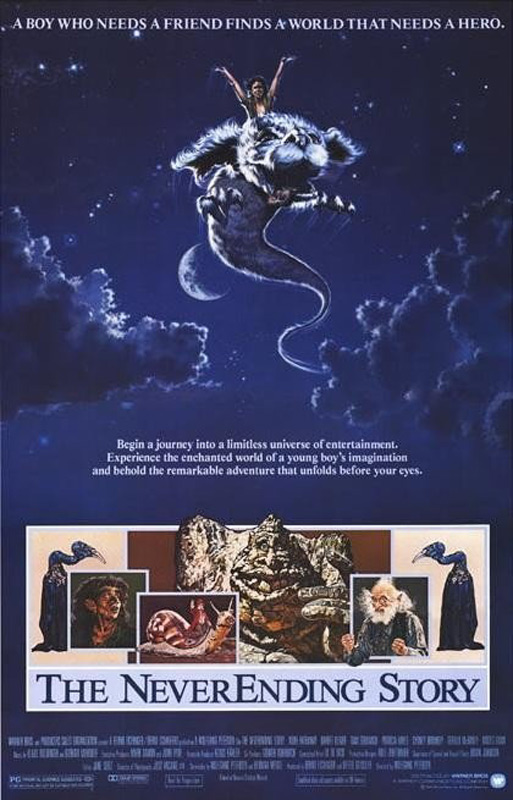 Based on the German novel of the same name Director Wolfgang Petersen was more known for more adult fare such as Das Boot made this epic fantasy film that has enchanted kids ever since its original release. The plot is, Bastian is a young boy who lives a dreary life being tormented by school bullies. On one such occasion he escapes into a book shop where the old proprietor reveals an ancient story-book to him, which he is warned can be dangerous. Shortly after, he "borrows" the book and begins to read it in the school attic where he is drawn into the mythical land of Fantasia, which desperately needs a hero to save it from destruction. While other films have tried to capture the same idea of a kid reading and becoming part of the story. None has come close to the magic that this film captured. It gets pretty dark at times and should not be shown to small children but if they are a bit older and love fantasy this is a great film and you will fall in love with it too.
Based on the award-winning novel by Neil Gaiman and is brought to the screen by writer/director Henry Selick who directed a little film you may have heard of The Nightmare Before Christmas. The plot is, A young girl walks through a secret door in her new home and discovers an alternate version of her life. On the surface, this parallel reality is eerily similar to her real life – only much better. But when her adventure turns dangerous, and her counterfeit parents (including Other Mother) try to keep her forever, Coraline must count on her resourcefulness, determination, and bravery to get back home – and save her family. This is definitely not for the younger crowd because it gets pretty dark but for older kids this is a really great film. One of the few animated films with a strong female lead that is thankfully not a princess. The film is stop motion animation and it really brings Gaiman's story to life it a truly fantastical way. I am a huge fan of this film and it really has great replay value.
 Well that's it for part 2. I hope that there are some new films that your family might enjoy and add to the mix of films to see.