Another big week of new and returning books to the reviews that is making it really hard to keep up with them all. So let's get them.
Doctor Spektor #1
Dynamite Entertainment Writer Mark Waid, Artist Neil Edwards, Colorist Jordan Boyd, Letterer Marshall Dillon
It seems as if the fourth time is the charm with Dynamite's revival of the Gold Key superhero line. The plot from Dynamite is, "TV legend. Wall Street wolf. Internet mogul. Tabloid bad boy. Master metaphysicist. Spiritualist. Monster hunter. Doctor Adam Spektor is all of these things…and less." For fifteen years, Spektor has traveled the globe to smoke out and defeat werewolves, vampires, ghosts and everything else that goes bump in the night. Yet his success has brought him no peace…some part of him is missing, something he needs but can't name. But he's about to find what's missing…in an unlikely place. For me most of the Gold Key revivals have not super impressed me with Solar: Man of the Atom at least had an interesting first issue. When I found out Waid was writing Doctor Spektor I had high hopes for the book. While the first issue is not the best first issue I have ever read it does get off to an interesting start. Instead of trying to shove in a complete origin story, Waid instead drops you into the action and gives the reader a taste of what this version is going to be. That can be both good and bad depending on if you are willing to give the story a couple of issues to lay out the story arc. Edwards art is pretty good and the Neal Adams influence is hard to escape but that is not a knock on his work. If you are going to be influenced by another artist you should pick one of the best. Edwards does a nice job with both the action and the dialog scenes. I hope to see him develop his own style as the series continues.
Is this book worth your time and money? The first issue asks more questions than answers and you learn very little about Spektor. It does set up some good ideas and Waid has not written a Doctor Strange clone that a lot of other writers might have been tempted to do. I will give it a few issues to see where he is going to take the story. It's off to a good start.
C.O.W.L. #1
Image Comics Writers Kyle Higgins & Alec Siegel, Artist Rod Reis, Letterer Troy Peteri
Kyle Higgins of Nightwing fame brings his new creation to Image Comics. The plot from Image is, Welcome to the "Chicago Organized Workers League"— the world's first Super-Hero Labor Union! While C.O.W.L. once stood as a beacon of hope against an epidemic of organized crime and an unbeatable "brotherhood" of Super-Villains, the union now faces its fiercest foe yet—a disillusioned public. In targeting the last of the great villains, C.O.W.L. attempts to prove its value to the world and to each other, while staving off villainy from both outside and inside its offices. I will say that the premise for C.O.W.L. is interesting but unfortunately the actual story gets bogged down and turns into a real MEH read. Higgins and Siegel story starts off promising with a villain chase that gets the book off on a good footing. Then the story just falls apart after that with too much dialog and nothing is really going on. There are lots of exposition but it really doesn't go anywhere. By the end of the issue I really had no idea of where the story was going and didn't really care. The shining light in the book is Reis's art that is really stunning. His use of layout and color are the only thing that kept me going while reading the issue. I just wish that the story was the same great quality of the artwork.
Is this book worth your time and money? I would have to call it iffy at best. There is a lot of promise in the story but lacks direction and focus to really draw you into it. The first issue of the book has to draw you in because if the reader isn't impressed they will not return for the second issue. I will be hard pressed to try the second issue.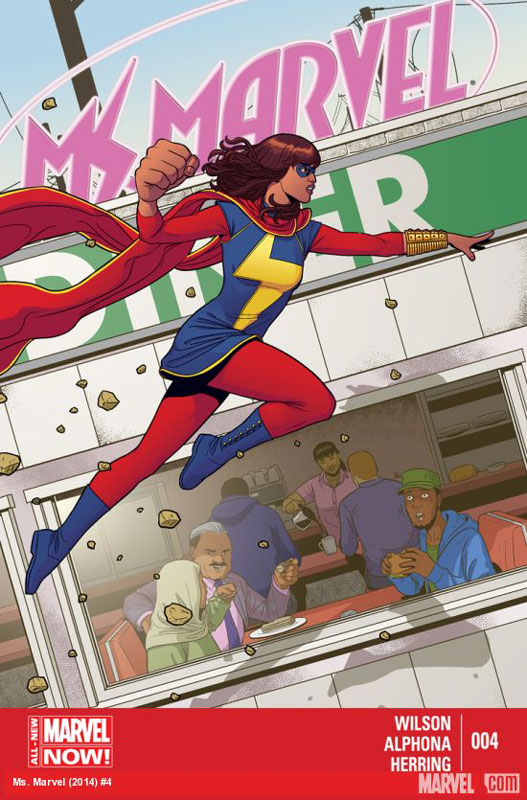 Ms. Marvel #4
Marvel Comics Writer G. Willow Wilson, Artist Adrian Alphona, Colorist Ian Herring, Letterer Joe Caramagna
This book continues to impress and surprise me each month. The plot from Marvel is, Marvel's breakout hit, Ms. Marvel, continues as Kamala Khan discovers the dangers of her newfound powers. And unlocks a secret behind them as well. Wilson continues to unfold the story at a perfect pace. It is really allowing the characters to come to life very naturally without the need to constantly have a superhero to run around all of the time. Wilson is taking the reader on the journey with Khan and that is the charm of the book. We know no more about why she is Ms. Marvel than Khan herself, and that is what is making this book so special. Wilson is carefully not revealing everything too soon but is still keeping the story very interesting. There are some readers that might find this issue slow but I think that it's actually perfect. Alphona's art continues to bring the story to another level. He captures the quirkiness of the story and brings such a fresh style that visually keeps the reader engaged.
Is this book worth your time and money? This is a really special book that captures what it's like to suddenly become a superhero and not know what to do. Well rounded characters, a strong female lead and mixing in quirkiness make this a truly unique book. Both great story and art that makes it hard to believe that this is a Marvel Comic. VERY RECOMMENDED!
Samurai Jack #8
IDW Writers Jim Zub and Andy Suriano, Artist Andy Suriano
It's been a while that Samurai Jack has been on the reviews and its high time it's back. The plot from IDW is, Jack reflects on his odyssey to return to the past, but he won't like what he finds staring back at him. Suriano makes a triumphant return to Samurai Jack with this special "silent" issue that is really good. It's rare that a book is willing to do a story without dialog but Zub and Suriano not only go there but knock it out of the park. It's just as difficult if not more so to do this. You have to be able to make sure that the reader is able to get the subtle parts of the story with the art. This is where Suriano brings this story home. He shows how to visually tell a story with just the art and he really does a great job on it. Now there is some sound effects that are in the story but other than that there is no dialog.
Is this book worth your time and money? I have been a fan of this book from issue #1 and while this is a really quick read, it really leaves a great impression on you when you are finished. It's rare for a comic to do this kind of story because it can really go wrong. But in the solid hands of Zub and Suriano it can be perfect.
Clive Barker's Nightbreed #1
Boom! Studios Story Clive Barker, Writer Marc Andreyko, Artist Piotr Kowalski, Colorist Juan Manuel Tumburus, Letterer Ed Dukshire
I am a huge fan of the Nightbreed film released in 1990 and Marvel did a four issue adaptation of the film followed by a 25 issue original issues. With plans for a new director's version of the film to come out this year Boom! Studio's is doing a new series of original stories based on the characters from the film. The plot from Boom! is, The Nightbreed is a secret society of monsters and misfits that hide away from humans, but have been a part of this world since time immemorial. Explore both the past and the present of this clandestine tribe, unleashing new secrets and horrors as they fight to coexist with mankind. Andreyko is a huge fan of the film and has crafted a really good first issue of the book. Placing stories in different time periods allows the characters to be seen in a different angle to them. This allows more individual stories to be told. The story moved at a very fast pace and flew by but I did not feel as if it was rushed. Andreyko balanced the back and forth between the two stories quite nicely and keep it on the edge. Kowalski did a nice job on the art and really captured the visual spirit of the characters from the film but made it his own with this story. He really captured the feel that was needed with the story.
Is this book worth your time and money? The only problem that I can see with the book is that if you have never seen Nightbreed then you are really going to be lost with this book. Boom! should have done a #0 issue to get new readers up to speed with the characters. This is a pretty big flaw for getting new readers involved with the book. If you have seen the film the good news is that it hits the ground running and by placing the stories in past settings really give the charters a new and fresh approach to the series. So if you are a fan of the movie then this book is for you. If you have not seen the film then it might be a little tougher but it's still a really solid read.
CHEW/Revival One-Shot
Image Comics Writers John Layman (CHEW) & Tim Seeley (Revival), Artist Rob Guillory (CHEW) & Mike Norton (Revival), Colorist Rob Guillory & Taylor Wells (CHEW) & Mark Englert (Revival), Letterer Rob Guillory (CHEW) & CRANK! (Revival)
This is a great idea of combining two great books CHEW and Revival in a flip book. The plot from Image is, TWO GREAT TASTES THAT TASTE REALLY WEIRD TOGETHER! Tony Chu heads to Wisconsin in two all-new original tales by the creative teams of both critically acclaimed titles! A great jumping-on point for readers who've heard how damn good these titles are on their own, and a twisted delight for those already in the know! The idea is that Tony Chu is in both stories that are independent of each other than having to go to Wisconsin quarantine zone that Officer Dana Cypress works in. This is really a fun book if you are a new or regular reader to either book. The flip book gives you a great sample of each creators books in self-contained stories. The CHEW story is the sillier of the two but that is what makes CHEW such a fun book. Layman and Guillory are always seeing what trouble Tony and company will get into and this story is no exception. They wisely keep the story simple but that is what I really love about this story, simple and sweet. Tongue is firmly planted in cheek at all times and chaos usually ensues. Guillory art style really is so perfect for CHEW. It has a slight cartoony style but it really works well for the stories. Revival is a more straight forward horror/mystery book that deals with the dead coming back to life and how the town deals with it. Seeley and Norton take a more mystery approach to their story. Their story is more of how Dana deals with the position of having to deal with the chaos that the town has been turned into but still try to solve the murder mystery of her sister. It's a really creepy story. Norton does a great job with the artwork and captures the mood with his nice layouts and line work. Both stories are really good and you can jump right if you are a new reader. The stories and art in both are really top-notch and shows how good the regular books are.
Is this book worth your time and money? Let's see you get two great 16 page stories with awesome artwork for only $4.99. This is the best deal of the week and is one of my top picks. Both stories are really fun and the characters really blend well with each other stories. This is a HIGHLY RECOMMENDED book this week.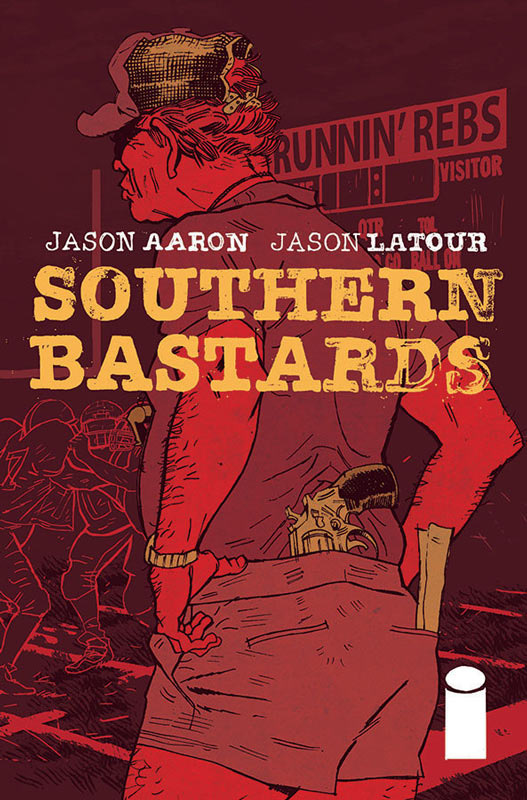 Southern Bastards #2
Image Comics Writer Jason Aaron, Artist & Colorist Jason Latour, Letterer Jared K. Fletcher
I was impressed by the first issue of this book and was very much looking forward to the second issue. The plot from Image is, It's Friday night in Craw County, Alabama. Which means Coach Euless Boss is walking the sidelines like a god. And somebody is fixin' to die. Aaron continues to unfold the story and while the second issue was a tad slower than the first one, this is not a bad thing. This is the type of story that you want to unfold carefully. You also have to see it as a whole story arc and not as individual issues. Aaron keeps the readers on their toes by keeping the mystery of the town but is slowing showing that Earl has a destiny in Craw County even if he doesn't want to believe it. I really loved how he threw in a little Camelot into the story. Latour continues to impress with the art on the book. He brings a perfect style the story needs to work and he really delivers. His coloring work really sets the mood of the story very well.
Is this book worth your time and money? Aaron and Latour are unfolding a very interesting story that is looking at the bigger picture. It southern setting is a different story that you don't see to often in comics. On the surface it's a murder mystery type of story but it's a lot more than that. This is one of those books that is going to work better in reading the whole story arc in one sitting but I will say that I am enjoying the single issues. The problem is that I have to wait another month to find out what is going on. And I am very sad about that.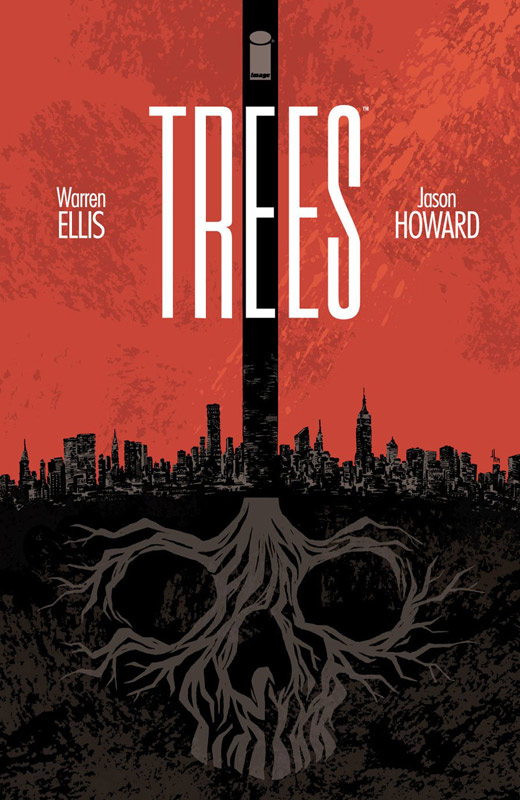 Trees #1
Image Comics Writer Warren Ellis, Artist Jason Howard, Letterer Fonografiks
It's alway a welcome thing when Warren Ellis writes a new comic. The plot from Image is, Ten years after they landed. All over the world. And they did nothing, standing on the surface of the Earth like trees, exerting their silent pressure on the world, as if there were no-one here and nothing under foot. Ten years since we learned that there is intelligent life in the universe, but that they did not recognize us as intelligent or alive. Ellis bring a really interesting twist on the alien invasion story. The real question that he is posing is that are they ignoring us or is there something else going on. It's a really intriguing idea that is laying some really great groundwork for the story. More importantly he lays the groundwork with introducing characters that are trying to understand what is going on. I really love Howard's artwork on the book. He perfectly captures Ellis's story and breathes life into it visually. He captures both the opening action scene but conveys the dialog and emotions on the cast faces extremely well. The thing I really liked about the book is the fact that you don't know what is going on. The reader is in the same boat as the characters. Ellis is wise in not giving too much away too soon. That is what always makes for a great comic. It's all about the pace of the story and Ellis is a writer that is able to do that quite well.
Is this book worth your time and money? This is a really great first issue and the concept is stunning. It offers the simple question of why and with Ellis at the helm there are going to be a very well paced story to come. I was really engrossed with the story and can not wait for the second issue. Add in Howard's great artwork and this is one of the best books this week. HIGHLY RECOMMENDED!