Summer is here and kids are out of school. While hopefully they are outside going crazy and getting into minor trouble there are still sometimes that they need something to watch to keep them occupied. There are two previous list (Click Here for PART 1 & PART 2) here are some more choices for both kids and adults who are looking for films that they both can enjoy and do not suck. If you click on the title it will take you to the films IMDB page that will give you more information on the title.
Don Bluth worked at Walt Disney where he and other animators worked on films like The Fox & The Hound and The Rescuers but left the studio because of the lack of quality at the studio at time. He and 16 other animators left Disney to form an independent studio to do higher quality animation. After working on the short Banjo the Woodpile Cat he set out on his first and best animated film The Secret of NIMH. The film is based on the Robert C. O'Brian's award-winning book. The animation in the film is lush and stunningly beautiful and with a really strong story makes this a wonderful film. The plot is, It seems to Mrs. Brisby, the widowed head of a family of field mice, that her youngest son could die, either by the farmer's spring plough or of pneumonia in his flight to safety. In her quest for a cure she frees a young crow from some string in which he has foolishly tied himself, at the mercy of the farmer's cat Dragon. In return for her risking her life to save his, he takes her to the creature all birds know is the wisest: a great owl. Owls eat mice, but when this owl learns Mrs. Brisby's name he sets her on a path to earning a noble solution to her predicament – which is the secret of NIMH.
While there are some scary moments that might be too much for very young children this film has a great message of being true to yourself and it's OK to ask when you need it. If you have never seen this film you are in for a great treat.
1982 was an amazing year for films and there were some of the best genre films released that year. The Walt Disney studio was trying to break their image of safe and stale family movies and tried to reach a bit older audience but not overtly adult themes. There first attempt The Black Hole (1979) was a disaster both financially and critically to change anyones mind. Steve Lisberger had been developing TRON in 1976 after being fascinated with the PONG video game. The Plot is, A computer hacker is abducted into the digital world and forced to participate in gladiatorial games where his only chance of escape is with the help of a heroic security program. At the time it did not fare well at the box office but was fairly positively reviewed. TRON is one of those films that was really ahead of its time of release because it was a bold concept and the general public was very unfamiliar at the time with computers. While the story is pretty basic it's well told and had a really great cast with Jeff Bridges, Bruce Boxleitner and David Warner that really brought the film to life. It was also the first feature film to extensively use computer animation for the visual effects. Over time TRON developed a cult following and the public eventually caught up to the film.
There is some intense action scenes and the villain is pretty intense for very young children. Even with its dated computer effects a friend of mines 10-year-old actually preferred the original to the more recent sequel TRON Legacy (2010). This is a great action film that is not super violent because it takes place in the video game world.
We might as well continue our journey back to 1982 with the Jim Henson film Dark Crystal. This was Henson's first time using ocular prosthesis or glass eyes on the muppets that gave them a more realistic look. The plot of the film is, On another planet in the distant past, a Gelfling embarks on a quest to find the missing shard of a magical crystal, and so restore order to his world. The film had a mixed reaction at the time of the release mostly due to people who were more used to "cute" muppets like Kermit the Frog and Miss Piggy. The film while dark is a great hero story that shows that one person can change the course of history. This is a great fantasy film that creates a truly unique world that will open a kids imagination.
While the film does have a dark tone and both the Skeksis and the Garthim could be very scary for very young children. The overall theme of the film is good will always triumph over evil.
Based on Brian Selznick's novel The Invention of Hugo Cabret acclaimed director Martin Scorsese known more for bloody gangster films made probably one of the finest family films of the last decade. The plot is,Hugo is an orphan who lives in a Paris railway station, tending to the station clocks during his uncle's mysterious absence. He scrounges food from the vendors and steals mechanical parts from the owner of a toy shop, Georges Melies. In fact, Hugo's father was a watchmaker and he has inherited his father's talents for all things mechanical. Years before, Hugo's father found an intricate mechanical man, but they could never figure out how it worked. Hugo befriends Melies's ward, Isabelle, and together they have an adventure, one that centers around Melies himself. This film is a love letter to film and the cinema. The film has such an amazing child like quality to it. It's a great fantasy tale that will thrill both young and old with its wonderful story and visuals and its grand tale of adventure. It also has a lot of heart to the story that really makes this film shine.
There are some mild chase scenes and a few adult themes but nothing to overtly scary. Smaller children might not be able to follow the story but this is simply a wonderful film that you might like as much if not better than your kids do.
This film is a really fun comedy and parody of Star Trek that will really appeal to the slightly older kids out there. The plot is, Eighteen years after their sci-fi adventure show "Galaxy Quest" was canceled, actors Jason Nesmith, Gwen DeMarco, Alexander Dane, Tommy Webber, and Fred Kwan are making appearances at sci-fi conventions and store openings in costume and character. They're wallowing in despair and at each other's throats until aliens known as Thermians arrive and, having mistaken the show for fact and consequently modeling their entire culture around it, take them into space to save them from the genocidal General Sarris and his armada. This is a really funny film and while some would think that you have to be a Star Trek fan to appreciate it, the film set up is pretty straight forward and very easy to follow. This is a really funny film and has a really great cast. If your kids are into science fiction and or conventions then this is the film for them.
There are some minor adult themes and some mild violence related to a more science fiction type of action. Younger kids will not really understand the story but you could go down to the 9 to 10-year-old range on the film.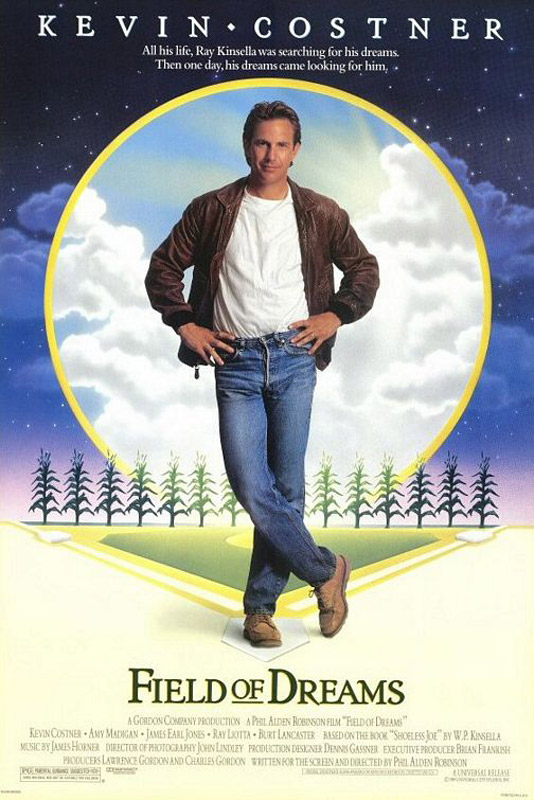 A lot of people forget that this great film makes a really good family film. The plot is,Iowa farmer Ray Kinsella hears a voice in his corn field tell him, "If you build it, he will come." He interprets this message as an instruction to build a baseball field on his farm, upon which appear the ghosts of Shoeless Joe Jackson and the other seven Chicago White Sox players banned from the game for throwing the 1919 World Series. When the voices continue, Ray seeks out a reclusive author to help him understand the meaning of the messages and the purpose for his field. Kevin Costner delivers an amazing performance in the film and is the main reason that it works so well. The film has great themes in it from the importance of family to believing in yourself to make the dream come true. While on the surface it's a sports film but in fact it's a fantasy film at its core. I am not a sports person but it's one of my favorite films.
There are very little language or violence in the film. The only really scary thing is the daughters falling off the bleachers and choking but otherwise there is very few things to note. Smaller children will probably not understand the film but other than that this is a really wonderful family film.
Aardman's first feature-length stop motion animated film and it retained all of the magic that is so loved about the studio. The plot is, Having been hopelessly repressed and facing eventual certain death at the chicken farm where they are held, Rocky the rooster and Ginger the chicken decide to rebel against the evil Mr. and Ms. Tweedy, the farm's owners. Rocky and Ginger lead their fellow chickens in a great escape from the murderous farmers and their farm of doom. Co-Directed by Nick Parks who created Wallace and Gromit deliver a great adventure film filled with all of the humor that make Aardman films and shorts so wonderful. The film has a wonderful voice cast and after seeing the film you will never view chickens the same way. The other great thing about it is that it's a great homage to films like The Great Escape. It really has a nice cleaver story and kids will love the stop motion animation.
There are a scene of a hen getting beheaded and the villains could be scary to very young children but other than that it's very family friendly that adults will fall in love with it too.
Sky Captain and the World of Tomorrow (2004)
While there was strong mixed reaction to this film and while it's not perfect I really love the film. The plot is, In 1939, an intrepid reporter in New York City makes a connection between the story she's covering– of famous scientists suddenly disappearing around the world, and a recent attack on the city by giant robots. Determined to find the solution to these happenings, she seeks the help of her ex-boyfriend, the captain of a mercenary legion of pilots. The two are investigating the case when the robots attack the city again, though in a stroke of luck, Sky Captain's right hand man is able to locate their source. They then set off on an adventure in search of the evil mastermind behind these schemes, who is bent on creating a utopia and destroying the current world. This is an old fashion action serial film that most people will not appreciate. While I admit the plot is pretty thin and the virtual sets were sometimes hit or miss in the film, it is a really fun action film. Think of Raider of the Lost Ark but a more science fiction story. The cast really help give the films scope and lack of physical sets. I put this film in the guilty pleasure category.
There is a lot of action in the film and the final scene is pretty intense for very young kids. Overall there is implied nudity and no real language issue. If you have kids that love action films you might want to give this one a try.