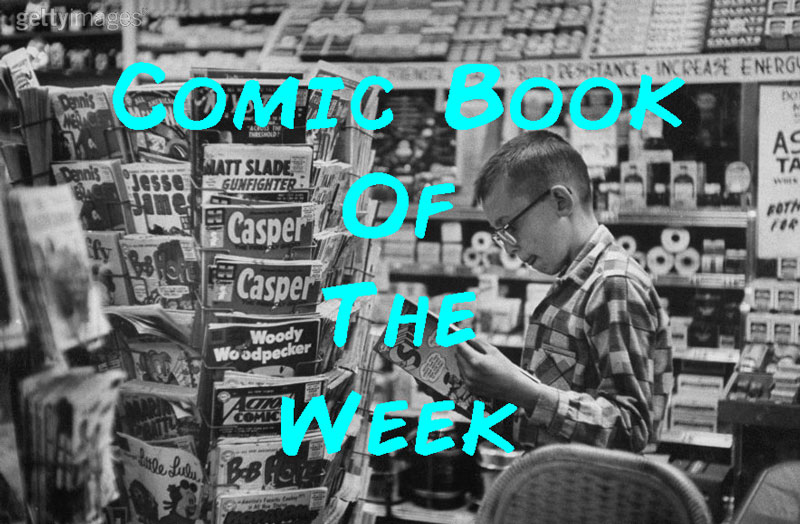 Eltingville Club #2 (Comic Book Of The Week)
Dark Horse Comics Writer and Artist Evan Dorkin
Well it took over a year to come out with the second issue (issue #1 came out in April 2014) and I must say that it was worth the wait. There have been many attempts at biting satire of geekdom but none have ever came as close to the truth as this book has. While it does help to have read the first issue you could read this issue and Dorkin peppers the events that lead up to this epilogue give you an idea of what has happened to the group. Dorkin has always been the master of satire with this and Milk & Cheese but if you are a nerd/geek/comic fan this book could hit a little too close to home and that is why it works so well. This is easily one of the funniest comics I have read in quite a while. Sure there are truly cringe worthy moments but that is was makes it work so well. Dorkin's artwork has such great detail to it and is where the book works very well. He has a great knack for character expressions that gives the book such a great look and feel. It really captures the humor and satire that makes this a real winner.
Is this book worth your time and money? If you are afraid to look yourself in the mirror and not see yourself in this book then you are not a real geek/nerd/comic reader. There are times where I even cringed at the book but that is why it's so great. Because it's all true. It's sad to see the book come to a close but it's one of the greatest epilogues to grace the comic book pages in years. HIGHEST RECOMMENDATION! 
King #1
Jet City Comics Writer Joshua Hale Fialkov, Artist Bernard Chang, Colorist Marcelo Maiolo, Letterer Deron Bennett
I have been a fan of Fialkov's work and was looking forward to this book. Unfortunately the book gets off to a bit of a rocky start. The concept of the book is good but the first issue really suffers from too much exposition and the story never quite takes off. Fialkov does introduce some really good ideas with the story but I think that the second issue is going to need to propel the story more forward than this first issue does. There are a lot of great ideas in this book but just doesn't completely gel as a complete story. It felt more like a set up to the story like a #0 issue. Chang does a very nice job with the art on the book and does help move the story along well in this first issue.
Is this book worth your time and money? This book has a lot of promise but the first issue is a bit sluggish and weighed down by exposition. I hope that the second issue pushes the story more forward and given Fialkov's record it would seem likely. Chang's art is very good and when the story gets going this could be a really good book. It's worth checking out and could be a winner if the second issue is stronger.
The Beauty #1
Image Comics Writers Jeremy Haun & Jason A. Hurley, Artist Jeremy Haun, Colorist John Rauch, Letterer Fonografiks
I have to admit that I was really taken by this book. Haun and Hurley take a lot of tried and true ideas like detective/crime story and deadly virus and shake it all up and give it a new spin and you have one really solid idea and a very good read. I really liked how they laid out the story for the first issue. They set up the idea, the characters and the concept and worked it into a very satisfying first issue. The story goes by so fast that when you get to the end you are very excited to read the next issue. Huan's artwork is good but not overwhelming but it fits the tone and mood of the story and in the end works well.
Is this book worth your time and money? I was impressed with the way that they slightly tweaked typical story tropes and put some spin on it and was quite satisfied with the first issue and very much looking forward to where the story is going to go. This is a solid first issue and well worth it. VERY RECOMMENDED! 
DC Comics Bombshells #1
DC Comics Writer Marguerite Bennett, Artist Marguerite Sauvage, Letterer Wes Abbott
DC has been doing a lot of the female superheroes as bombshells with statues and covers for quite a while but this is the first full series based on the idea and it's surprisingly good. Bennett's story does a good job os setting up the idea for the book. It's basically a Elseworlds story that uses the WWII era to have the female heroes during the war. The first issue won't knock your socks off but does a good job of introducing the cast and giving each one a nice short background story that helps new readers get up to speed but doesn't drag down regular readers at the same time. It's a light fun story that is very accessible to both old and new readers. Sauvage's artwork bring a perfect tone to the story. It's style of art that you rarely see in comics today. It definitely gives the book the perfect feel for the 1940's era and  is a very good-looking book.
Is this book worth your time and money? I liked that Bennett kept the story simple and fun and that is one reason it works so well. It doesn't try to be more than it is. It's just a fun throwback story to the WWII era and it simply a fun little read. Then you add in Sauvage's wonderful artwork that is inspired from the style of art from the era and you have a solid book. I really had fun with this book and is well worth picking up. RECOMMENDED! 
Phonogram The Immaterial Girl #1
Image Comics Writer Kieron Gillen, Artist Jamie McKelvie, Colorist Matthew Wilson, Letterer Clayton Cowles, Backup Stories Artist Sarah Gordon and Clayton Cowles, Colorist Kelly Fitzpatrick
I want to start with I am a big fan of Gillen and McKelvie's The Wicked + The Devine but I honestly found this book to be a real slog to get through. The story was vague and at times non-existent and the characters just seemed to drift through without much of a point or reason. Now I have never read the previous tow volumes of this story but after this mess I have no intention of reading them. The big problem that I had been that there was no real narrative to the story. The story was confusing and I found the main characters uninteresting. The only saving grace while trying to get though this book was McKelvie's artwork that is very good but really wasted on this book.
Is this book worth your time and money. I really don't know what happen with me on this book. Everyone seems to be raving about it but I felt it was pretentious and incoherent. Maybe everyone had read the previous two volumes but being a new reader to this universe I really hated reading this book. SKIP IT! 
Boy-1 #1
IDW Writer H.S. Tak, Artist Amancay Nehuelpan, Colorist Sebastian Cheng, Letterer Dezi Sienty
Boy 1 starts off fairly well but I really had a nagging feeling that of been there and done that. The concept of the story is fairly unoriginal and the main problem is that it never quite excels beyond average. Not that the story is bad but one thing that Tak tries is to put a bunch of pop culture references and when he does that it feels very forced. The other problem is that by the end of the issue you have pretty much figured out what is going on so the big mystery isn't hard to figure out. The art by Nehuelpan is OK and neither good nor bad but just kind of average. There are a few times where the characters are a bit on the stiff side but overall the art is pleasant.
Is this book worth your time and money? Not really the big problem with the book is that it's incredibly average. The concept is not very original and Tak doesn't put much of a new spin or try to be cleverly different. The art is OK but also fairly average and with so many comics being published an average book like this is not going to cut it. SKIP IT!
Adam 3 #1
Dark Horse Comics Writer & Artist Scott Kollins, Letterer Michael Heisler
I will give Kollins props for doing a comic in horizontal format over the usual vertical one and he defiantly uses it to his favor with the artwork. The story for Adam 3 is pretty basic and a mash-up of Conan/Tarzan but he does a nice job of giving the book its own voice. The first issue is a setup story that gets the book off to a decent start. He introduces some fun ideas and some nice mystery elements. The story has some promise and hope that the second issue hits the ground running now that the exposition is out-of-the-way. Of course Kollins artwork is where the book really shines. This is a really nice looking book and the detail that he put into it is very impressive. He really does a wonderful job of capturing both the animals and the natural jungle settings beautifully.
Is this book worth your time and money? I had fun with this book and while it's not going to win any major awards I had a good time reading it and Kollins artwork really sealed the deal. The story is pretty basic but he brings some new ideas to the concept and the artwork is worth buying the book for. I enjoyed it and thought it was worth the price of admission.
Americatown #1
Archaia Writers Bradford Winters and Larry Cohen, Artist Daniel Irizarri, Colorist Matt Battaglia, Letterer Shawn Aldridge
This book could be a touchy subject for some readers because of the whole immigration concept but I thought that Winters and Cohen have a good idea but the first issues execution was a bit off. I think the problem with the first issue was that the idea was not well fleshed out in the final issue. There were a number of times where things were not as clear as I would have liked them to be. While I understand that they don't want to give too much away in the first issue they could have fine tuned the story to be a little less confusing. Irizarri's artwork is good but a bit on the stiff side but overall the book looks pretty decent.
Is this book worth your time and money? I think that the concept is better than the finished book. I think the problem is that it was envisioned as a movie and then tried to fit it into a comic and somewhere in the translation the story got lost a bit. I like the book to a point but wasn't entirely compelled to pick up the second issue.
Star Trek/Green Lantern #2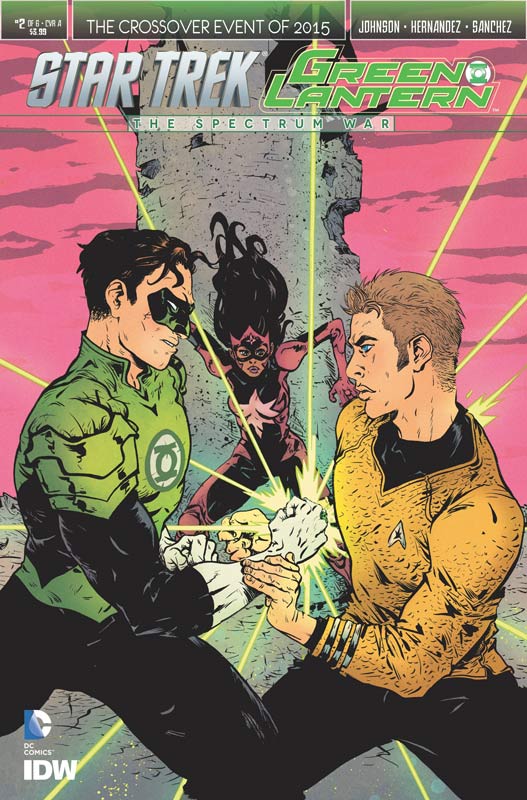 IDW Writer Mike Johnson, Artist Angel Hernandez, Colorist Alejandro Sanchez, Letterer Neil Uyetake
The first issue of the book got off to a so-so start with the first issue and I had hoped that the second issue would hit the ground running. Well that didn't really happen. The problem that I had with the second issue seems more like the second half of the first issue. Meaning that the set up to the story is still going on and that is troubling for me. If you are spending 2 of your issues setting up the story for a 6 issue series I should be getting more than set up at this point. The big problem that I had with the story is that not a lot really happens in this issue and so then it just kind of sits there. The artwork by Hernandez has its ups and downs but overall is pleasant to look at but nothing amazing.
Is this book worth your time and money? I like the idea of this crossover but the second issue just sits there and really doesn't push the story forwards very much doesn't instill me with the long-term story for this book. It's not bad just very disappointing.