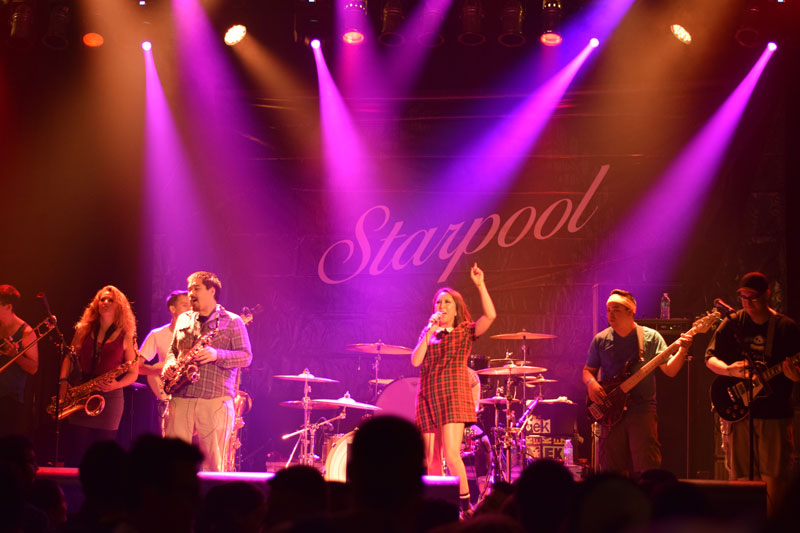 One of my friends Max Beckman that works at the local comic shop I go to every week is in the local Ska Pop band Half Past Two. For the longest time that I have known him I had no idea that he was a musician outside the comic shop. Not only is his in the band but plays guitar and is co-writer on a number of their songs. I had been wanting to go to one of their shows but because of my work schedule and being on the westside of LA it's very difficult to get back down to the OC where they are based and play a lot of their shows. I am a fan of Pop Ska and absolutely love The Aquabats, Reel Big Fish, Madness, and of course No Doubt one of the biggest OC bands to make the big time. So I was excited to go to a show to see what was happening in the current local scene.
I had only seen one of their videos a while back after I had found out that Max was in the band and was very impressed with Tara Pearce's vocals on it especially being an acoustic version of the song and I'm a sucker for a good cover version of a popular song if done well.
So I went into the show cold without listening to any of their songs because I wanted to see the band was able to stand on their own and see if they had the goods to deliver in a live show. I was very happy to find out that they were playing the House of Blues at Downtown Disney and on a Saturday night. There were five bands who played the event. I missed the first two BredrenOfficial and Eve of Destruction but made it in time to see Stupid Flanders before Half Past Two went on. Stupid Flanders was good but there was a very noticeable problem. The sound mix on their performance was really dreadful. While the band was good you could barely hear the lead vocals and the music really drowned him out. I was nervous about what was going to happen with Half Past Two.
Half Past Two came on at 9:45 and did a 30 minute set. While the sound mix was still an issue thankfully Tara's strong voice came through pretty well considering the poor mix. (I learned later from Max that they were not given a sound check before the show so that explained a lot about the poor mix at the show). They turned in a very strong set with a great set of songs that made the short set all that much too brief. While Tara being the lead vocalist gets most of the attention I was impressed with all of the band members. They had really good chemistry on stage and did a very nice job of feeding off of each other that is the mark of a good band. One of the standouts was Melissa Koziel on drums who really impressed me with her skills and kept the beat right on track for the set.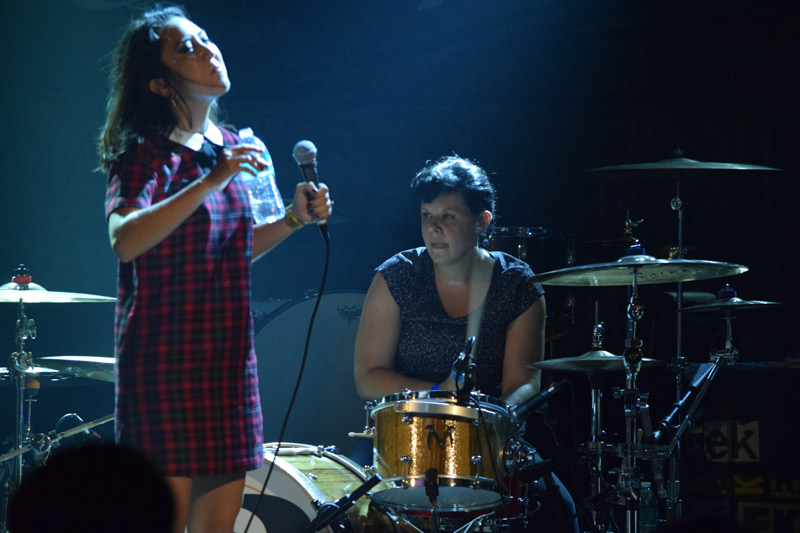 Lindy Edwards did a great job on the Bari Sax solo on one of the songs and she really blew it loud and great.
And of course Tara Pearce is a real little ball of fire. She has a wonderful stage presence and can not only hang with the talented band but she has a nice vocal range too boot. Not being familiar with their music that will soon be remedied after buying their two CD's at the show, they did a really fun cover of Britney Spears Toxic at the show that gave me a chance to see that the band was a well oiled machine on a song that I was familiar with.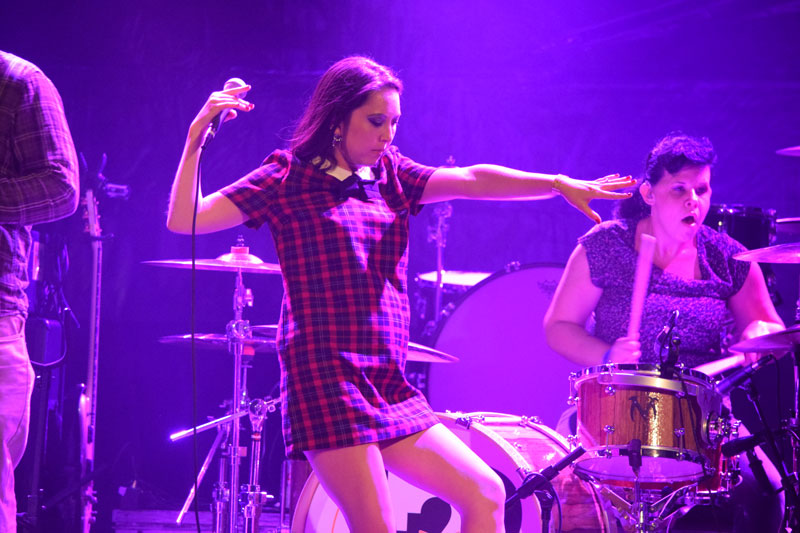 While the main act Starpool that came on after them got top billing and were quite good I have to say that Half Past Two is going to be heavily played on my iPhone now. The thing that I liked about their music is that it's simply fun. I admit I am more of an old school music kind of guy and rarely listen to new music. In fact the only reason that I know some newer songs was because of Glee and while there are some good song that I have gotten to know from the show I am an 80's kind of guy and my favorite band of all time is Queen.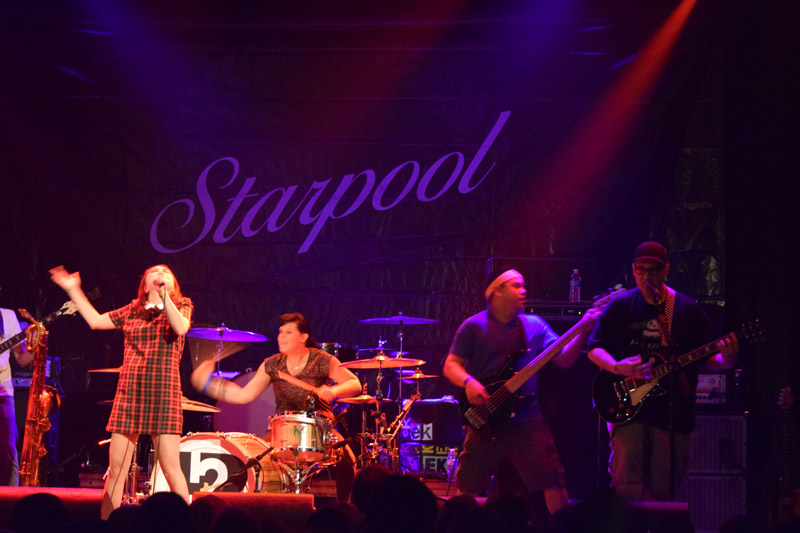 I hope to see a show that is just Half Past Two soon to get a real sense of a full set from them. I was glad to finally experience them sadly it was far to short of a set but it certainly has wetted my appetite for the band. If you live in the LA/OC area I highly recommend checking their live show out. If you do not live in the LA area then make sure that you head over to their website that has all of the information on the band and links to listen to their song and buy the albums. Half Past Two had rekindled my faith in Pop Ska music that had been lost on me for a while. I'm glad they brought me back to the party.
Thanks to Max I was able to bring my camera and take pictures of the show. It's very hard to capture a live performance but I think I was able to get some fairly good shots of the band and capture a little of the great energy that Half Past Two has live, enjoy!