Sisters
Graphix/Scholastic Writer and Artist Raina Telgemeier, Colorist Braden Lamb
One of the great things to do at SDCC is going to the Eisner Awards to see what some of the best comics and book that have been released in the last year. I read a lot of comics but can't read everything. I rely on other reviews or recommendations on books from time to time. Thankfully I was at this years Eisner Awards and Raina Telgemeier won for Best Writer/Artist for her book Sisters.
While I had not heard of Raina or Sisters during the awards it was just another award in the ceremony for me. The next day I stopped by the Comic Book Legal Defense Fund booth to renew my yearly membership and they have a ton of book that are donated by publishers and creators and are often time signed. So I see a copy of Sisters and give it a quick flip and it looked pretty good and I figured it won an Eisner so I would give the book a try. I am so glad that I did.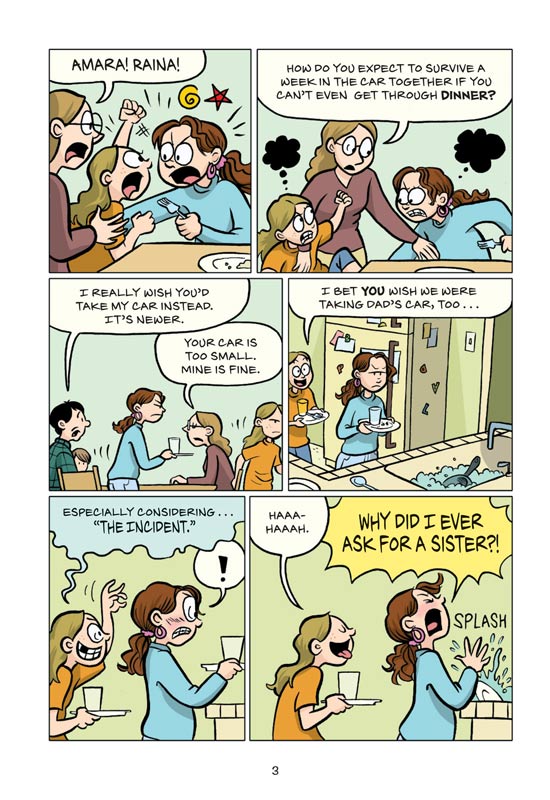 Here is the synopsis of the story;
Raina can't wait to be a big sister. But once Amara is born, things aren't quite how she expected them to be. Amara is cute, but she's also a cranky, grouchy baby, and mostly prefers to play by herself. Their relationship doesn't improve much over the years, but when a baby brother enters the picture and later, when something doesn't seem right between their parents, they realize they must figure out how to get along. They are sisters, after all.
I can now see why the book won an Eisner. While the book is a personal biography for Raina it has a great universal story that anyone can relate to. While I only have a brother and not a sister a lot of the situations in the story were similar to me and my brother growing up. There were many road trips while I was growing up and so a lot of the elements hit very close to home for me as well.
Biographies can sometimes be a little tough to get through but in Raina's case she tells the story with such ease and heartfelt emotions that Sisters works on all of the different levels. First and for most the story itself is simply wonderful and even more impressive as you are reading it knowing that it's based on real events. She is also not shy about telling both the good and not so good moments that went into the story.
One of the things about the book was that it didn't try an manipulate the reader to feel a certain way. She laid out the story just as if you were telling it to someone. A great story is one that makes you feel when you are done with reading a biography is that you feel as if you know the characters in real life. What makes Sisters work so well is that her story is just like everyone else's with the ups and downs of life with family. The thing about family is that you are stuck with them for better or for worse and Raina gets that message across very well in the story.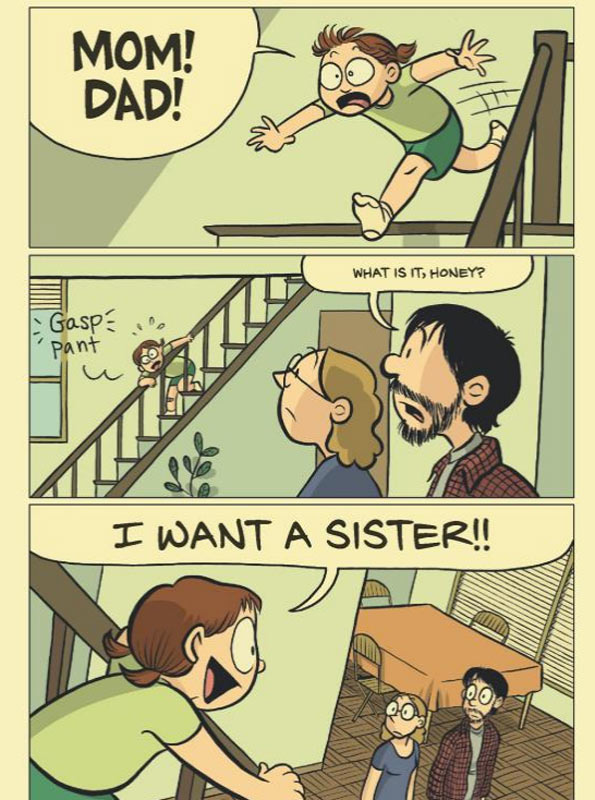 The artwork on the book I found to fit the story quite well. While this is her normal art style the cartoony look actually gives the book a much more organic feel than if the artwork had been more realistic. The artwork gives the book a light feeling while reading it and makes for a very pleasant experience.
The best thing about the book is that it's a great all ages book. I would say that it would be better for slightly older kids say in the 8-9 year range only because younger kids might not fully understand the story. There is nothing as far as language or adult situation beyond some up and downs of life.
I simply fell in love with this book and will now seek out Raina's other book that are available and seek out any new work that she does. Not only is this book a must buy it would make a great gift for both young and old. HIGHEST RECOMMENDATION!