Well its the week before the SDCC flood of book that hit the stands and the convention. I will be at SDCC next week so next weeks reviews are probably not going to make it next Friday. Honestly I'm guessing that it will not happen until the following Friday so I am just going to say sorry in advance for that. So with that out-of-the-way let's get to this weeks books.
Black Market #1
Boom! Studios Writer Frank J. Barbiere, Artist Victor Santos, Colorist Adam Metcalfe, Letterer Ed Dukeshire
Boom! is really pushing the books out now and the quality has been both good and bad. The plot from Boom! is, Ray Willis is a broken man, a disgraced medical examiner making ends meet by preparing corpses at a funeral parlor. His scientific genius is being wasted—that is, until his estranged criminal brother Denny shows up on his doorstep, supposedly cleaned up and proposing a once-in-a-lifetime partnership to cure not just cancer, but all disease. The catch? It exists within the DNA of superheroes. Barbiere is the writer of Five Ghost that I'm a big fan of and that got me interested in this new book of his. He has a good knack for first issues that get going right off the bat. The thing that I liked about the book was that he kept the story going while still getting the exposition across to set up the series. The question that I have is how he is going to play Ray in the story because he is an everyday average guy. Will the money corrupt him or will he use the things that he learns for good? It's a good old fashion which path would you choose a type of story. Santos artwork is really nice here. I really enjoy his use of shadows and light to really add flavor to the story. His layouts and angles really add a great visual flair to the story and its a very nice looking book. He balances both the action scenes and the dialog with ease.
Is this book worth your time and money? I was pretty impressed with the first issue of the book and being that its a four issue series, it is a very easy recommendation. The story is very intriguing and solid artwork made this a good read this week. Well worth picking up.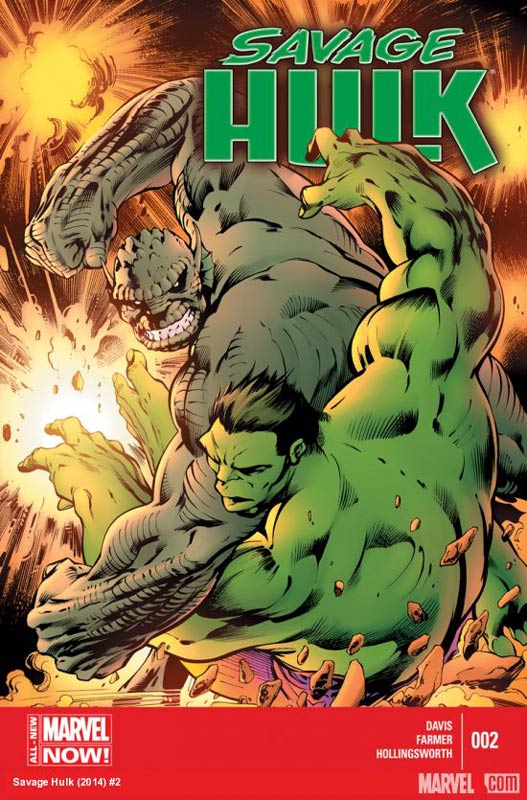 Savage Hulk #2
Marvel Comics Writer & Penciler Alan Davis, Inker Mark Farmer, Colorist Matt Hollingsworth, Letterer Clayton Cowles
The second issue of Davis's throwback to classic Hulk and X-Men is back with a vengeance for a second issue. The plot from Marvel is, While HULK and ABOMINATION have the clash of the century… …the X-MEN do the Monster Mash! And PROFESSOR X plans to…terminate the Hulk?!? I am really enjoying what Davis and company are doing with their first arc. While it's difficult to do a HLUK SMASH! story and keep it interesting, with him brining in the X-Men is really helping the story be much more dimensional. Davis keeps the story interesting with the subplots that are unfolding in the story. I will be honest that this book is not the most earth shattering story that you are going to read. But what Davis is doing is making it fun. Not being held back from continuity issues allows him to do what ever the hell he wants to and that is what I really love about the book. The art is the usual high quality from Davis and Farmer. Seeing them draw classic X-men is the real treat of this book.
Is this book worth your time and money? If you are looking for a way to relive the good old Marvel days then your prayers have been answered. Davis is telling a fun story with lots of action and a really old school story. The only down side is that he is only doing the first arc on the book. But I am loving the short but great ride while he is doing it.
Squidder #1
IDW Writer, Artist & Letterer Ben Templesmith
Templesmith originally did this story as a Kickstarter project and now IDW is releasing it as a regular comic. The plot from IDW is, This all-new four-issue series finds an old soldier from a forgotten war in a post-apocalyptic world that has left him behind. He was one of the last of the legendary Squidder Legions. Can a discarded relic with a death wish and a rebellious Squid priestess overthrow humanity's tentacled alien overlords? Ben Templesmith returns to his roots to finally do the tentacle/Cthulhu-orientated book he's always promised! The Squidder mixes action, horror, science fiction, and fantasy elements with a touch of Squidly destruction. Templesmith is probably best know for the artist on the original 30 Days of Night with Steve Niles but this is his first writing and drawing a project. The first issue gets off to a good but slightly typical story plot. The story is interesting but it's a very been there and done that idea but he is at least trying to give it a new spin. Hopefully the next issue will bring a bit of freshness to the book. The real selling point of the book is his art. obviously being his own book he really brings his A game to it. The artwork is worth the price of admission I just wish the story had been a bit more original.
Is this book worth your time and money? We all know that Templesmith can do fantastic artwork but the thing that is hampering the book is a really standard movie action plot that has been rehashed a million times. It's not saying that it's a terrible read but on the other hand it doesn't shout to you to buy the second issue either. It's an average story with great artwork but it could have been a lot worse. If it you are willing to go with it then it was an OK read.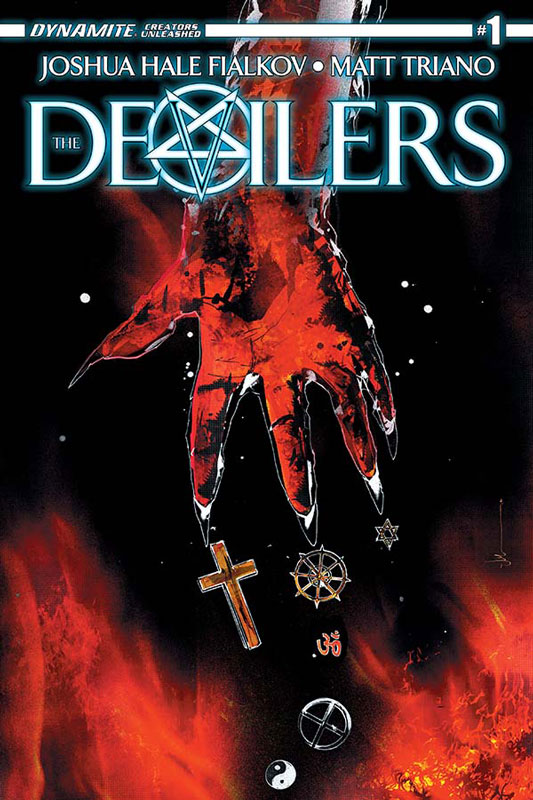 Devilers #1
Dynamite Writer Joshua Hale Fialkov, Artist Matt Triano, Colorist Mark Roberts, Letterer Simon Bowland
Fialkov has really been cranking out the books lately and his newest one kicks off Dynamite's creator owned line of books. The plot from Dynamite is, When the world is under siege from the pits of hell, it's up to the DEVILERS to set things right. Seven of the world's greatest exorcist pit themselves against Satan's army, and all of creation hangs in the balance. From the writer of THE BUNKER, THE ULTIMATES, and I, VAMPIRE comes a horror fueled adventure through hell itself.  I am a huge fan of Fialkov's The Bunker and liked the premise of this new book. While I liked the first issue I didn't fall in love with it. It seemed a little chaotic in the first issue. Not that it was hard to understand it just seemed that the exposition of the story really bogged down the first issue. I guess the problem that I had with it was that it felt like a first issue where there is a lot going on but at the same time not much going on. The concept is very interesting I am guessing that the next few issues with really flesh out the story and will work better as it goes along. Triano's artwork was good but a little uneven at times. Overall is was good but there were a number of times the backgrounds were non-existent. Although his layouts for the story were very nice and the facial closeups were very good.
Is this book worth your time and money? While I may have not been overwhelmed with the first issue, I did in fact like the premise of the story and will bring me back for the next few issues. It's kind of like if there was a team of exorcist superheroes that are battling to save the world. That is an idea that I am willing to go with. A little bumpy start but it is promising.
Harley Quinn Invades Comic-Con International San Diego #1
DC Comics Writers Amanda Conner & Jimmy Palmiotti, Artists Paul Pope, Javier Garron, Damon Scott & Robert Campanella, Amanda Conner, John Timms, Marco Failla, Dave Johnson, Stephane Roux, Colorists Lvern Kindzierski, Paul Mounts, Brett Smith, Dave McCaig, Letterer John J. Hill
Just in time for the convention DC brings Harley Quinn to the biggest fan convention in the US and mayhem ensues. The plot from DC is, The title says it all! Our favorite little troublemaker, Harley Quinn, takes on Comic-Con International: San Diego in this over the top issue! She'll have to battle long lines, crazy crowds and the dread con crud, all in the quest to get her own comic book published! If you have ever been to SDCC then you will probably appreciate this comic more than people whom have never been there. But if you have been to a larger convention then you will get the main gist of the story. Conner and Palmiotti are convention pros and know the score when it comes to SDCC and they know that they don't really have to stretch reality very far on this one. The scary thing is that this story is "fiction" but it so close to reality that is what really makes it fun. The other fun thing about a book like this is getting a bunch of artist to bring the fun to life and they too are having a field day drawing the chaos.
Is this book worth your time and money? This book is a giant inside joke and if you know the joke then you are really going to enjoy it. But if you have never been to SDCC then some of the humor might be lost but it's still a fun ride. Books like this are fun for what they are. I had a fun time reading it and putting Harley in the middle of SDCC is just perfect. Give the book a try if you have been to either SDCC or another big convention because you will enjoy the almost too close to reality story of it. Fun story with some really nice artwork.
The Wicked + The Devine #2
Image Comics Writer Kieron Gillen, Artist Jamie McKelvie, Colorist Matthew Wilson, Letter Clayton Cowles
I was very impressed with the first issue of this book and was keeping my fingers crossed that it wasn't just a fluke. The plot from Image is, Diabolically divine pop-god Lucifer is in trouble. She offers superfan Laura an unprecedented deal if she helps. It's a bargain. A Faustian bargain, and they always turn out so well. Who knows who Laura will turn to fulfill it? We do. Clearly. It's our comic. You can know too if you buy this fine pictorial narrative with your human money coins. Not only was the first issue not a fluke but the second issue really keeps the momentum from it going quite nicely. I loved the way that Gillen is telling the back story of the twelve gods but still keeping their current incarnations front and center. Having Laura as the reader's guide to the story is very well-played again in the second issue. We are learning the story through her eyes and we are still finding out what the gods are doing and it seems after this issue that things are not going so smoothly in this ninety year cycle. McKelvie is the life blood of this book. He brings Gillen's world and characters to life in such a way that it feels so natural. The thing that I love about his artwork is the facial expressions that convey the most subtle story elements. Because in the end, it's emotions that are driving this story.
Is this book worth your time and money? I am really liking this book and while the plot is slowly rolling out I actually really like that. The pacing on the story might not be some people cup of tea but for me not blowing your wad early can have much more impact down the road. I love the mystery behind the twelve gods and why do they keep coming back? Gillen and McKelvie are a perfect match and are developing a must read book every month. VERY RECOMMENDED!
Teen Titans #1
DC Comics Writer Will Pfeifer, Artist Kenneth Rocafort, Colorist Dan Brown, Letterer John J. Hill
Another New 52 reboot and I guess not being a train wreck is a good thing. The plot from DC is, Red Robin, Wonder Girl, Raven, Bunker and Beast Boy step out of the shadows of the adult heroes of the DC Universe to offer bold, exciting and sometime dangerous ideas on how to protect a world full of superpowered teenagers – any one of whom could be the next heroic figure or major villain! So if you are a fan of any of the previous incarnations of the Teen Titans then while the book is not terrible you should just move along. Pfeifer's story is serviceable for a first issue but while he introduces the cast, overall nothing really happens. The story is hampered by a fair amount of excessive dialog that the characters are spouting in the story. The flaw in the story is that he spends the whole issue leading up to the villain using the school bus as a diversion to what he really was doing. Wow didn't see that one coming at page 3. Some of the characters are pretty much in name only to their previous classic counterparts. People have been going on about Wonder Girls outfit that is so-so the real crime is the Raven costume that is downright awful. The real bright spot to the book is Rocafort's artwork that is quite nice. He really does some wonderful layouts for the book. There are a few times where there is a little stiffness in the art but nothing major. He defiantly comes from the Jim Lee school of art types that is not a knock but has that general feel.
Is this book worth your time and money? Sadly with most of the recent New 52 books it falls into the average category. The first issue gets off to a so-so start that didn't bring much new to the table. Pfeifer's story didn't bring too much compelling to the first issue, I am not really compelled to read the second issue. High marks for Rocafort's artwork that visually helps the average story at least make it interesting. If you remember the Teen Titans this book is name only and you are better off going back and reading the Wolfman and Perez run that is better than this. Skip this!