The Bozz Chronicles
Dover Publications Writer David Michelinie, Artists Bret Blevins (Books 1, 2, 3, 5, & 6) and John Ridgway (Book 4), Inks Bret Blevins & Al Williamson (Book 3) Colorist Steve Oliff (Books 1 & 2) & Petra Scotese (Books 3, 4, 5, & 6) Letterers L. Lois Buhalis (Book 1) & Phil Felix (Books 2, 3, 4, 5, & 6)
Back in the early 1980's Marvel Comics started a creator owned imprint that was overseen by the legendary Archie Goodwin. There were many great comic under the banner like Jim Starlin's Dreadstar, Starstruck by Elaine Lee and Michael Wm. Kaluta, Moonshadow by J.M. DeMatteis, and the much beloved The Bozz Chronicles by David Micheline and Bret Blevins.
The synopsis of The Bozz Chronicles is;
The first single-volume collection of the six-part Epic Comics cult favorite, Michelinie (Iron Man) and Blevins's (The New Mutants) daring graphic novel follows the adventures of a suicidal alien, a plucky prostitute, and a raucous American cowboy who team to form a detective agency that accepts oddball cases rejected by Scotland Yard. This madcap mash-up evokes the Victorian setting of the Sherlock Holmes mysteries, supernatural sleuthing in the style of Dr. Who, and a dash of steampunk attitude.
I am probably one of the few readers of this collection that read the original Epic Comic release back in 1985 and fell in love with it back then. Michelinie was probably best known for the Demon in a Bottle storyline in Iron Man with Bob Layton.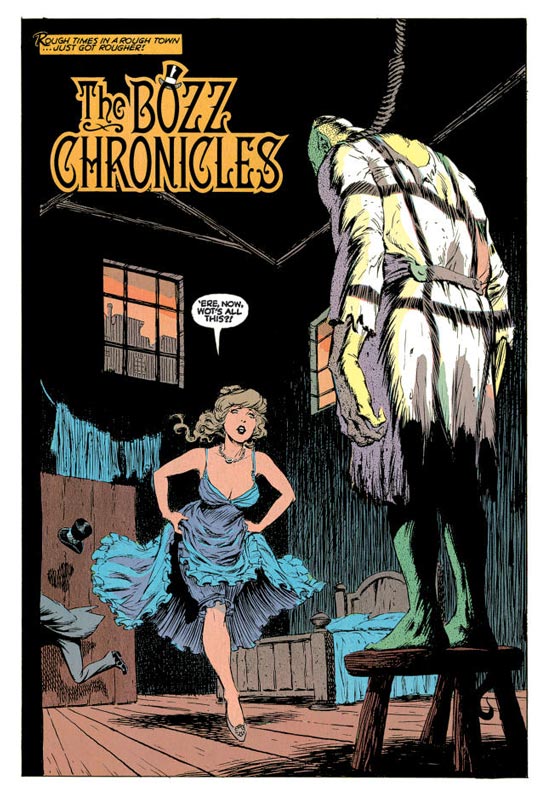 From the introduction in the new reprint trade paperback Michelinie credits Steven Spielberg's E.T. for the inspiration for the concept but he wanted to make it a more adult story and then created the concept of what if an alien was stranded on earth but set hundreds of years in the past. He presented the idea to Goodwin who liked it but there was a problem. Michelinie needed an artist and Goodwin suggested Blevins. Blevins had been doing work at Marvel and jumped at the chance to work on the book.
With the book long out of print (there was never a trade collection of the series) very few readers have had a chance to discover the book. Thankfully Dover Publication has come to the rescue and started a line of reprint of out of print comic and graphic novels that have been lost and giving them a new life for todays readers to discover or rediscover.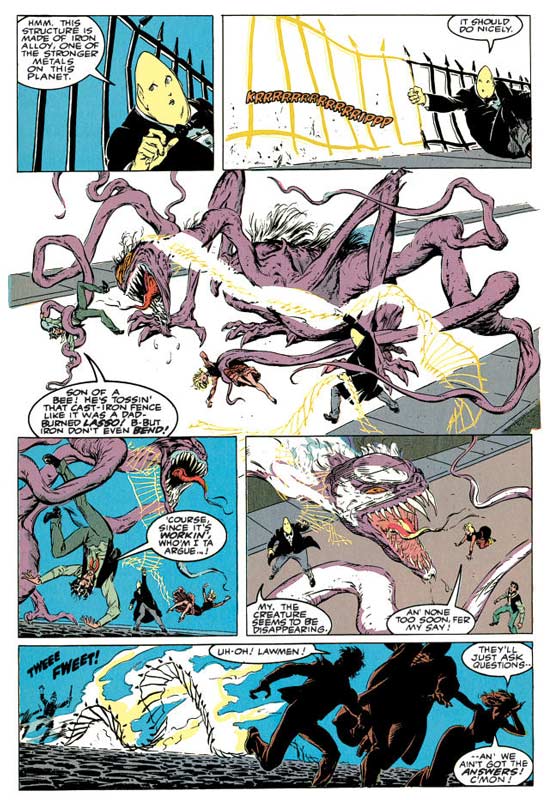 I was very excited to re-read the series and hoped that after 30 years I would enjoy it today as I did back then. The really good news is that not only did I enjoy reading it again, I like it even more than I remembered. The original book was a bi-monthly schedule so Michelinie had to make sure that each issue was self-contained but each story adds to the overall arc of the series. The first issue gets off to a great start with a simple mystery that allowed him to do a great job of introducing the cast and explaining Bozz's origin. This is no simple feat to fit all of this in 32 pages (yep you got a lot more story back in the day) and Michelinie juggles all of that and gets the series off to a fantastic start. He also make no bones about using Sir Arthur Conan Doyle's Sherlock Holmes as a template for the Boswell and Flynn Consulting Detective Agency.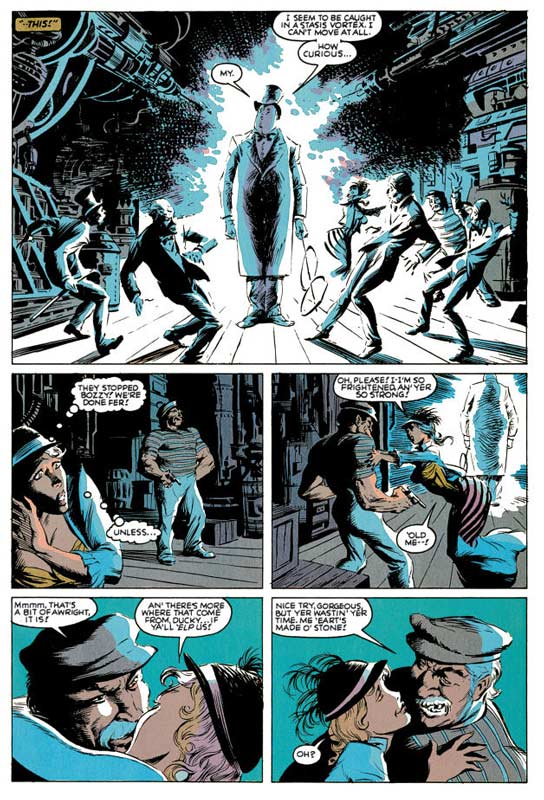 One of the things that Michelinie does is have the characters speak their local dialect in the series. he gives Mandy a cockney accent and Salem from the wild west of the United States has a very street slang to his dialog. While it does take a little getting used to in the end it really adds a wonderful flavor to the stories. The main reasons that the stories work so well is the cast of characters and the key to its success is Bozz himself. While Bozz is on the surface a child like innocence to him, but is super intelligent at the same time. My favorite thing about Bozz is that he always tells the truth and can't understand why people lie. Michelinie does what a great writer should do, take general ideas that are typical story tropes and not try to reinvent the wheel but just tell the story in a different way that makes it original. This is why the book works so well.
Having a great story is one thing but in comics you need an artist to bring your story to life. Michelinie and Bozz got very lucky with Blevins. He not only does an incredible job on the artwork but does the rare feat of infusing emotion into it. It's the subtle things in the artwork that make this book so special. The detail that he put into the artwork is amazing and puts you right into the period. He always keeps the artwork grounded in a reality even when all of the weird and strange events are going on in the story and this is one of the main keys to the book working so well. Blevins fell behind on the artwork during the run and they were lucky that John Ridgway was available at the time. There had been some talk when this collection was being put together that Blevins was going to re-draw the issue and while that would have been a nice treat, it would have been a shame to not see Ridgway's artwork. It actually worked out well because the story takes place in the rural area and give the story has a slightly different feel his style is a perfect complement to the Blevins issues. Here is a sample of Ridgway's artwork below.
The other nice thing about this collection is that you finally get to see the gorgeous color work by Oliff and Scotese that is a huge improvement over the original comics. These are really well colored books and it's nice to see that they are finally closer to the original intent of the colorist.
There is a forward by Brandon Graham, Introductions by Michelinie and Blevins and an afterword by Ridgway. There is also a nice bonus artwork and original cover gallery from the Epic Comics series. This is a very nice inclusion from Dover and speaks volumes about their commitment to quality.
I really have to praise Dover Publication for finally brining this great comic back into print so that everyone today discover this wonderful story. There are only two very minor things that I would like to mention. First I would have love to have a hardcover edition of this book. This is a book that deserves a truly high-class version release along with the mass market trade edition. The other is that sadly due to creative differences (not with Blevins or Goodwin) there were only 6 issues of the book created. While the last issue does tie up some of the story, once you are finished reading the collection you desperately want more adventures with Bozz, Mandy and Salem. I can only hope that with this collection will sell well enough to convince Michelinie and Blevins to create new adventures in the future.
This is a rare book that really fires on all cylinders and is a pure joy to read and enjoy the beautiful artwork. This is a book that should be in any serious comic collection. With solid stories and wonderful artwork make this a real treasure. While there is some minor nudity (no sex), slight sexual overtones and some scary creatures and situation. This is a good book for a later teen and up reader. While it's been 30 years from when it was first published, it's a book that will bring sheer delight to readers today as it did back then.
HIGHEST RECOMMENDATION!
You can purchase the book directly from Dover Publications HERE