After working at Metropolis Comics on Free Comic Book day last Saturday and thinking about it over the last few day I wondered why none of the publishers tried to get young teen and older female readers into comics. There has been lots of debate lately of the lack of women writers and artist in comics and the boys club of comics not making them feel very welcome as both creators and readers. It seems to me to be a very untapped market. A lot of Free Comic Book Day is to try to get younger readers into comics and that is done very well. But beyond the great all ages comics that appeal to both younger boys and girls like Spongebob, Bongo Free-For-All, kaboom! Summer Sampler, Uncle Scrooge, Smurfs, and Teen Titan Go among others. But when it comes to teenage or older female readers there was really nothing beyond the usual superhero and scantily clad women on the cover of some of the books I am not surprised that more women are not reading comics. Should they get Hello Kitty because it has pink on the cover and you know that girls like pink stuff and you would be surprised that people think that.
While there are a lot of great regular comics that come out that are very female friendly like Fables, Alex + Ada, and Saga, Free Comic Book Day you would think that the publishers would try to get new female readers. Marvel had the best opportunity this year because with their new Marvel Now books that actually have female leads like She-Hulk, Ms. Marvel, Elektra, Black Widow and Captain Marvel. They could have done a sampler of those books instead of doing two separate Guardians of the Galaxy books. At Metropolis Comics there were lots of young women that were looking for books but the best choice was the Archaia hardcover that was very limited amount to give away. The only other choices were all ages books like Hello Kitty that I doubt will get teens or older female readers super excited about comics. This year there were 57 titles to choose from and while I am not knocking any of the choices that were available but when you see a title like Zombie Tramp or Grimm Fairy Tales with half-naked women on the cover it's not really helping.
Women do enjoy superhero comics too but we had many people asking if there was a Wonder Women book and DC could have maybe reprinted the current issue of the new series to give away. Sadly DC Comics is really lagging behind in trying to get any new female readers in their main line right now. Vertigo is their only hope at attracting female readers with their books. While Marvel at least seems to be trying with their above mentioned books and they are starting a Storm series soon, but those are all superhero based. Image Comics has a lot to offer female readers but the book they offered Raise of the Magi seemed more male Harry Potter type book. I will give Oni Press props for putting out Courtney Crumrin that has a female lead and is a great all ages book.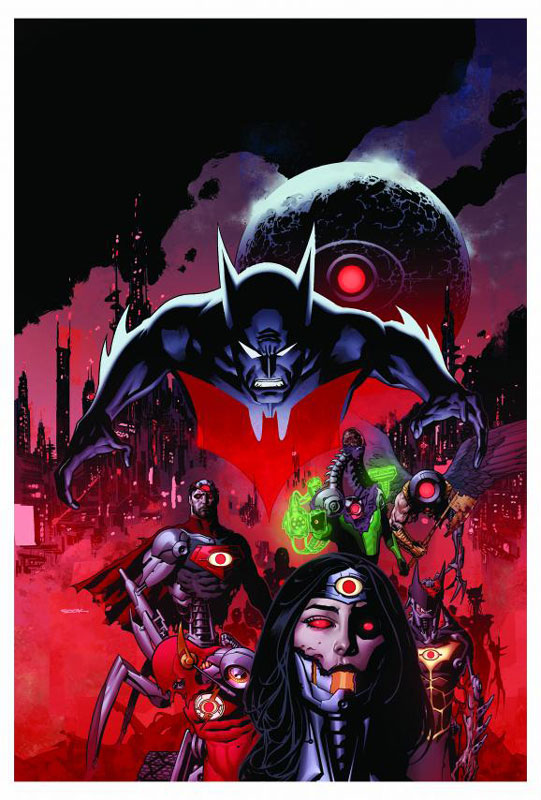 I know a lot of the publishers are using Free Comic Book Day to promote their upcoming titles or something based on a movie but lets face it most of the books beyond the all ages younger crowd are for the people who are already reading comics. Marvel had two Guardians of the Galaxy books to promote the summer movie. DC had Futures End to get people to read their summer event books. IDW had Transformer/G.I. Joe based on toys and cartoons. Archie had a Sonic the Hedgehog/Megaman flip book based on characters from the games. It's understandable to push books with familiar characters and ones based off of other medias but to really get new readers the publishers really need to think outside the box next year. Try and expand beyond the people who are going into the comic book stores already. The current comic book readers are still going to mob their local comic book store on Free Comic Book Day and try to pick up as many as they can but it's the new and casual readers that the publishers need to really focus on. I would imagine that if DC was able to get a book like Fables or Sandman into someone hands who has never really read comics they would have a better chance of opening the door to comics than a book like Futures End is going to do. I am not knocking Futures End but someone who does not read comics is not going to be bowled over with a book like that. The same can be said for Marvels two Guardians of the Galaxy books that is pretty much the status quo type book that is not going to get a casual or non comic book reader into the fold.
If I try to get a person who has rarely read a comic book I would never give them an average superhero comics. That is not to say that there are not great superhero comics such as The Killing Joke, Marvels, The Dark Knight, Kingdom Come, Frank Miller's Daredevil run or Watchmen. I am much more likely to give them Sandman, Bone, Maus, Fables, The Walking Dead, Concrete, Gon or Saga. There is so many great comics being published right now that there is something for everyone. The publishers need to use Free Comic Book Day as a tool to get new readers into comics not try to convert the same people who are already buying them. As you can see below this is the type of book that will get female readers and non comic book readers into the fold. If you gave away the below books I can almost guarantee that you will get customers that will come back to a comic shop for sure. I have personally used the mentioned books to get people to read comics. They don't care if it's a new book or a book that was published years ago. They want quality and I hate to say it there is a real lack of it for Free Comic Book Day beyond the all ages books.
And a reminder that Pop Culture Maven is still giving away some of the Free Comic Book Day books including the extremely hard to find Archaia Hardcover to give away to one lucky winner courtesy of Metropolis Comics. It includes the highly sought after Archaia hardcover and some of the other books. The only thing you have to do to send an email to steven@popculturemaven.com with the subject line: FCBD Contest with your full name and address and your favorite comic book and I will choose one lucky winner at random from the ones sent in. The rules are simple only one entry per person and the decisions by me are final. You must include your information to qualify. The contest will run until Sunday May 11th 2014 at 11:59pm and any entry received after that will be disqualified. Entries must be Residents the 48 continental United States. Alaska, Hawaii and the rest of the world are not eligible. Sorry but shipping is very expensive outside the 48 states. Here are the book that are being given away.