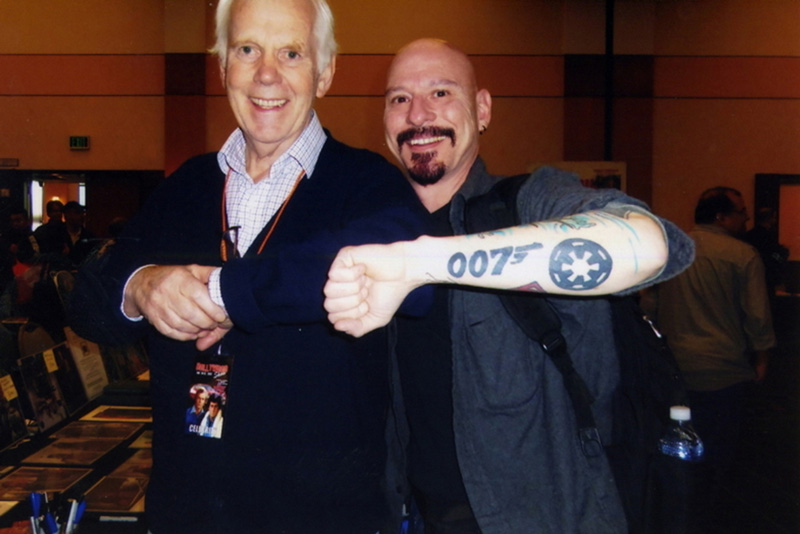 Tattoos are a large part of our popular culture. A good percentage of the world's population sport at least one. Some media/genre conventions are beginning to offer space to tattoo artists which allow geeks to get inked while at the con. This gives actors who are sitting near artists a chance to chat and look through portfolio photos. For me, these elements have been meshing together for a number of years. Being heavily tattooed, I tend to get a lot of attention from people. When attending a show or convention, I get a lot more attention, especially from celebrities.
The trend for these celebrity encounters started five years ago at San Diego Comic Con. Rosario Dawson was scheduled to have a table in the autograph area. At the appointed time, I queued up with all the other fan-boys to meet her and get an item signed. My turn came and I put my item in front of her and asked her to personalize my item. As she signed my item she noticed the tattoos on my arms. Once her sharpie was down, Dawson began to compliment and question me on my tattoo work. I pulled the sleeves of my t-shirt up so she could look at the art going onto my shoulders. She mentioned that her father had a lot of tattoos, so she grew up with an appreciation of them. She also mentioned that she favored men who have tattoos. Then she reached out and began to rub her hands along both of my arms and said, "I love the feel of skin with tattoos." I could feel the eyes of every fan-boy in the bull pen behind me staring at this scene with complete jealousy and seething hatred that she was rubbing all over my arms and almost swooning. Dawson finally finished rubbing my arms, complimented me again on my art. I thanked her and went on my way knowing that I had a great story to tell my friends.
A lot of my encounters happen at the Hollywood Show since the actors and celebrities are present to meet fans and sign autographs. This show provides some face time with a favored actor and is a great opportunity to chat with that person or persons.
My most memorable celebrity tattoo encounter happened with the legendary, Cloris Leachman.
I waited in her line with the other fans chatting with friends until my turn arrived and I chose a photo from her table to have signed. Cloris started to sign the photo and then stopped to look at my arms. She began to ask me about the designs and the work. I rolled up my sleeves to let her see the rest of my arms as I have done with many other actors. Cloris then asked me if I had more tattoos. I told her that I have them on my chest, sides, belly, and a full back piece. "Take off your shirt. I want to see them." She said to me. I stammered and said that I didn't want to get kicked out for taking my shirt off. Sounding a little more stern, she made the request again. I balked for a second or two. She then looked me straight in the eye, pointed a finger at me and said. "Take your shirt off, now."
I have worked with actors at conventions, shows, and charity events for many years. The first and most important thing I learned was, "what talent wants, talent gets."
The shirt came off. A flurry of camera flashes filled my eyes blinding me to the fact that security for the show began to approach. One was thwarted when a friend told him that Cloris requested that I remove my shirt. She caught sight of another one coming up next to me and told the guard, "You back off. I told him to do it."
I let her get a good look at the front of me, turned and let her look at my back. She gave a little signal that she was done looking and I put my shirt back on, got my autograph and walked away with another story to tell. Later, I told my friends that it was a good thing I didn't tell her I had tattoos on my legs. She probably would have made me drop my pants.
Since that time, I have told the Cloris Leachman story to many friends, other actors and celebrities who start asking about my tattoos.
Dean Cain (Lois and Clark) liked my artwork so much that he inscribed "Jim, Great to meet you – and great tats! Dean Cain."
Stacy Haiduk (Superboy) got me to lift my shirt up to examine my tattoos. She also drew a little shark by her signature.
John Newton (Superboy) confessed to me that he would love to get a tattoo, but he was afraid that he would become easily addicted to them and it may harm his acting if a roll required him to remove his shirt.
I spent 20 minutes comparing tattoos with Eight is Enough actor, Willie Ames at a show.
I will say that there is one actor who is extremely jealous of me and my shark tattoos. This particular, very well known, actor is a huge shark enthusiast would love to have a shark tattoo. However, his wife will not allow it because she feels it may limit his future roles in film and television.
As I continue to attend shows and conventions, I'm sure that I will have many more conversations and show off sessions with actors and celebrities.