Thankfully this was a lighter week of new releases and there were both good and bad this week and a couple of returning series, so let's get to it!
Batman/Teenage Mutant Ninja Turtles #1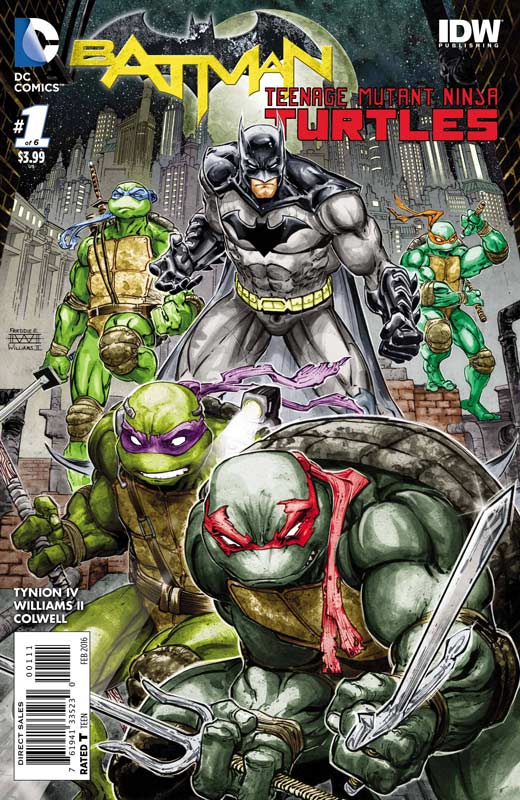 DC Comics/IDW Writer James Tynion IV, Artist Freddie E Williams II, Colorist Jeremy Colwell, Letterer Tom Napolitano
I always find crossover comic to be a fun romp that allows characters from different companies to play out in a story together. DC and IDW have joined to have Batman meet the Teenage Mutant Ninja Turtles and it gets off to a decent start. Tynion script does a good job of setting things up and puts in some good action to keep the exposition from bogging down the first issue too much. I liked that he didn't waste anytime on explaining who everyone is because if you don't know who Batman and the Turtles are then you shouldn't be buying this book. The downside to the story is that not a lot happens in this issue with most of it setting up the mini series. Williams art on the book is very nice and does a great job of capturing the spirit and the mood of both properties nicely. He put a lot of detail into the book and is one of the better looking crossovers. Is this book worth your time and money? It's a little hard to review this first issue because it's pretty much a set up book where not a lot really happens but I will give Tynion he give the story a nice pace considering everything. Adding in Williams very nice artwork really helps the story move along also. The book didn't knock my socks off but was a nice read and the rest of the book should get the pace moving along better. For $3.99 it was a fun read and worth getting.
Scarlet Witch #1
Marvel Comics Writer James Robinson, Artist Vanesa Del Rey, Colorist Jordie Bellaire, Letterer Cory Petit
I was really looking forward to this title because I was hoping that Robinson could do something exciting and new with this character but really dropped the ball on this one. The story is a basic television crime drama that you have read a million times and then he inserted magic into the story and poof it's exactly the most basic and boring comic that I have read in a while. The story is so basic that I saw what was going to happen a mile away. The other huge flaw is that her ghost roommate Agatha is not explained at all and seems rather pointless beyond just being there for conversations sake. Del Rey's artwork is OK but a little to sketchy for my taste. There are times where it's good but other times it lack real detail. A lack of consistency is what the main issue is with the art. Is this book worth your time and money. This is one of the worst of the new Marvel relaunch books not because it's so terrible but that fact that it's so basic that its' super boring. It's hard to believe that this is the same Robinson that wrote the recent Airboy book that was light years ahead of this mess. Del Rey's art didn't really elevate the book and in the end it just sits there. SKIP IT!
Snow Blind #1
Boom! Studios Writer Ollie Masters, Artist & Colorist Tyler Jenkins, Letterer Colin Bell
I was a big fan of Masters The Kitchen over at Vertigo and I'm glad to say that this first issue gets off to a good start. The story starts off with a bit of a slow burn but that is a good thing. Masters unfolds the exposition at a nice pace in the first issue and build up the mystery of Teddy very nicely. I'm very curious what he is using the fox a metaphor in the story. With the story reveals in this first issue Masters has set up an intriguing story that gives a nice spin on the crime story genre. I was impressed with Jenkins artwork on the book. While some might dismiss his sometime simple detail in the characters and the backgrounds I found that he gave the story a very nice visual feel that made the story work very well. Is this book worth your time and money? I like what I read here and the set up to the story is very interesting. I liked the mood and tone of the story and the artwork really complemented it perfectly. This is well worth picking up this week.
New Romancer #1
Vertigo Comics Writer Peter Milligan, Artists & Colorist Brett Parson, Letterer Todd Klein
I am a fan of a lot of Milligan's work but this book had me scratching my head a bit. I think that there is a really good idea here but unfortunately the script is all over the place and seems really unfocused. One of the flaws is that the main character Lexy is not that likable. You don't really care what happens to her in the story either. The other problem is that the story jumps around too much and there are simply times where you're not totally sure what is going on. On the plus side the artwork by Parson does try it's best to help the story but good artwork can only go so far with a problematic script. He does some really good layouts to the art and liked it overall. Is this book worth your time and money? This book was a real disappointment and Milligan is to blame for its failure. The story is just convoluted and unfocused to make you want to read any more of the story. It's a real shame because there are some good ideas but just falls flat in the end. SKIP IT!
The Violent #1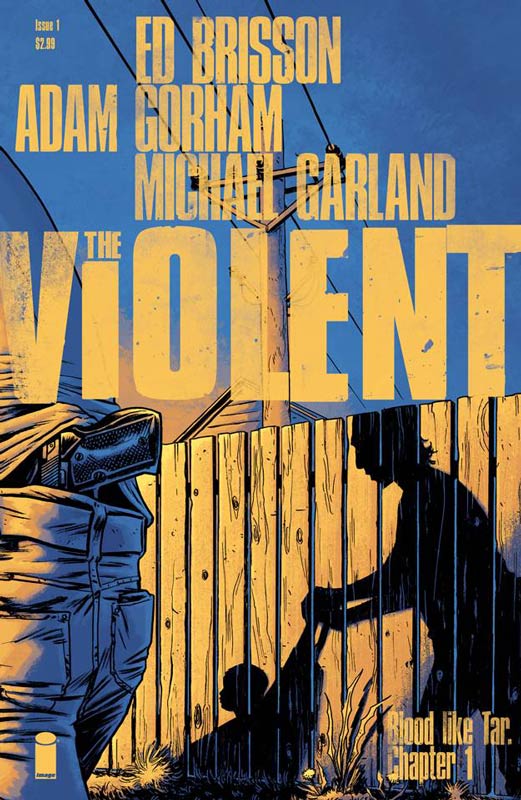 Image Comics Writer & Letterer Ed Brisson, Artist Adam Gorham, Colorist Michael Garland
The Violent is a story that would have made a better film than a comic book. Brisson's story is good and interesting but I just didn't feel it working as a comic. It's a good dramatic story that is filled with a lot of dramatic and emotional scenes that seem better suited for a film or television series. I do think that the story is got some potential but when reading it, the story never quite leaped off the page like I felt that it should. Gorham's art does it's best to convey the story visually but it can only do so much with limited space for the script. He does his best to get the story across and I really applaud him for doing a good attempt at it. Is this book worth your time and money? I wanted to like this book more than I did because the story is good but I just felt that it was hampered as being a comic. I have never really felt this way when reading a story so I don't know if it's just me on this one. The book was a decent read but I just never quite got into it. I can't really recommend it but you might end up liking it.
The Twilight Children #3
Vertigo Comics Writer Gilbert Hernandez, Artist & Letterer Darwyn Cooke, Colorist Dave Stewart
One of the best books of the year keeps getting better each issue. Hernandez and Cooke are crafting a very impressive story and this next to last issue you can see the mystery elements of the story start to come together. Hernandez has a great knack for having great character development in his stories and this book is one of his best. I love how he plays with time and space with the events that surround the town. There are so many wonderful subtle moments that is one of my favorite things about the story. Cooke is a master storytelling artist and this book is no exception. It's a visual feast that is a such a pleasure to read each issue. He brings such a great dynamic to the story visually that is really making this story work so well. Is this book worth your time and money? I have been praising this book from day one and it just keeps getting better and can't wait to see how they wrap it up next issue. Great story and art make this a must buy book. HIGHEST RECOMMENDATION!
Head Lopper #2
Image Comics Writer, Artist, & Letterer Andrew Maclean, Colorist Mike Spicer
The only complaint that I have about this book is that the quarterly schedule for this wonderful book is a tough one because just as you get back into the story it is so well paced that it comes to the end of the issue all to quickly and then we have to wait three months for the next issue. Maclean keeps a nice balance of all of the story lines that make up the story. It's very intriguing how the story is coming into focus and not just a hack and slash barbarian story. One of the surprising elements is the humor of the story that complements the story very nicely. Maclean's art continues to impress with a minimalistic yet subtle approach to the art is giving the book a nice flow with the story. Is this book worth your time and money? If you can tolerate the waiting every three months for a new issue that is the only thing I can think is a problem but considering the quality of the book it a wait that is well worth going with. RECOMMENDED!
James Bond: Vargr #2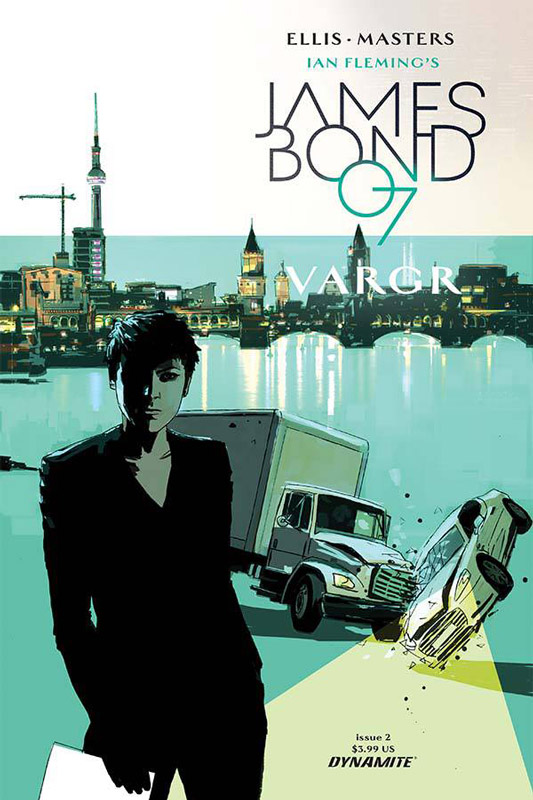 Dynamite Writer Warren Ellis, Artist Jason Masters, Colorist Guy Major, Letterer Simon Bowland
Due to a shipping delay this did not arrive at my local shop until this week. As a huge Bond fan I was intrigued but not totally sold on the first issue of the book by Ellis but this second issue put my fears to rest. I could see that Ellis was giving the book a slow "novel' approach to the story and this second issue does start getting to the elements of the story and introduces some great story developments this issue. He continues to unfold the story very nicely and is one of the better Bond comics. Masters art overall is pleasing and while there is some rough spots here and there it has a nice visual look that gives it a nice cinematic style and yet feels like reading a novel. Is this book worth your time and money? I'm really liking where Ellis is taking the story and this second issue puts my fears to rest about the book. If you are a James Bond fan then this book is a nice addition to the mythology of the series. RECOMMENDED!