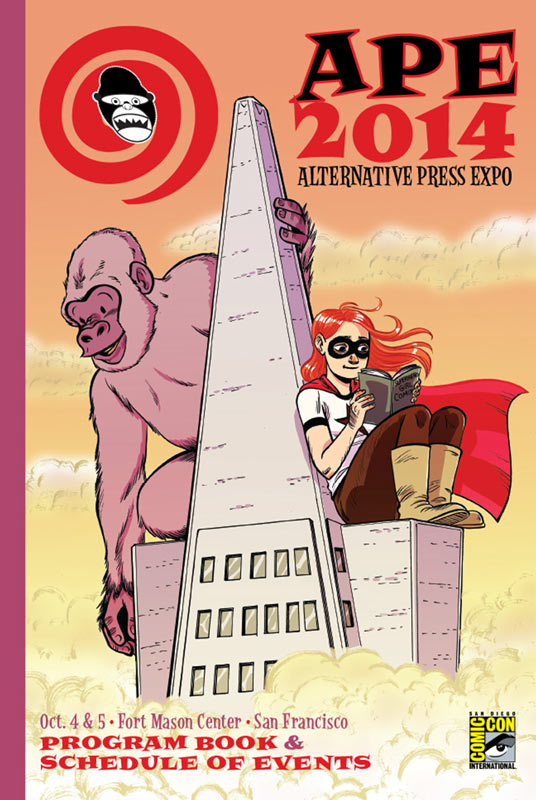 Over the weekend in San Francisco the Alternative Press Expo (APE) was held at Fort Mason Center and the big news out of the show was something that was really surprising. Comic Con International is handing the convention back to original owner and founder Dan Vado. Vado started the show in San Jose in 1994 as a convention that would cater to the truly small and alternative press. It was a show where tables for creators were very inexpensive and it was a much more intimate show for both creators and attendees. CCI took the show over in 1995 and moved it to its current home in San Francisco.
The exhibitor package handed out at the show had this in it:
The 22nd Alternative Press Expo in 2015 will return to Dan Vado and his team at SLG Publishing.
With this transfer, Dan will once again be at the helm of what we feel is the best alternative comics show on the convention circuit. Dan continued to run the event for the first few years after Comic-Con took over and has continued to be supportive of the show as a longtime exhibitor and by bringing in guests to APE at his own expense. Since then he has also delved into producing other creative events including an annual charity zombie walk in San Jose (Zombie-O-Rama) and launching an all-ages music and art venue (TheArt Boutiki). That is in addition to his almost 30 years of comics publishing with SLG.
It has been Comic-Con International's pleasure and honor to be the stewards of APE, and while we may be a little sad to see it go, that sadness is assuaged by excitement, as we know Dan is perhaps the only person who loves this event more than we do.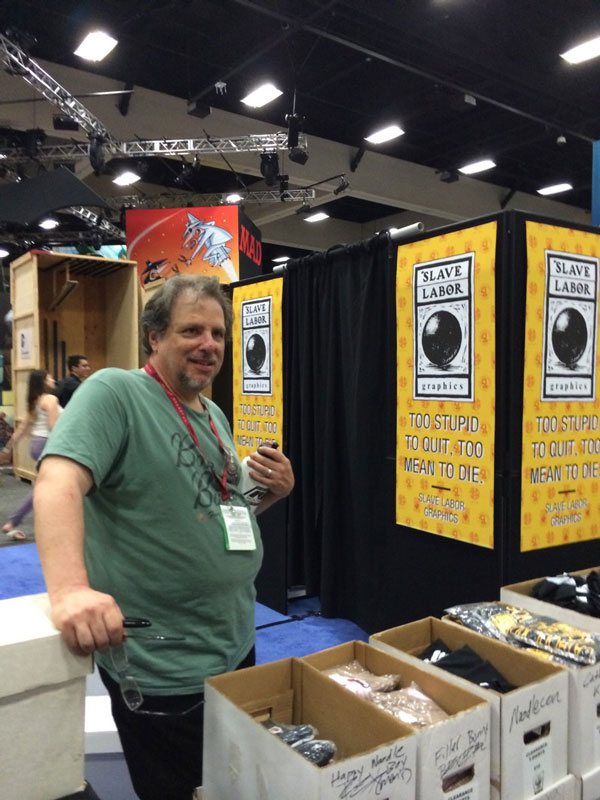 So the big question is why? Word has it that Dan wanted to run it again. CCI's Fae Desmond asked Dan if he wanted it back and he said yes. He had some successful shows in San Jose and felt like he wanted to produce APE again. They asked him last year but CCI had already booked the venue in San Francisco.
While this answers the question of how the show was handed back to Dan, I think the other big question is why did CCI hand it back to him? With WonderCon seeming to settling in Anaheim for the foreseeable futures this now has CCI not doing any shows in Northern California. While there are no lack of shows up north like Big Wow Comicfest and FanimeCon both in San Jose it does make you wonder if CCI has given up on Northern California. Before my northern friends get up in arms about WonderCon leaving San Francisco is the biggest issue has been with getting space in Moscone Center that is heavily booked all year-long with tech and other conventions. The reason that WonderCon came to Anaheim in 2013 was the construction at Moscone Center during the dates that they needed. The problem now is that WonderCon has done very well in Anaheim and the convention center nor the city does not want them to leave.
I'm guessing that a possible reason for giving APE back to Dan is so they can do a "WonderCon North" possibly in the fall sometime that way they would have 3 big shows and not have to worry about running APE. It's very obvious that CCI prefers to handle bigger shows and APE really doesn't fit into what they want to do. By letting APE go this will allow them to concentrate on bringing a bigger show back to Northern California. I really doubt that CCI is not going to do a show up north so the question is not why they let APE go it's only a matter of time before they announce a much bigger show for San Francisco area.