A mix of new comic series and returning ones make up this weeks comic book reviews.
Coming of Rage #1
Liquid Comics Writers Wes Craven & Steve Niles, Artist Francesco Biagini & Liquid Studios, Colorist Chris Blythe, Letterer Aditya Bidikar
Reading this comic is very bittersweet because it's probably one of the last things that Wes Craven worked on before his passing this year. The script by Craven and Niles is a set up story where there is a lot of exposition in this first issue. While I was not necessarily overwhelmed by the first issue, I do think that there is a good idea here and hopefully the next issue will really hit the ground running. They did a nice job of setting up Ritchie and gives a little glimpse of his back story but there is a lot more that will need to be revealed in the upcoming story. Biagini's art is good but there is a bit of highs and lows to some of the art where when it's good and then not so good but thankfully overall does not distract from the story. Is this book worth your time and money? I think that there is a good idea in this story but the first issue doesn't seal the deal for the book yet. The key to this series is going to be the next issue or two to see if Craven and Niles can build on the foundation of this first issue. If you are a horror fan then you might want to check out this book.
Wild's End: The Enemy Within #2
Boom! Studios Writer Dan Abnett, Artist/Colorist/Letterer I.N.J. Culbard
The first issue of this second chapter of the Wild's End story was very good but this second issue really gave the story a lot of great new elements to the tone and story that really impressed me. I have been a fan of the book from day one but this second story arc is really taking what Abnett and Culbard set up in the first series and taking this one to a whole new level. I am enjoying the subplots that are being introduced with the new characters and mixing it with the established cast. There are some really great reveals in this issue that add a great twist to the story. Culbard's art style is very impressive and he continues to impress with each new animal character that is in the book. He really brings this fantastic world to life. Is this book worth your time and money? I can not get enough of this great story and they have added so many great new layers to the story that builds greatly upon the first series. This is a great book that is well worth reading. RECOMMENDED!
Howling Commandos of S.H.I.E.L.D. #1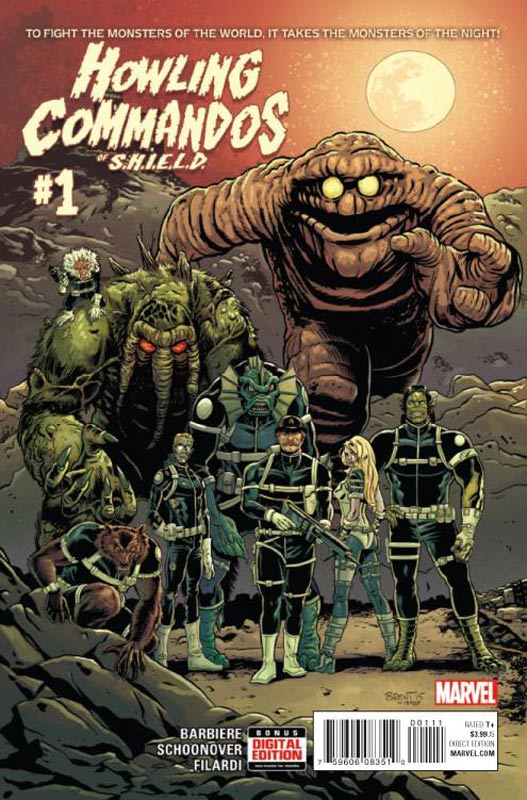 Marvel Comics Writer Frank J. Barbiere, Artist Brent Schoonover, Colorist Nick Filardi, Letterer Joe Caramagna
This is one of those books that is a guilty pleasure for some and terrible for others. I fall into the first category and found the book to be a lot of silly fun. The story is very basic and there are very little that will surprise you when you are reading it. Barbiere's story hit all of the basic beats and there is a lot of tongue in cheek humor in the story. He also keeps the pace of the story going along nicely and sets up the series and the characters pretty well. Schoonover's are reminds me of classic Marvel styles of the 1960's and 1970's that fits the tone of the book well. It's nothing flashy but that is a good thing because it fits the style of the story perfectly. Ironically this is the same artist that turned in last week terrible Back to the Future artwork so I'm pretty shocked that the artwork looks this good and makes me wonder what happened there. Is this book worth your time and money? If you are a fan of old monster movies and classic Marvel monsters then your probably going to get this book. For an average Marvel reader they are not going to probably get this book. I liked it and was a great guilty pleasure reading.
Art Ops #1
Vertigo Writer Shaun Simon, Artist Michael Allred, Colorist Laura Allred, Letterer Todd Klein
I have to say that Vertigo is on a great roll now. Art Ops continues the new winning streak of new series and this is the best one yet. Simon has crafted a very unique concept here and starts off a little strange but by the end of the issue has you craving more. He does a great job of setting the story up and yet it never feels bogged down by exposition. There is a lot going on here and I love the world that they have created and the overall tone of the story. The other big reason that the book works so well is the gorgeous artwork of Allred. I can't imagine this book working with another artist. His style really brings the script to life and give the world a great exaggerated reality that makes it flow so well when you are reading the book. Is this book worth your time and money? This book really knocked my socks off! The story is fresh and imaginative with lots of great twist and turns for a first issue. With fantastic artwork that really makes this a must buy book this week. HIGHLY RECOMMENDED!
Black Magick #1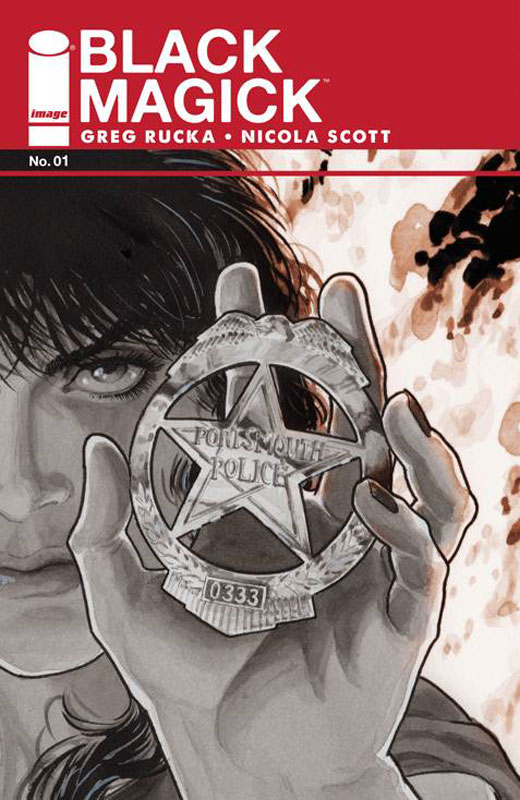 Image Comics Writer Greg Rucka, Artist Nicola Scott, Color Assists Chiara Arena, Letterer Jodi Wynne
Greg Rucka has a great knack for writing great female comic characters and his new book continues that great tradition. Rucka has taken a few different genres like witches and police procedural elements and mixed them together and created something fresh with them. He also makes his female leads strong and interesting and Rowan is a great one. On the surface the story is pretty basic but as the story goes along there are a lot of great little nuggets of ideas that are peppered throughout the script that adds a lot of intrigue to the typical tropes of the story. It's a very nice set up to the series and I can't wait to see where he takes it. I admit I'm not familiar with Scott's work but after seeing her stunning work here I'm very excited to see what other artwork that she has done. The one thing that really impressed me about her art is the use of color in the book. Most of the art is in black/white/grey tones that give the story a grounded in reality feel and she uses color to boost the impact of story elements that give the story a great visual punch. This is a fantastic looking book. Is this book worth your time and money? This book gets off to a strong start and sets up an interesting and thrilling story that I am very excited to read the second issue. With  beautiful artwork and great story make this a must buy book. If you are able to get the magazine version there are a lot of extras that are not in the regular comic version. The other great bonus is a better reproduction of Scott's artwork. VERY RECOMMENDED!
Prez #5
DC Comics Writer Mark Russell, Penciller Ben Caldwell, Inker Mark Morales, Colorist Jeremy Lawson, Letterer Travis Lanham
I am still stunned that this book is not being read by a wider audience. I alway hear comic readers complaining that DC doesn't come up with new things and when you have a bold and innovative new book like Prez nobody buys it. If this were an Image book people would be falling all over themselves for this book. This issue is probably my favorite one so far Russell has crafted one of the funniest political satires that I have read in years and yet it still has all of the great elements that make it a great comic book. Russell finds that rare balance of both the political satire but the main focus of the book is the Beth Ross character and how she is trying to navigate the insanity of the political beast of the country while trying not to get swallowed by it. She is the voice to the reader and helps navigate the story that makes it so accessable and enjoyable. Caldwell and Morales are back this issue and there is a lot a great story elements that they bring to life this issue. There is a lot of very subtle dramatic moments in this issue especially with War Beast robot that is one of the best scenes in this issue and they pulled it off masterfully. Is this book worth your time and money? This is simply the best book that DC Comics has put out in years and I hope that the creative team gets to the back half of the story that was planned. I can not recommended this book enough for any reader that is saying that there are no good books from DC Comics because here is the proof that they are, at least with this one. HIGHEST RECOMMENDATION!
The Unbeatable Squirrel Girl #1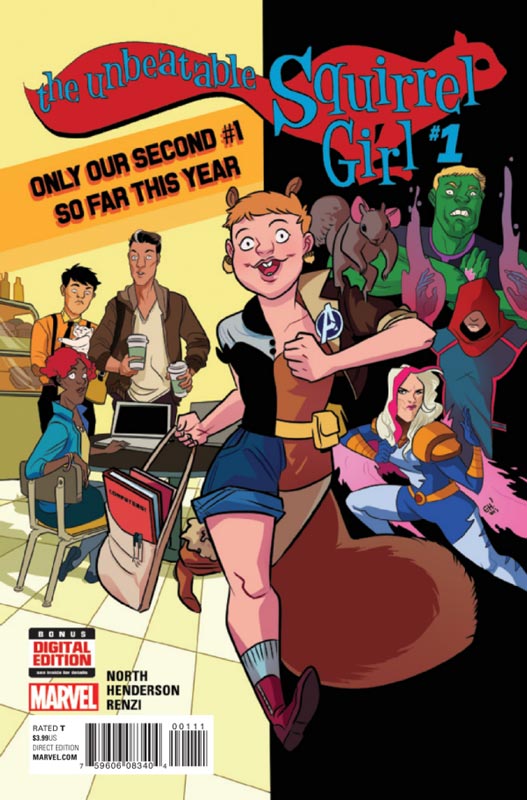 Marvel Comics Writer Ryan North, Artist Erica Henderson, Colorist Rico Renzi, Letterer Clayton Cowles
This book is so good that it's the second #1 so far this year. I'm certainly not knocking it because this is one of my favorite Marvel books now. North and Henderson have created one of the most enjoyable reads each month that delivers a fun sweet story each issue that has mostly been a done in one type book with a few multi part storylines. North brings a sense of wonder to Doreen who actually loves to be a superhero and always chooses to help in any situation. He makes sure that she is not portrayed as a stupid character that is one of the reasons that the book works so well. He also has a lot of fun bringing obscure villains to the book like in this issue Brain Drain but also has Galactus in it too. Henderson's art is a simple yet very detailed cartoony style that matches perfectly with North's scripts. She brings a fun an exciting visual to the story that makes it that much more fun. Is this book worth your time and money? I'm a huge fan of this book and honesty hope that this new #1 issue will bring more readers to the book. This book a blast to read each month and is also a great all ages book. VERY RECOMMENDED!
Chewbacca #2
Marvel Comics Writer Gerry Duggan, Artist Phil Noto, Letterer Joe Caramagna
I was not overwhelmed by the first issue of Chewbacca but was willing to give the book a second go because of Noto's artwork and to my surprise the story was considerably better this issue. While Duggan's story didn't blow me away but it was a better read this time around. It might be that the story was a jail break scenario that are always pretty fun to read and the ending has some promise that he might have shaken the first issue troubles off of the book. Noto's artwork is the reason to get this book. The artwork is gorgeous and he does a lot of the heavy lifting with a lot of the story having no or limited dialog that he has to convey the story in the visuals. Not many artists could pull this off but Noto not only does it but excels at it. Is this book worth your time and money? While not the most amazing book that you will read this week it was a big improvement over the so-so first issue. If you are a Star Wars fan then this book is a nice and different read than the main Star Wars book.
All-Star Section Ei8ht #5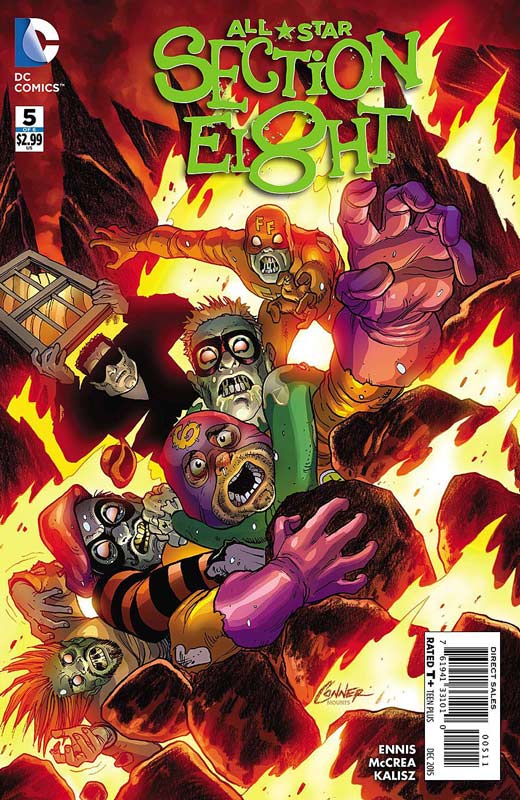 DC Comics Writer Garth Ennis, Artist John McCrea, Colorist John Kalisz, Letterer Pat Brosseau
After last issue wild Wonder Woman story I didn't think this book could get any more crazier but leave it to Ennis and McCrea to nearly top that. This issue has Sixpack going straight to Hell, literally. Having the Phantom Stranger as his tour guide was a stroke of genius. Ennis's script is a play on Charles Dickens A Christmas Carol except for a hell of a lot more cussing involved. The story is a wild ride through Hell and back with guest like The Demon and dead member of Section Eight. McCrea has a lot of fun with the art in this issue and who wouldn't when you get to draw hell for a whole issue. Is this book worth your time and money? My only complaint with this book is the censoring of the colorful language in this issue. For me it seemed like a real cop-out on DC's part. It's Garth Ennis what did you expect when you let him do the book. Honestly it's not like anybody is going to be offended by the language over the insanity of the story in the book. Other than that this book is a blast and well worth reading.
Where Monsters Dwell #5
Marvel Comics Writer Garth Ennis, Artist Russ Braun, Colorist Dono Sanchez Almara, Letterer Rob Steen
I have been a fan of this book and one of a handful of Secret Wars tie in books that was worth reading. I hate to say it but I was not overwhelmed with the final chapter of the story. Ennis previous issues stories have been light and fun with Karl being an ass. In this issue he spent nearly the entire story telling the back story of how Clemmie came to "run into" him and frankly it was drawn out and tedious and for me pretty unnecessary. It was a pretty basic and boring back story that brought the book to a screeching halt. The final fate of Karl was pretty funny but didn't really have the impact because of the letdown of the overall story in this final issue. Braun's artwork was the only saving grace for this issue and has been a great choice for the artwork in the series. His art does a great job of capturing the dramatic expressions on the characters but sadly his great art can't even save this letdown of a story. Is this book worth your time and money. I was a big fan of this book and Ennis just pissed away the momentum of the story to drag it down into a terrible last issue that missed all of the fun that the previous issues had. It's a real shame because it was so much fun while it lasted. SKIP IT!
Stringers #3
Oni Press Writer Marc Guggenheim, Artist Justin Greenwood, Colorist Ryan Hill, Letterer Crank!
I have been a little iffy on this book but liked the concept of the story. While I'm not totally sold on it I will say that this issue was a lot stronger and gave me some hope for the story. I think that Guggenheim may have dragged the story out a bit much on the first two issues but this issue seemed to have a stronger balance of the story and get things moving along better. Greenwood's artwork has been the strongest element of the book and has been one of the reasons for me to keep plugging along with this book. Is this book worth your time and money? I still think that the concept of the book has been stronger than the individual issues but this issue could be a turning point. The overall story is starting to come into better focus and may be a sign of things to come. I hope that Guggenheim is able to keep moving the story along like this issue.