Well its new comic book day but today we are going to play more catch up with some recent releases ahead of the flood of DC lenticular cover fiesta that hits today. There have been a lot of good releases in the past few weeks so lets see if any should be on your pull list at your local shop.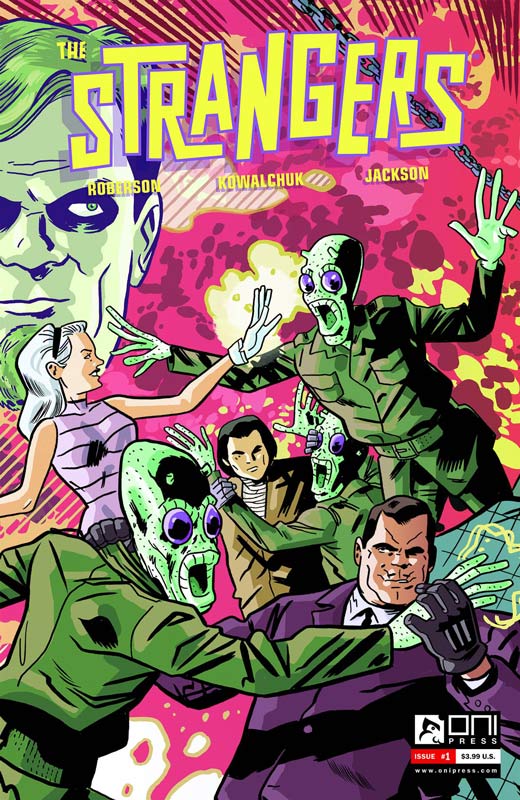 The Mysterious Strangers #1 (Oni Press)
This is the first of two books that had a title change before the books hit the shelves. Oni's synopsis for the book is, "The last thing you want to see is my hands." They're called the Strangers. They're deadly. Dangerous. And you'll never see them unless they want you to. But now they've come up against something big — United States government big. A cover-up of international proportions, and at the center of it all is the Strangers' deadliest foe, a man known only as Capricorn. A man who knows the Strangers. A man who sees them. While it sounds all good they forgot to say that it's a dash of Charlie's Angels, Doom Patrol and 1960's James Bond films. I'm not knocking the book for any of these influences but when you read the first issue it's hard not to notice them. The first issue has a nice intro to each of the characters Verity Mills, Michael Kono, Sandoval, and Absalom Quince. Written by Chris Roberson who is probably best known for his Vertigo book iZombie along with artist Scott Kowalchuk sets up a lot of things in the first issue. The influence of the 1960's is very prevalent and while the story is good it was really hard to shake the fact that it seems a little bit too familiar. Kowalchuk's art is good and fits the story well. The title change was because of an Malibu Comics Ultraverse book with the same name.
Is the book worth your time and money? I liked the first issue and while I will pick up the next few issues, I hope that they are able to find their own voice with this book. There are too many time it's was just like this reference and slightly changed to that feeling. So I would say if you like those influences you might like this book.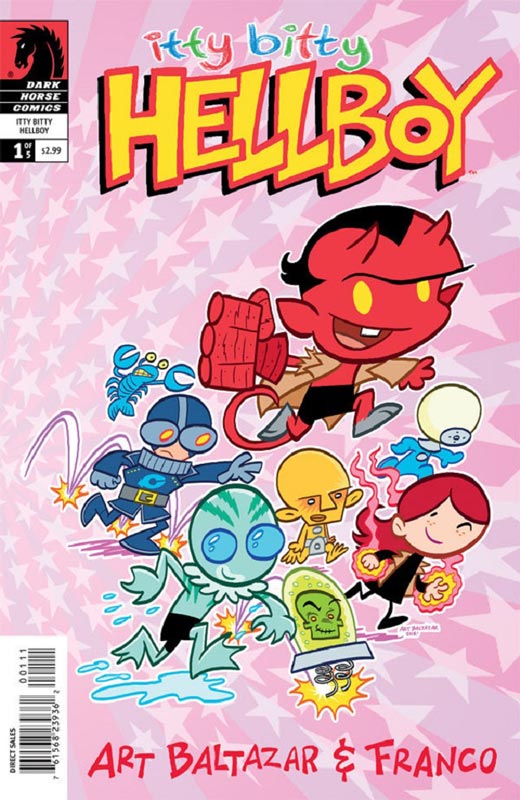 itty bitty Hellboy #1 (Dark Horse Comics)
This is not the first time there has been a different version of a younger Hellboy. That honor goes to Hellboy Junior. published back in 1997 and masterminded by Bill Wray. The difference this time is that you can give this comic to a kid and the other one is definitely not for kids. Dark Horses synopsis, A ghost named Rasputin has been spotted! And Hellboy and the B.P.R.D. are going to find out what he's up to. Who is Hellboy anyway? Why does he have such a big hand and what is it used for? Who's weirder, him or his friends? What is the B.P.R.D.? And what does chicken soup have to do with all of it? This and more answered in the debut issue, where BIG things happen to itty bitty Hellboy! The creators of Tiny Titans, Superman Family Adventures, and Aw Yeah Comics comes to Dark Horse! It seems that both Marvel and DC are not very interested in releasing all ages books anymore and many independent publishers are trying to fill the gap. Dark Horse has maybe found that winning formula. But taking their most celebrated character of Mike Mignola's Hellboy and letting the talents of Art Baltazar and Franco have at them, and the results are a real winning combination. The book is made of 2, 4, 5 and 6 page stories and while they stand on their own they do tell a bigger picture. If you are familiar with Baltazar's and Franco's previous work then you have come to the right place. If you have not read any of their work this is a great introduction to their wonderful storytelling. It has the simple good guys vs the bad guys but with a lot of cute thrown in. While the book is a quick read I felt very satisfied with it. Sometimes it's nice to read a really good all ages comic. It can take you back to a simpler time when comics were just fun.
Is this book worth your time and money? If you are looking for a great all ages book and love Hellboy then you are going to fall in love with this book. It's a lot like Peanuts but with Hellboy. It's well worth the $2.99 price.
Collider #2
Federal Bureau of Physics #2 (Vertigo Comics)
We come to our second title change book where apparently some people have never heard of Google search. Well after the first issue hit the stands Vertigo got hit with a notice that there was another book of the same name. Usually lawyers find out about this stuff before things get published. Well DC didn't get that memo. I previously reviewed the first issue HERE and really like the story and art. How does the second issue fare? Well I was intrigued by the first issue and with the second issue ending really hooked me. The plot of the second issue from Vertigo is, hey call it a "Bubbleverse." Not quite an alternate reality but a pocket universe—like a soap bubble forming on top of another soap bubble—that mirrors our own. People from our world are trapped inside, and FBP field-agents Adam and Jay volunteer for a daring rescue mission before a devastating collapse. But things are not what they seem: There's a traitor in the Federal Bureau of Physics, and things are falling apart. Simon Oliver and Robbi Rodriguez deliver another intriguing issue. There is a lot to digest about this book but it really the one thing that is obvious in the second issue is things are not always what they seem.
Is this book worth your time and money? While not a briskly paced at the first issue there is a lot more meat in the second issue. There is a lot ahead for this book and I'm in it for the long haul at this point. Solid story and art makes this a definite add to any monthly pull list.
Legion of Super-Heroes #23
Another new 52 bite the dust over at DC and while I dropped this book a long time ago there was one thing that brought me back to this final issue, Kevin Maguire. I am a huge fan of Maguire's work and lately he has not been doing much artwork. So while I don't what happened in previous issues to lead up to this story entitled Aftermath but I can't say I'm surprised that the book has been canceled. Paul Levitz has been writing the Legion books for a number of years now and this issue kind of sums up the problem. It's not that the characters in Legion are irrelevant it just suffers from being stuck in a time warp. The story is neither good nor bad. It's just kind of there most of the time. This tends to happen to a lot of writers that stay on a book too long. Look Levitz is a solid writer but I just think that the book really needed some fresh blood as far as the writing goes. It seems as if I had time traveled back to the 1980's and just picked this book off the rack. The problem is that you feel like you have read this story before. Art wise Maguire always delivers the goods and this issue is no exception.
Is it worth your time and money? If you love Kevin Maguire's artwork then this is well worth the $2.99 you will plunk down for it. He draws almost all of the main Legion characters so that's a real bonus. But otherwise like everyone else has jumped ship from this book a long time ago. I do hope that someone does take a fresh spin on the Legion. There have been great stories in the past and maybe someone will come along and inject some real creative juices into the book. Until that time I can't see many people missing this book.
Astro City #1 (Vertigo Comics)
Astro City has had more publishers than any book I can remember. Image, Homage, Wildstorm and now Vertigo. Astro City's premies is really simple how both superheroes and normal people interact with each other in the world. This new book is really issue #60 but creators Kurt Busiek and Brent Anderson wisely do a done in almost one story to kick off this new series. The Vertigo synopsis, ASTRO CITY is back in a new, ongoing monthly series that showcases old heroes and new, as The Ambassador comes to Earth, and an ordinary man is caught up in a cosmic conflict! Featuring the return of favorites like Samaritan and Honor Guard, and the debut of some new sensations! Plus, the seeds of a new mystery: Who is the Broken Man? The entire award-winning creative team is back to kick off a new epoch of the human and the super human. Get in on the ground floor of Astro City's next epic. It might have been wise to do a one or two page intro to help new readers but the first issue is pretty straight forward and gives you a somewhat flavor of what the book is going to be like. I have been a big fan of this book from the beginning and am looking forward to the stories to come. The first issue is part one of the current book it does have a very fulfilling story alone but it does it a way that you do want more. Busiek's writing and Anderson's art are two gloves that always fit well and complement each other.
Is it worth your time and money? If you have never visited Astro City then it's one of the best road trips you can take. This book is what most other comics wish that they could be, solid. I have never been disappointed in an issue and I'm guessing that tradition will continue with this new book. Very highly recommended!
American Vampire Anthology #1 (Vertigo Comics)
I have save one of the best for last. What do you get when you add American Vampire and some of the most talented writers and artist in comics and let them tell "lost stories" about vampires, pure gold. American Vampire has been one of Vertigo's more successful books of the past few years and really made a name for writer Scott Snyder. The synopsis from Vertigo, You are cordially invited to a party—to die for! This special features eight amazing stories set in the world of American Vampire, with "lost tales," new characters and old favorites. Don't miss these stories brought to you by series creators Scott Snyder and Rafael Albuquerque, as well as other awesome comics talent like Becky Cloonan (BATMAN), Gabriel Ba and Fabio Moon (DAYTRIPPER), Jeff Lemire (SWEET TOOTH), Greg Rucka (The Punisher, BATWOMAN), Gail Simone (BATGIRL) and many more. Snyder and co-creator and artist Rafael Ablbuquerque start the fun off with a little bookends story and let the other kids come play in their sandbox. This is a really great gift because the regular book has been a solid read from day one and this anthology lets others join in on the mythology of the book. If I had to pick a favorite story of the bunch I might have to go with Last Night by Gabriel Ba and Fabio Moon the mixing of Jazz and the 1940's is pure genius. There are no clunkers in the bunch but I had a little trouble at the start of Gail Simone's story because it seems like I was dropped into the middle of a story but that's a very minor complaint.
Is it worth your time and money? While the cover price is steep at $7.99 there is more in this book than almost any other book out there. Solid stories and art all around make this book a must have. There is so much in each short story that you wish that they could go on for a lot longer. Best eight bucks I have spent in a while.