Due to a long workday at the 9 to 5 job that actually pays the bills and for this site, there are just going to be a few books reviewed today and over the weekend I will catch up and hopefully do another review post for monday (fingers crossed). So let's get to it and at the bottom there is still time to enter the Free Comic Book Day Comics Giveaway! 
Alex + Ada #6
Image Comics Writers Sara Vaughn & Jonathan Luna, Artist Jonathan Luna
To say that I am a huge fan of this book is an understatement. The plot from Image is, Ada now sees the world through different eyes, but life has become more complicated for her and Alex. Ada has now human feelings and thoughts and Alex is trying to show her everything but they have to be careful and not let the secret out. Vaughn and Luna keep up the wonderful pacing that has made this book so charming to begin with. It is almost as if it's moving in real-time, meaning that is feels so natural when you are reading the story that you almost forget that it's fiction. The thing that I really am loving about this book is that it's so relatable and you feel as if you are part of the story itself. Luna delivers an art style that is so organic feeling that the book really delivers the impact of the script. Most of the story is pure dialog but the art brings it to life with such subtle detail and that is why it works so well.
Is this book worth your time and money? I have been praising this book from day one and haven't been disappointed with an issue yet and issue #6 is no different. This book is the first book I read when it comes out and it really put most of the other books to shame every month. The emotion that the book delivers is a wave of natural feelings that most comics only wish that they could do. HIGHEST RECOMMENDATION!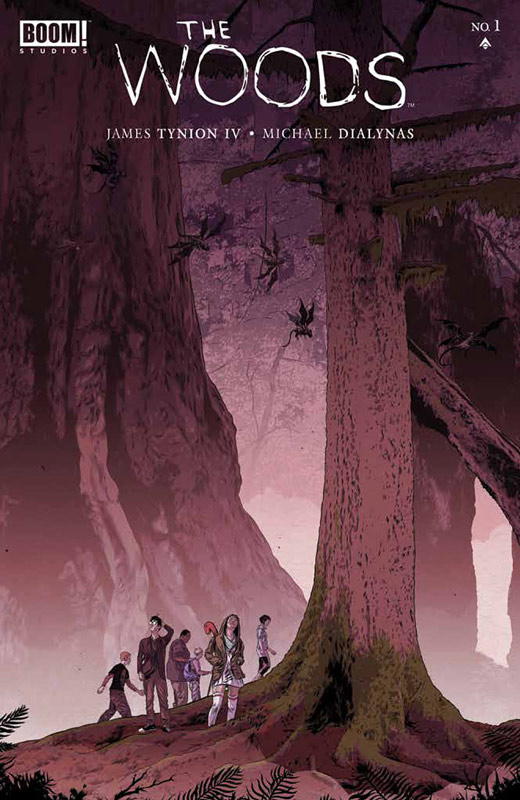 The Woods #1
Boom! Studios Writer James Tynion IV, Artist Michael Dialynas, Colorist Josan Gonzalez, Letterer Ed Dukeshire
Boom! Studios is really pushing out the creator owned books lately and this week The Woods is added to the list. The plot from Boom! is, On October 16, 2013, 437 students, 52 teachers, and 24 additional staff from Bay Point Preparatory High School in suburban Milwaukee, WI vanished without a trace. Countless light years away, far outside the bounds of the charted universe, 513 people find themselves in the middle of an ancient, primordial wilderness. Where are they? Why are they there? The answers will prove stranger than anyone could possibly imagine. While the premise of The Woods is not the most original idea I have ever read it does show some promise. I was not blown away by the first issue but did like the set up the characters in the story and premise has decent possibilities. Tynion has a lot of exposition going on in the first issue and the story gets a little bogged down with all of the set up. The dialog has a good natural tone to it and was impressed that he didn't try to make them too much of stereotypes. Dialynas art is a bit cartoony and a little rough at times but I found that it adds to the charm of the story.
Is this book worth your time and money? The first issue is a set up so it to early to tell but I will say that it does look hopeful at least. The concept has been done before so the big question is what is Tynin and Dailynas going to go with it. I would say that the next issue or two are going to be make or break for this book. So while it's an OK read only time will tell if it is going to be good or not. Too early to call on this one.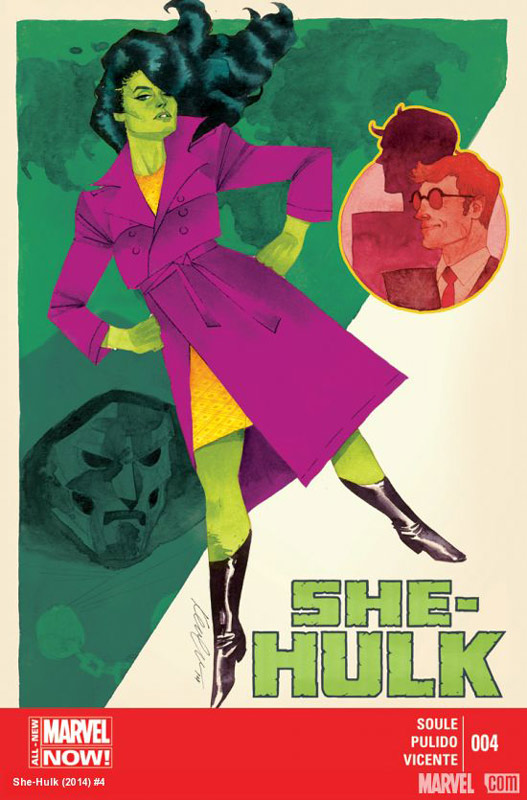 She-Hulk #4
Marvel Comics Writer Charles Soule, Artist Javier Pulido, Colorist Muntsa Vicente, Letterer Clayton Cowles
This book has been quite fun and a real surprise for me. The plot from Marvel is, Jen's new client Kristoff Vernard has been kidnapped by his dad, DOCTOR DOOM! • What does fellow lawyer (and recently outted Man Without Fear) MATT MURDOCK know about it? • It's an international jailbreak, She-Hulk Style, as Charles Soule (INHUMANITY) and Javier Pulido (HAWKEYE) take us to Latverian soil! This issue was a little more laid back than the previous issues but that is not a bad thing. Soule's story has a more laid back tone to it and while it was not my favorite story so far it did do a lot a things right with the story. Having Jen get advice from Matt Murdock was a really good idea because he is also a lawyer and it's a little tie in to the new Daredevil book without being heavy-handed and intrusive. I liked the way that Soule finished the story by somewhat subtle means rather than hit first and ask questions later. Pulido's art really works well on this book. It a very simple and detailed type of art that fits the story like a glove. The one thing that I really like is the way that he lays out the book and has such a great flow to it.
Is this book worth your time and money? This a more subdued story but in hindsight it really did grow on me. I also think that is show how versatile the book can really be. Soule and Pulido have really shown that the book can go in many different directions and is very open to going that way. My first impression was a little disappointing at first but when I thought about it, it was the right story for the pacing of the series. It really showed a side of the book that shows the diversity of what it can do. This book is becoming a really solid book that is heading to the top of the reading pile every month.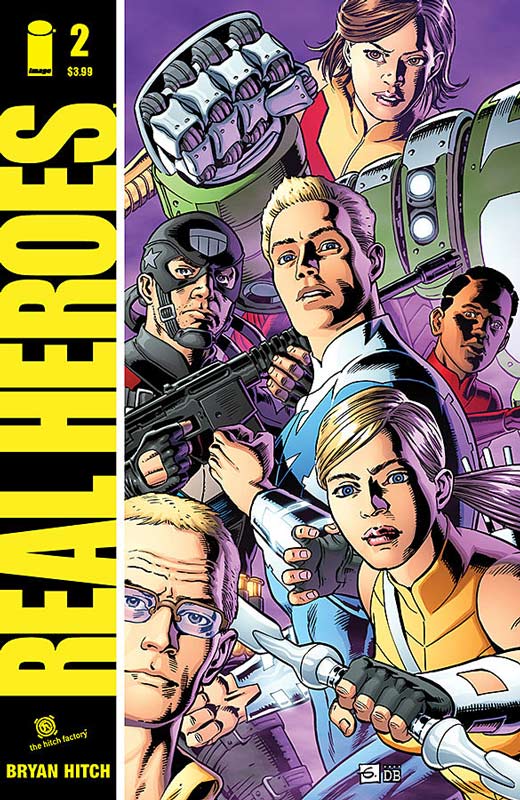 Real Heroes #2
Image Comics Writer and Pencils Bryan Hitch, Inks Paul Neary with Andrew Currie, Colorist Laura Martin, Letterer Chris Eliopoulos
Issue one was so-so and I said that the second issue could make or break this book. The plot from Image is, The cast of The Olympians superhero movie franchise has been asked to save the world. It can't end well. Well the second issue didn't leap to greatness it was a little better step in the right direction. The draw of the book is Hitch's art and again like the first issue that is the real selling point of the book. The story is still suffering from a been there and done that. It just doesn't bring anything new to this idea. While the story is not terrible and this issue does a bit better it just didn't add too much to the story. It feel a bit drawn out after this issue. While the pacing is not bad it just seems to take it on the slow side.
Is this book worth your time and money? If you look at you spent $3.99 on Hitch's stunning artwork then it's a good bargain but the story is just not telling me anything that I haven't seen before. I will give it one more issue to see if Hitch can spice up the story a little and make me feel as if it's worth reading. It's ultimately just an average superhero book with gorgeous art. If you are willing to be satisfied with that then that is where the book seems to be settling into.
Original Sin #1
Marvel Comics Writer Jason Aaron, Artist Mike Deodato, Colorist Frank Martin, Letterer Chris Eliopoulos
The #0 issue of Original Sin as I figured it was just a stand alone story to get readers up to speed on who The Watcher is. The story really does start in this issue. The plot from Marvel is,WHO SHOT THE WATCHER? The Watcher, the mysterious space-god who's been watching us from the moon for as long as we can remember… is dead. Thus begins the greatest murder mystery in Marvel Comics history. As Nick Fury leads the heroes of the Marvel Universe in an investigation, other forces are marshaling as well and other questions are arising. Why is Black Panther gathering a secret team of his own, including Emma Frost, the Punisher and Dr. Strange? Who is the Unseen? What was the Original Sin? What was stolen from the Watcher's lair? And most importantly, who now holds the Marvel Universe's darkest secrets in the palm of their hand? I will be honest most "Event' comics today are pretty bad and end up screwing up the regular books that you read. The biggest problem with Original Sin #1 is that it's boring and the 32 pages are pretty much wasted on very unnecessary plodding character introductions. The other thing is that the set up is a typical "Murder Mystery" that I really didn't feel much for caring. Aaron script is nothing exciting and is pretty basic plot of a typical recycled serialized television murder mystery plot. The biggest problem with the story is that you need to care about the murder victim and I think the flaw of the story is that while The Watcher is not a bad character he just not that interesting. The story really is an excuse to get a bunch of the Marvel Universe together to run around to solve the mystery. On the plus side Deodato's art is nice and make the weak story a little more palatable to read.
Is this book worth your time and money? At $4.99 for 32 pages of introductions to characters that we are all too familiar with is pretty bad. There really is not much relevant story going on in this issue and if that is any indication of the series I doubt that anyone besides the already converted will care about this book and all of the tie in's that will be dragged down with it. Weak script with an all too familiar set up to a story that has been told a million times before for five bucks is just not worth it. What is even more sad is that it seems that this is what comic readers want out of Marvel, and to me that is the real crime.
Free Comic Book Day Books Giveaway! 
Don't forget that you can still enter the contest for some of the Free Comic Book Day Books. You have until Sunday at 11:59 pm to enter so see the books and details below.
As a special bonus I have some of the Free Comic Book Day comics to give away to one lucky winner courtesy of Metropolis Comics. It includes the highly sought after Archaia hardcover and some of the other books. The only thing you have to do to send an email to steven@popculturemaven.com with the subject line: FCBD Contest with your full name and address and your favorite comic book and I will choose one lucky winner at random from the ones sent in. The rules are simple only one entry per person and the decisions by me are final. You must include your information to qualify. The contest will run until Sunday May 11th 2014 at 11:59pm and any entry received after that will be disqualified. Entries must be Residents the 48 continental United States. Alaska, Hawaii and the rest of the world are not eligible. Sorry but shipping is very expensive outside the 48 states. Here are the book that are being given away.