This week there is three returning books and a new one to throw in the mix. So lets see how the dust settles on this weeks books.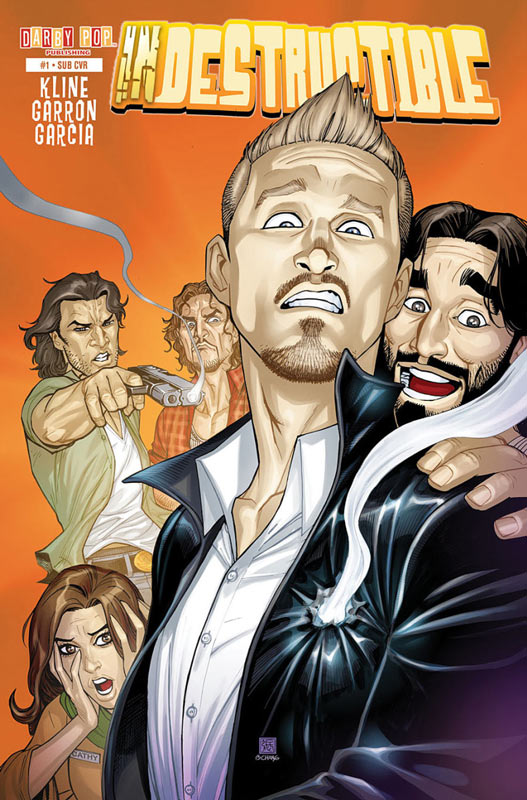 Indestructible #1
Darby Pop Publishing/IDW Writer Jeff Kline, Pencils and Inks Javi Garron & Salvi Garcia, Colorist Alejandro Sanchez, Letterer Troy Peteri
A new publisher has thrown its hat in the ring Darby Pop Publishing is being distributed by IDW and their first book hit the shelves this week. Indestructible synopsis from Darby Pop is, Meet Greg Pincus — the planet's brand-spanking-newest Superhero. One small problem: Greg is neither super, nor particularly heroic. But, he sure enjoys the perks that come with the job. Can Greg survive in a celebrity-obsessed world that wrongly believes he's indestructible? Jeff Kline (Transformers: Prime, G.I. Joe: Renegades) explores this comedic take on a reluctant hero, and contemplates what is required to be considered "special" in a world where fame can come and go faster than a speeding bullet. This book seems like it's from a time warp from the comic book boom of the 1990's and I hate to say it but that's not a complement. The story by Kline is serviceable but is a lot of being there and done that. The story plods along for 25 pages and really doesn't give much background to the characters other that surface material. You really don't care about Gregory or his situation much. You have read this story a thousand times before and this book does not bring anything new to the table. The art I hate to say is kind of amateurish there is no flow to it and is very stiff. Backgrounds are few and far between. Overall the art just sits there. It's not terrible but it's the type of art you would see in a portfolio of someone who knows how to draw but can't tell a story through their art yet. There are so many books being published currently that Indestructible is just not good enough. If you are a new publisher you really need to put your best foot forward on your first book. I hope that their other books are better than this one. But they are really going to have to step up their game.
Is this book worth your time and money? There are certainly worse books out there but not by much. The story is average at best and the art is just not that good. Darby Pop Publishing is really going to have to step up to the plate on their next book or they are going to be in big trouble. They could suffer from the once bitten twice shy if the quality of the books don't get better. Save your money on this one folks.
Alex + Ada #2
Image Comics Written by Sarah Vaughn & Jonathan Luna, Artist/Colorist/Letterer Jonathan Luna
The first issue of Alex + Ada I said that this might be my favorite book of 2013. So now with the second issue hitting the stands this week do I still feel the same. Yes and even more. The plot synopsis from Image is, Alex struggles with figuring out what to do with Ada, his new android, before anyone finds out about her. She is not what he expected. The thing that I am really loving about this book is the semi normal life tone that the book has. While there is the whole science fiction angle with the robot companion, it's the character of Alex that really draws you into the story. His reaction to Ada and the fact that his grandmother bought him a robot is so perfect that I thing we would all feel the same way. That's what makes this books so great is that you are so drawn into the story because it just feels so right. Luna's art while on the surface seems simple but it has so much warmth to it. The thing I love about this book is that it just tells such a damn good story without being forced or trying to be edgy.
Is this book worth your time and money. This book just keeps getting better each issue. The pacing is just perfect. This is one of those books that actually sticks with you. It really seeps into your soul with its slice of life with a great science fiction twist. I have to say hands down this is my favorite comic book of the year and it's only on issue #2. Waiting for each issue is going to be tough for sure. If you are not reading this book than shame on you. It has my Highest Recommendation! 
Manifest Destiny #2
Image Comics Writer Chris Dingess, Artist Matthew Roberts, Colorist Owen Gieni, Letterer Pat Brosseau
Issue #1 of Manifest Destiny really caught me off guard and really impressed me. So going into this issue I really hoped that the quality of the book would still be there. The plot synopsis from Image Comics is, Lewis and Clark uncover a new breed of savage creature with the Louisiana Purchase. No wonder the French gave it up so easily. It seems that Image Comics is on a roll with both Alex + Ada and now Manifest Destiny. The idea of taking the Lewis and Clark expedition and giving it a new twist is such a great idea. We all know the basic story but to add the twist of mythical creatures is pure genius. Continuing the story from the first issue of things not being so normal in the wild west, you are never quite sure where and what the story is going to do. Dingess keeps the mystery going but is leaving a nice breadcrumb trail for us to follow. Robert's art quality is still top-notch on the second issue. The detail that he puts into the art is a real feast for the eyes. The story scope is quite large and the art keeps right up with it but he also captures the very subtle detail that are also needed.
Is this book worth your time and money. This book is a steal at $2.99 both the story and art are top-notch and the story is unfolding very nicely. This is a very solid book and well worth picking up. I am intrigued to see where the story is going to take us. It's a journey that I am willing to take for the long haul. Very Recommended!
Batman Black & White #4
DC Comics Writers and Artist Various
While the New 52 boat is taking on water of at DC Comics right now we still have Batman Black & White to look forward to for two more issues after this current issue. This is the best Batman book of the year for sure. Here is the breakdown of the stories in this issue.
Ghost of Gotham Writer Nathan Edmondson Artist Kenneth Rocafort
What may appear to be a simple ghost story Batman soon discovers that thing may not be what they seem. Edmondson weaves a tale that leaves you with a story that has an ending that is vague but it's the way that it needs to be. Not tied up in a bow that so many writers feel that they need to do. Rocafort could not have been a more perfect artist for this story. Both the art and story harken back to the classic House of Mystery and House of Secrets feel. Rocafort detail in his art and his layouts are just beautiful. This is proof of how powerful black and white art can be.
Tea-Minus Party Writers Michael and Lee Allred, Artist Michael Allred
The Allred boys bring their talents to Batman and they sure do not disappoint. Batman is hunting down the Mad Hatter after kidnapping the mayors son but the Penguin has a plan of his own. The story is co-written by Michaels brother Lee and they come up with a fun and snappy story. I love how they play the double cross story out. Michael really captures that Bob Kane feel in the art for the story. It's like a classic lost tale from the early Batman days. Simple yet very fun story.
Long Day Written and Art Dustin Nguyen
I have been a big fan of Nguyen art for a long time. This time he does both the story and the art. It a simple day in the life of Batman story that has six stories based on different times of the day. Nguyen delivers a very satisfying story on literally every page and yet it really works a whole story. The mood of his art works perfectly in the black and white medium. It's a real simple and to the point story that is really solid. I really must point out something that really impressed me. On the first page Nguyen has Batman at Port Aparo and I assume that he is giving a nod to the late and great Batman artist Jim Aparo who is probably the most under appreciated Batman artist of all time.
Even In The Darkest Moments Writer David Macho, Artist Ruben Pellejero
Batman is fighting Killer Croc and gets a lending hand from a homeless man. This is one of those stories that could have come off as really preachy but actually works quite well. Macho keeps the story from feeling like hitting the point over your head. I felt it comes off well and as more of a helping hand story. Pellefero art has such mood and he captures the darkness very well. His use of shadows is very impressive.
Missing In Action Written and Art by Sean Galloway, Inks by Derek Laufman
Superman is missing and it's up to Batman and Robin to find him. Sean 'Cheeks' Galloway is very well-known for his cartoony art. His use of color is really good. But guess what he can really do nice black and white art because he shades it so well. This is a fun romp adventure and the story and art go together so well. This is a really fun story and ends the issue quite nicely.
Batman Black & White has really delivered the goods each issue and this one is another winner. Editor Mark Chiarello has gathered the best of the best and let both the writers and the artist do what they do best. Tell great stories. It's sad that we have to wait for special projects for this to come along to get real Batman stories. While I get that getting this type of quality on a monthly book is nearly impossible it can be done. You just need the right person running the show. Chiarello is one of those people. Also a big shout out to Amanda Conner for her great cover to this issue. Sadly I think that most current comic book readers will not appreciate the stories and or the art. Black and White artwork can actually be more stunning if used correctly. I love the fact that both the stories and the art challenge the norm that so many superhero books have fallen into. While all of the art may not appeal to everyone, books like this can expand outside what you are used to.
Is this book worth your time and money. Lets face it this is probably the best Batman book post New 52 and I doubt that this is going to change. This is what telling a good superhero story is all about. All of the artist get doing it in black and white. All five stories are solid and for the cover price of $4.99 you are probably getting more bang for your buck than the entire output of DC Comics this month. Recommended!