There were quite a few books this week. Unfortunately a busy week at the regular 9 to 5 gig cut into reading and reviewing more. So I picked 4 books to see how they would fair.
All New X-Factor #1
Marvel Comics Writer Peter David, Artist Carmine Di Giandomenico, Colorist Lee Loughridge, Letterer Cory Petit
I have been a fan of David's X-Factor books for years and when Marvel announced that they were canceling the last incarnation of the title I was sad to see it go. The plot synopsis from Marvel Comics is, X-FACTOR IS BACK…LIKE NEVER BEFORE! Serval Industries, one of the world's most trusted names in electronics and leader in cutting-edge internet and weapons technology, has just unveiled their newest contribution to society…the All-New X-Factor. Led by mutant mistress of magnetism, Polaris, the team uses its corporate backing for the betterment of society. With her half-brother Quicksilver, notorious thief, Gambit, and more by her side, can Polaris trust that her corporate masters really have good intentions? The main reason that I loved David's X-Factor is that he gets to use various X characters that nobody else wants to use and he is always able to give a new spin on them and turn them into really compelling ones. The other great thing is that Marvel  pretty much lets him do whatever he wants because it's sort of fringe X title. So he usually doesn't have to conform to event crossovers or continuity in the main X titles. This new series is a great jumping on point for new readers because of the fresh slate of the team. The one thing that David does bring back is his wicked sense of humor. The great thing about his writing is he is never afraid to mix tones as the story flows. This new storyline is very intriguing and definitely left me wanting more at the end of the issue. Di Giandomeenico's art is really a breath of fresh air for a Marvel book. He is not afraid to use angles and layouts in unusual ways throughout the issue. There are a few times where there are some sparse backgrounds but it's a very minor issue in otherwise very nice artwork. I admit that there are very few Marvel books that I pick up on a regular basis but having David back on X-Factor is a no brainer add to the pull list for me.
Is this book worth your time and money? If you are a classic X-Men fan (I'm talking Bryne/Claremont here) then this is the book for you. It doesn't require you to know tons of screwed up continuity to enjoy this book. It just relies on good old fashion story telling done right. This is a solid read and a lot of fun too. Add in really nice art and you have yourself a must add to your pull list. Very Recommended.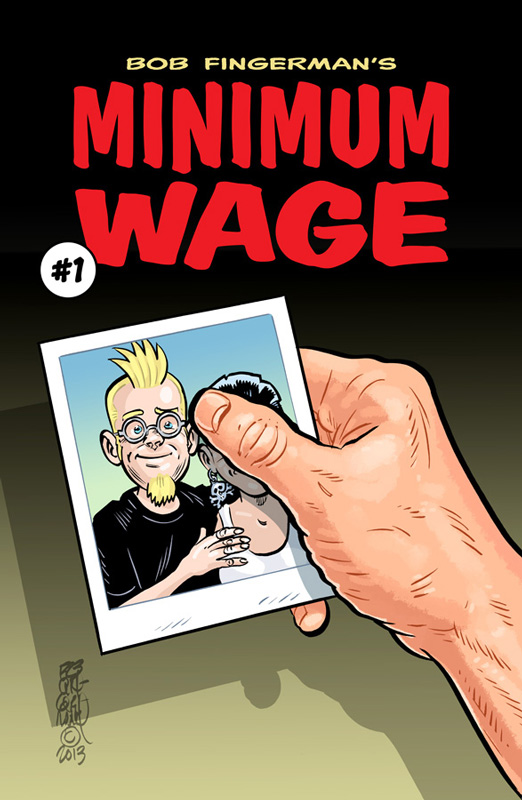 Minimum Wage #1
Image Comics Written and Illustrated by Bob Fingerman
I sadly have not read Fingerman's Minimum Wage Comics and after reading this issue I am kicking myself for it. The plot synopsis from Image Comics is, After a nearly 15-year hiatus, BOB FINGERMAN's edgy, critically-acclaimed title returns as a monthly. When last we left Rob and Sylvia they were exchanging vows at the altar. Three years later (in Rob's world), much has changed. Rob has a cell phone. He's 25. And oh yeah – spoiler alert – he's single again. Oops. Living again with his mom, it's get-back-on-the-horse time as the daunting prospect of dating looms large as a horny Kraken. This is a slice of life story that we have all experienced in one form or another. We all have a little or a lot of Rob in us. The one thing that I noticed when I was reading is that I needed to take a much leisurely pace when reading this book. It's not that it's too dense, it's that there is a lot of story and you really need to take in the amazingly detailed artwork in every panel. I honestly don't know how Fingerman crams so much detail into both the story and the art and keep a schedule. He notes in the back that he is going to be doing this book in six issue story arcs. And if this first issue is any indication it's going to be a great six months of reading. It's hard to find a story in comics today that tell this slice of life and on top of that do it so well.
Is this book worth your time and money. Hell yes! Fingerman packs so much into both the story and art that it's a steal for the $3.50 cover price. If you are looking for a truly original book, then look no further. Minimum Wage is a book that everyone should be reading. This is what comics can and should be about, life and how we all get through it. Very Highly Recommended! (NOTE: Image has released the Maximum Minimum Wage hardcover of the previous comics. So now we can all catch up to this great story)
Detective Comics #27 
DC Comics  Written and Drawn by Various
It was in 1939 that Detective Comics hit the stands and changed the comic book world forever. It introduced one of the most influential comic book character ever, Batman. To celebrate the current series has a mega-sixed anniversary issue written and drawn by some of the biggest creators today. The plot synopsis from DC Comics is, DC Entertainment presents this mega-sized issue featuring an all-star roster of Batman creators past and present! Don't miss a modern-day retelling of The Dark Knight's origin by the incredible team of writer Brad Meltzer and artist Bryan Hitch! Plus, all-new stories by Scott Snyder and Sean Murphy, Peter J. Tomasi and Guillem March, Gregg Hurwitz and Neal Adams, new art by legendary Batman writer/artist Frank Miller and more! Also in this issue, John Layman and Jason Fabok kick off the new storyline "GOTHTOPIA"! It's a bright, shiny, happy place where dreams come true…as long as you don't look at things too closely. First up is Writer Brad Meltzer and artist Bryan Hitch retelling the origin story of Batman from a slightly different angle The Case of the Chemical Syndicate. While the story is not new it seems very fresh here. Meltzer never goes from the original source but puts a slight new feeling to it. He tells the story from an earlier point. As always Hitch's art is on the money and really brings the story to life. He really brings a gritty edge to it. Next up is Writer Gregg Hurwitz and Neal Adams bring us Old School. You will definitely be a little lost with Hurwitz's story but don't worry it's kind of the point to throw you off guard and then it all comes together at the end. Adams really does a great job of drawing the different styles needed for the story. Only a master artist like Adams could pull of this very strange but extremely satisfying story. Better Days by Writer Peter J. Tomasi and Artist Ian Bertram is a look at Bruce Wayne as a 75-year-old retired Batman celebrating his birthday with the his family. It's a simple story of it's really hard to retire especially when you are Batman. Tomasi's story is short and sweet and gets right to the heart of it. Bertram's art is simply breathtaking and the detail to the art is just stunning. This is one of my favorite stories of the book. Francesco Francavilla writes and draws Hero that simply shows when all said and done it's the people who Batman saves is why he became a hero in the first place. A really solid story and art by Francavilla that is only four pages but shows it's quality that always trumps quantity. The Sacrifice writer Mike Barr and artist Guillem March tell a sort of Twilight Zone type of story with the Phantom Stranger showing Batman what the world would be like if there was no Batman. This is not a new idea but they way that Barr and March tell the story it's a really great take on the idea. It shows that things happen for a reason whether we like it or not. Gothtopia is the event storyline from writer John Layman and artist Jason Fabok. While the story is OK the bigger problem with it is that it just doesn't fit in this book. All of the other story really celebrate Batman and why he is such a great character. While certainly not a bad story it's kind of the proof of what is wrong with the whole New 52 books. I will say that Fabok's art is quite nice on the story. It just seems that it tries to be edgy for the sake of being edgy. Not a bad read just very underwhelming compared to all of the other stories. And last but not least Twenty-Seven by writer Scott Snyder and artist Sean Murphy that tells the story of how Batman will live on in the future. Snyder's story of what could happen in the future is quite ingenious and you will get no spoilers here. As always Murphy brings his A game to the art and really does some amazing layouts and some great spins on future Batman's. There are also Pin-Ups from Pat Gleason, Jock, Kelley Jones, Graham Nolan, and Mike Allred that round out the issue.
Is this book worth your time and money? Well I admit that the $7.99 price tag is on the high side but in the end with only one semi disappointing story and six great stories that make it well worth the cover price. I understand why DC had Layman and Fabok start the Gothtopia storyline in this issue because most people were going to buy this book and they are hoping that readers will buy the upcoming books. I think that it's a mistake because while the story is not bad it just does not fit with the theme of the other stories and I think that is why it's more disappointing than it should be. It's a marketing gimmick that I think will backfire. I don't plan on buying the other Gothtopia books and I imagine that most wont either.
Black Widow #1
Marvel Comics Writer Nathan Edmondson, Artist Phil Noto, Letterer Clayton Cowles
Two words are why I bought this book Phil Noto. Noto could draw the phone book and I would show up. The plot synopsis from Marvel Comics is, You've seen Black Widow as an Avenger and even an Agent of Shield. But on her own time she searches for atonement for her past as a KGB assassin—in ways of which those teams just wouldn't approve. From the darkest corners of the Marvel Universe, Nathan Edmonson (Who is Jake Ellis?) and Phil Noto (Thunderbolts, X-23) bring you a new ongoing series as gorgeous and mysterious as Nastasha Romanov herself! So when you buy a book for the artist you are satisfied and hope that there is a chance that the story is worth reading too. Well surprise Edmondson's story is actually pretty good. While most people are familiar with Black Widow because of the Marvel feature films with her in them, she has never really been able to carry her own comic in the past. Not that she isn't a good character but let's face it female characters rarely sell in comics. While the story is solid it is a set up issue that pretty much tells her origin and show what she does for a living. The thing that worries me a bit is that this issue does not set up what is going to be happening in future issues. It really feels like a zero issue to introduce you to the character. I hope that the second issue gives us a sense of where Edmondson is going to take the book story wise. Noto's art is simply fantastic and Black Widow has never looked better (The only other artist that did her justice was George Pérez in Marvel Fanfare back in 1983). I only hope that he stays on the book for more than a few issues.
Is this book worth your time and money? The first issue is surprisingly good but without where the stories are going to go I think that the next few issues are going to be a sign if the book is worth picking up beyond Noto's stunning artwork. At least for this first issue it's worth the $3.99 cover price. Hopefully the stories continue to be as good as this issue.