One of the best panels of WonderCon was also one of the first. If you ever get a chance to go to a Sergio (Aragones) and Mark (Evanier) show at a convention, do yourself a favor and make time to go to this panel. The description of this years panel was:
For years now, a Sergio & Mark panel has consisted of them promising that the new GROO would be out soon; but now there is new GROO out! It's the new limited series, GROO: Friends and Foes, starring the stupidest barbarian ever, plus a lot of folks who want to kill him. The panel will talk about it, what's coming next, and forthcoming Sergio & Mark projects. Join Sergio Aragones, Mark Evanier, Stan Sakai (Usagi Yojimbo), and maybe, if he can be pried away from the computer, Tom Luth!
As always there are many stories from all three and this year was no exception. Even if you have heard the stories before Sergio, Mark and Stan have a way of telling it so well it's like the first time that you have heard it. Here is a rundown of some of the crazy antics from the panel.
There is no way an story here could convey the fun and great stories that they had. So I will just go over some of the surprise news that came from the Panel. Sergio and Mark are going to be doing a Groo & Tarzan book for Dark Horse Comics along with Thomas Yeates who worked on the Groo Vs. Conan book recently. There was no date for the project because they are still working on the book, but Mark noted that this was the first time that he was going to be writing a character that he has previously written. Sergio said that doing the artwork on the book is difficult because of the back and forth with the artwork with Thomas.
Their current book Groo:Friends and Foes is a 12 issue series where each issue is self-contained stories but when reading them there is an overall story arc for the entire run. Mark said the books will be monthly with letter columns that have pretty much vanished from most comics today. There will be both trade and a hardcover collection that will follow the series. He said that the hardcover will contain lots of extras so if you bought the monthly issues there would be a goo reason to pick up the hardcover.
When I asked about a chance that Dark Horse would collect the Groo books that are long out of print in a hardcover collection? Mark said that he didn't know anything about Dark Horse Comics would be doing a remastered hardcover collection of all of the older Groo material with a nod and a wink. So that is very exciting new because there has never been a definitive collection of Groo.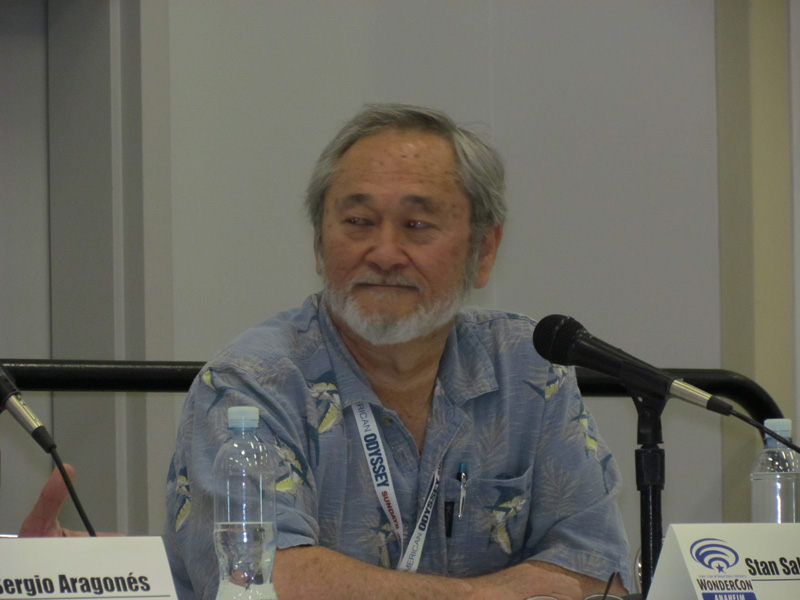 Stan was asked what he is up to and he said that there were many Usagi Yojimbo projects this year. He would be returning to the regular monthly book this year now that he is finished with other projects that he has been working on. There would be Omnibus style hardcovers from Fantagraphics and Dark Horse Comics starting this year that would reprint all of the Usagi material that has been done over the years. There were also two volumes of Usagi Gallery Editions this year but did not elaborate what material that they would cover.
The great thing about the panel is the intimate nature of the panel. It's very free-flowing and they alway bounce stories off of each other. These three gentlemen are the nicest and generous people that you will ever meet and the knowledge and wisdom that they have to share is immeasurable. You can go to the panel and each one is unique in its own way. While a lot of panels may get the lions share of media attention, going to the Sergio & Mark Show panel you will remember it a lot longer than most of the panels at a convention. And that is why I love going to see it so much.