Last Sunday I attended the press launch party for the relaunching of Twin Galaxies that will be a part of the Pinball Museum in Banning California that is also the home of the Arcade Expo.
If you missed Part 1 of my coverage you can read it HERE 
Here is the full press release from Twin Galaxies:
TWIN  GALAXIES  RELAUNCHES  ARCADE  AFTER  30  YEARS    
Star-­‐Studded  Event  Streamed  Live  by  Geek  &  Sundry  and  The  Nerdist  on  Twitch.tv   MAY  31st,  2015  –  Banning,  CA  –  For  the  first  time  since  1984,  video  gaming  and  player  ranking  authority  Twin  Galaxies   has  opened  its  own  arcade  and  eSports  professional  expo  center.  In  observance  of  a  new,  modern  era  for  the   organization,  the  landmark  event  was  celebrated  with  a  star-­‐studded  broadcast  attended  by  a  host  of  celebrities  and   new  media  gaming  personalities,  and  streamed  live  in  partnership  with  Geek  &  Sundry  and  The  Nerdist  on  Twitch.tv.     Since  its  founding  in  1981,  Twin  Galaxies  has  operated  as  the  official  home  of  video  game  world  records  and  player   rankings.    In  2014,  Twin  Galaxies  ushered  in  a  new  era  with  the  launch  of  its  24-­‐hour  video  game  culture  network  "Twin   Galaxies  Live"  garnering  more  than  60  million  live  views  to  date.  The  launch  of  the  brand  new  Twin  Galaxies  Arcade  and   eSports  Event  Center  –  complete  with  hundreds  of  arcade  and  pinball  machines  –  is  another  milestone  in  video  gaming   and  arcade  culture  history.    
Guests   of   the   event   included   Twin   Galaxies   Head   Custodian   and   former   Senior   VP   of   Warner   Bros.   Interactive   Entertainment  Jace  Hall,  Former  Laker  and  3-­‐Time  NBA  Championship  Winner  Rick  Fox,  Step  Up  3-­‐D  star  Rick  Malambri,   international   fitness   supermodel   Alicia   Marie,   and   Nerdist   and   Geek   &   Sundry   producers   and   hosts   Malik   Forte,   Zac   Eubank  and  Jesse  Mckeil  to  name  just  a  few.  
Additional  guests  from  popular  blogs  and  Youtube  and  Twitch  channels  in  attendance  were  producers  and  personalities   from   Geekscape,   POW!   Entertainment,   Black   Nerd   Comedy,   The   Game   Theorists,   TheStream.tv,   Smosh   Games,   The   Completionist,  Topless  Robot,  Nerd  Reactor,  The  Warp  Zone  and  dozens  more.  
Founded   in   1981,   Twin   Galaxies(tm)   is   the   most   preeminent   professional   organization   focused   on   video   game   player   achievement,  recognition  and  world  record  keeping  in  the  world.  It  is  where  competitive  video  game  rules  are  officially   set,   player   performances   are   measured/adjudicated,   and   official   records/wikis   are   logged,   maintained   and   updated.   TwinGalaxies.com   is   comprehensive   utility   and   platform   that   facilitates   community   and   provides   structure   and   parameter   to   video   game   playing   achievement.   It   operates   the   Twin   Galaxies   website   (www.twingalaxies.com)   and   has   published   multiple   editions   of   its   984-­‐page   book   containing   scores   compiled   since   1981   known   as   the   Twin   Galaxies   Official  Video  Game  &  Pinball  Book  of  World  Records,  with  the  Arcade  Volume  included.  Editions  of  the  Guinness  Book   of   World   Records   -­‐   Gamers   Edition   have   also   been   published   in   conjunction   with   Twin   Galaxies   authoritative   scores   included.  Twin  Galaxies  founded  the  U.S.  National  Video  Game  Team  on  July  25,  1983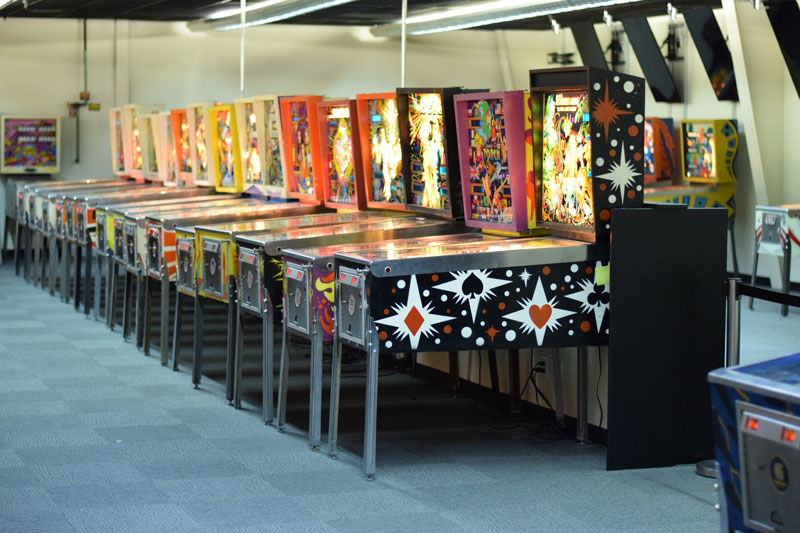 There was about 150 people who made it to the press event and it seemed that a number of them were new to the facility. I had been there for the inaugural Arcade Expo back in January of this year and so I knew the layout of the facility and so the event for me was to take some pictures of some of the games that were new to the floor or was still being repaired from the first show.
Let me say that putting this collection together is a truly amazing feat and the staff has really done a great job of moving the show forward from the last show. Juan from The Last Arcade on the Plant is the technician for the video game side and has been able to get that side of the facially nearly 100% working from when I was there in January. There were very few machines that were not working and I was able to speak with him briefly at the event and he said that they have finally given him a budget to get the machines in tip-top shape. One of the main things that he wants to do is the older machine are not set up for free or multiple credits so he needs to add a switch on the outside of them so they are essentially free play.
He was also able to get most of the out of service games from the January show working and some new ones out on the floor. Here are some of the ones that I noticed during the event and some new purchases that they are planning on getting up and running for upcoming shows.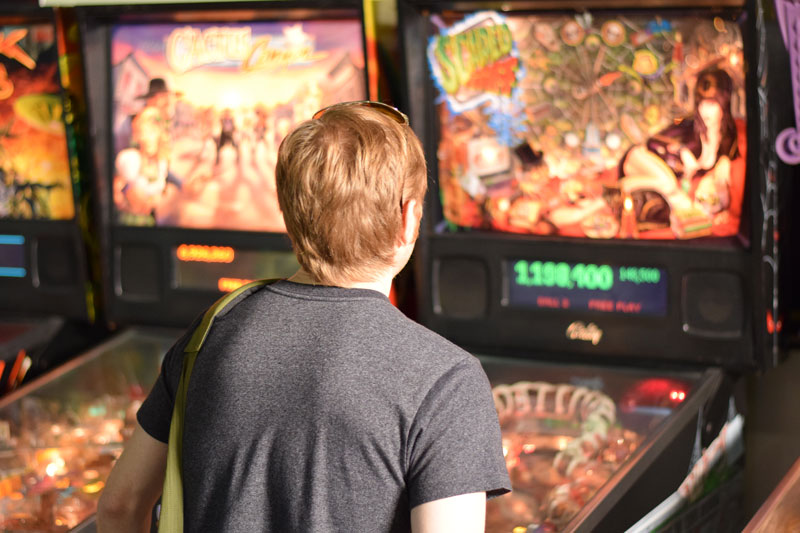 On the Pinball side there were just a few new machines on the floor but there were a number of them that had been repaired from the last show and there were some that went into repair. As with the volume of machines they are dealing with the overall percentage of working machines is still really good. I am told that they are hiring two full-time pinball technicians that will be working on getting the machines working. I know that a lot of the older mechanical pinball machines are in need of some parts and that is what is holding some of them up. There were some recent purchased pinball machines on the video game side that might either replace existing ones or will be used for parts.
PINBALL MACHINES
Varkon (Williams/1982)
Williams infamous pinball in an arcade cabinet was previously only playable during the Pinball Tournament in the Arcade Expo January event. The one on the video game side was out-of-order. That one has been fixed and is a very unusual game. The production run of the machine was only 90 units and they can sell for as much as $10,000 and are highly sought after by pinball collectors. The facility has two of them and if you get a chance to play this machine is worth checking out. The play-field is reflected in a mirror and the scores are projected onto the screen. If you are lucky enough to get the ball to the second level you can really drive up the score. This is a very unforgiving game.
Hercules (Atari/1979)
Billed at the "Largest Pinball Machine" it was developed by Arcade Engineering (a company consisting of past Allied Leisure employees) and had the mechanisms from a Bally table, according to an interview with a designer. The machine cost $10,000 dollars when it was released in 1979 and there were between 220-250 units produced. Very few regular arcades could afford them so you would have only seen them at large arcade or amusement parks. It uses a pool table cue ball instead of a metal pinball and plays actually pretty well. The game is in really good shape as the facility and you need to play it at least once in your life.
Rolling Stones (Bally/1980)
This is one of the pinball machines from the period where you started to see licensed machines. Bally wisely went in a good direction with musical artists so that way they could design a good machine and the licenses would not be the sole reason for the machine. Bally did a nice job on introducing music during a period of limited sound capability.Knocking down the Satisfaction target plays "Satisfaction" tune.
Dolly Parton (Bally/1979)
Another one of Bally's music themed pinball's was Dolly Parton. The game has a very interesting production history on the artwork used for the machine. This game license had been a difficult one because singer Dolly Parton kept changing her mind about how she should be portrayed on the back-glass, due to her crossover from country to pop. The Early Production cabinet side art in this listing depicts a bouffant-haired Dolly playing a guitar while the rest of the production run cabinets omit this image, making us wonder if this depiction had been rejected by the singer. Indeed, the flyer shows the singer standing next to the machine with a hairstyle more in line with her back-glass portrayal than with the bouffant style that was removed from the cabinet. While not the most amazing pinball you will ever play it does have a lot of good gameplay and plays a couple of her most popular songs.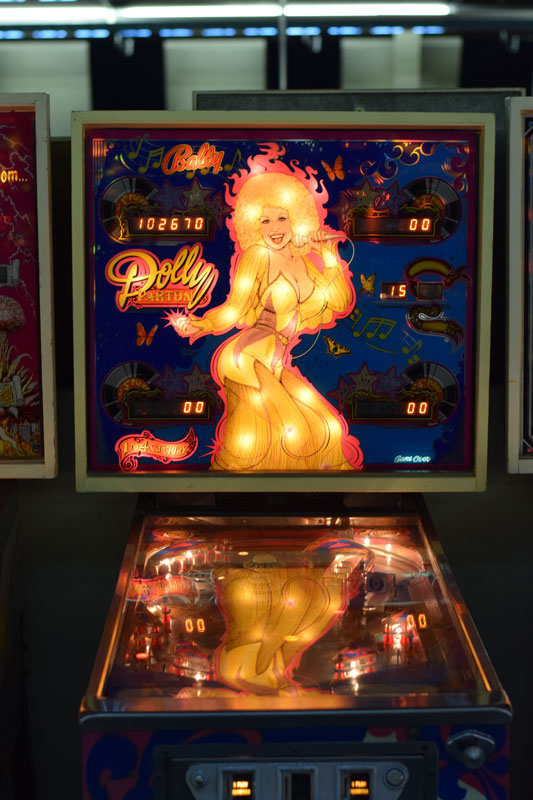 KISS (Bally/1979)
The other Bally music licenses from the same period was the very popular KISS pinball machine. With 17,000 units produced it was probably one of the most widely seen pinball machines of its period. This is one of the most well-known machines that Bally probably produced second only to Playboy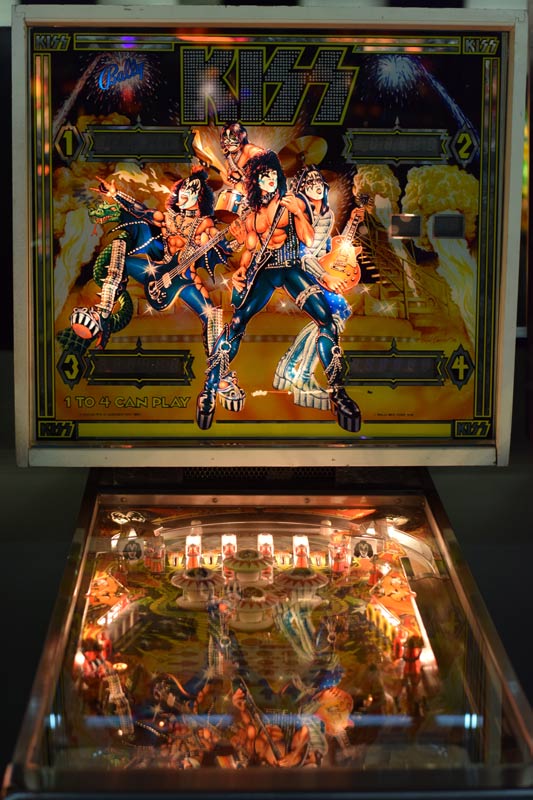 Superman (Atari/1979)
Atari was a video game company that at some point decided to make pinball machines because of their popularity but they were not as easy to build as a video game and were much more expensive to produce and the return profit was lower. Atari only made 7 machines and there were 4 prototypes that never went into production. Superman was their last and most successful machine that they ever produced. It came out after the release of the Superman film and that probably had a lot to do with its success. As with all Atari pinball machines it's a wide body machine that has a very high difficult level. It's very difficult to hit all of the drop targets to spell Superman for the bonus. This is one of the best pinball machines that Atari ever produced.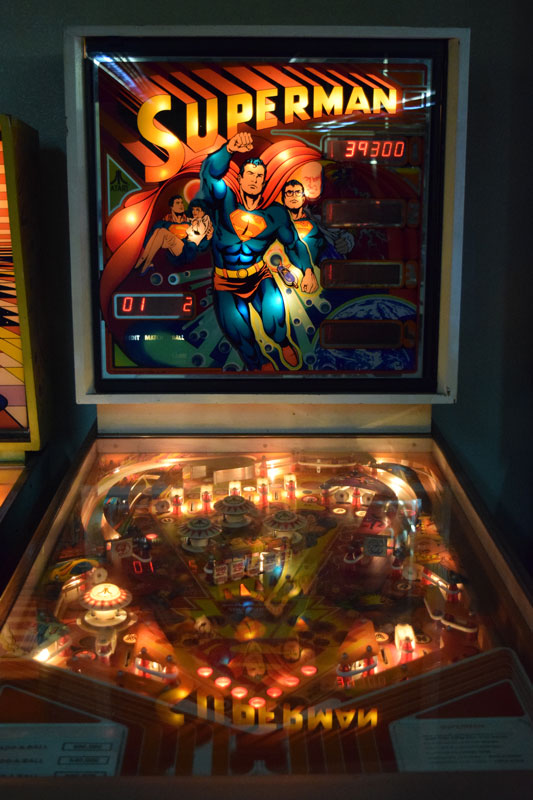 Time 2000 (Atari/1977)
The one thing that Atari did with most of its pinball machines was to do things differently. In this case they put 4 flippers at the bottom and while on paper that might have been neat but it ends up being a bit confusing until you get the hang of it. The other thing that Atari was great at was the artwork on both the back-glass and the play-field that are visually stunning and Time 2000 is no exception.
Playboy (Bally/1978)
As a kid this was the closest thing to sex without the magazine. While the artwork for the machine is very tastefully done every man alive knew the name Playboy and Bally knew it with great success.The backglass depicts Hugh Hefner with 1976 Playmate Patti McGuire and 1977 Playmate Sondra Theodore. It also has Little Annie Fanny and Granny from the comics that ran in the magazine at the time. This is a truly classic Bally pinball that has a great balance of both skill and fun. Not to be missed!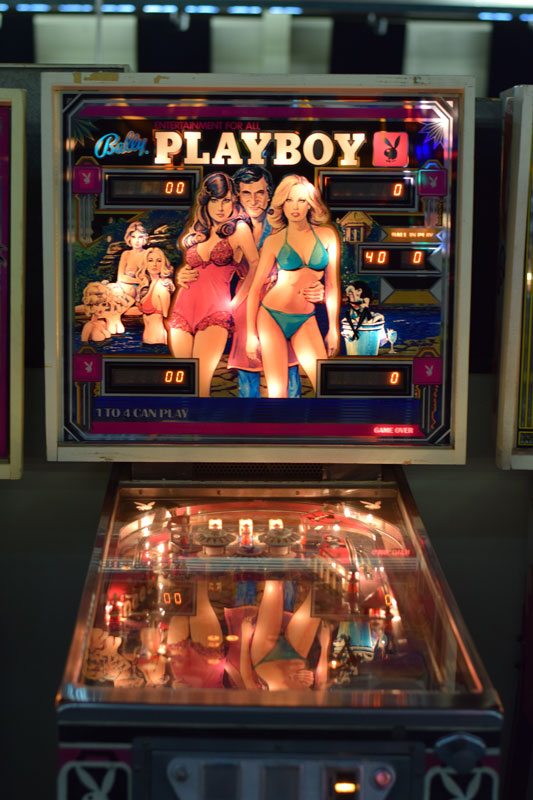 Vampire (Bally/1970)
This machine is still a basic style that Bally used from the 1960's trough most of the 1970's and while it's pretty basic play the artwork on the machine is very striking. It's most definitely inspired by both EC comics and horror films from the period. A fun game but simply beautiful looking pinball from the period.
Speakeasy (Playmatic/1977)
One of the great things that the Arcade Expo has is a number of foreign machine like Speakeasy from Italy. The back-glass has slot machine reels and uses classic American gangsters theme that is a great draw for a machine.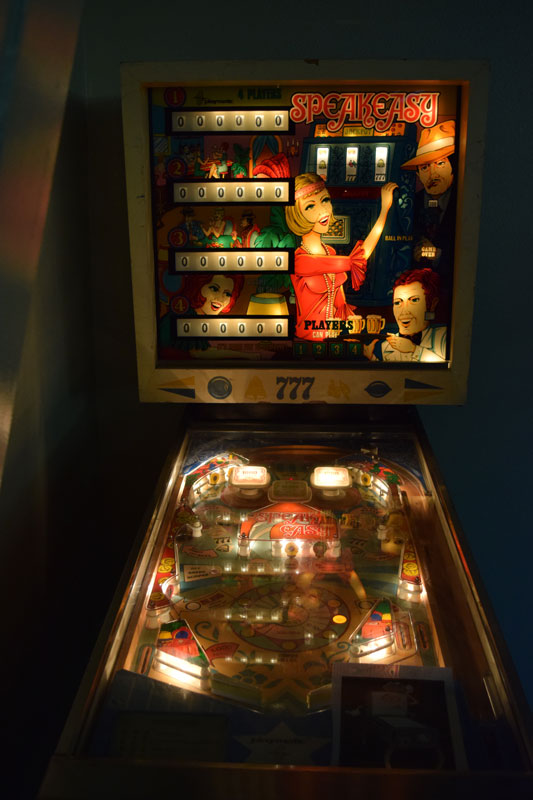 Bone Busters Inc. (Gottlieb/1989)
One of the latter Gottlieb machines while not working because it was a new acquisition but it's a goofy machine that on the top has a skull that taunts you during the game. While a lot of the machines during this period were becoming just licensed ones this is a fun and original game from the period.
Breakshot (Capcom/1996)
This is a very interesting machine. Obviously Capcom was more known as a video game manufacturer but did make a few pinball machines. While everyone else was putting more ramps and filling the play-field with toys and crap, Capcom made this machine a throwback to the old days of pinball. It's designed in the older electromechanical style, with no ramps and a one-level play-field. It has a dot matrix display that shows the scores as score real numbers, and digital sound that simulates EM chimes. It's a nice playing game that is rarely seen today.
Big Bang Bar (Capcom/1996 Prototype)
I had never seen this machine before and played it at the press event. When putting this story together I found out why I had never seen or played it before. Capcom's 'Big Bang Bar' exists only as prototype machines. It was to be produced for release in February 1997, but the Capcom Pinball division ceased operations before the machine was put into production. It plays pretty well although the left ramp is a real bitch to get up for me at least. It actually plays well and being such a rare game you should try it out.
Pinball Magic (Capcom/1995)
This is an odd ball pinball machine that combined pinball with ticket dispensing. Capcom equipped some of these games with a ticket vender. Evidence of this can be seen on the front of the cabinet below the ball shooter, where there is a horizontal slot positioned even with the coin door lock, from which the tickets would dispense. It's an OK pinball but the idea of a ticket pinball machine is quite fascinating.
Flipper Football (Capcom/1996)
This game reminds me more of the old baseball type machines than a pinball machine. You have to try to get goals to raise you score. It's the first machine to use a dot matrix display.
Tag-Team Pinball (Premier/1985)
As with a lot of machines the themes would be based on what was popular at the time and in the mid 1980's Wrestling was one of the hottest things at the time. A pretty basic game but still has its moments.
Wizard! (Bally/1975)
Inspired by the film Tommy people often mistake this for a licensed machine. While it does included likenesses of Roger Daltry and Ann-Margret on the back-glass it's not based on the film. This is a solid game with a lot going for it beyond the Tommy references.
Captain Fantastic and the Brown Dirt Cowboy (Bally/1976)
Now this machine is based on the character of Elton John in the film Tommy and was officially licensed from John and the film. There are many play-field and back-glass variation during the production run of this machine but none of those affect the gameplay.
Disco (Stern/1977)
Well at least Stern got this machine out before Disco died. It's a pretty standard Stern machine of its time but a real novelty today because of the theme of the game.
Skyrocket (Bally/1970)
A classic example of Bally machines from the early 1970's and is a simple and fun game that gives you a great feel of the machines that were made during this period in pinball. Nice layout of the play-field.
VIDEO GAMES
On the video game side there were not too many new games but there were a few new additions and some of the games that were previously not operational during the first Arcade Expo. There is an overall great cross-section of games and a lot of very early Atari and other early game manufacturers that you rarely see in an arcade. This is one of the things that makes the facility so amazing is the odd and unusual games that were made.
Joust Cocktail Table (Williams/1982)
While you see Joust video games everywhere it's very rare to see the cocktail version of it. Most cocktail games have the players sitting on each side of the table but the Joust has the players next to each other because of the co-op gameplay. I had never see one of them until this time. A real treat indeed.
Domino Man (Bally/Midway 1983)
This is one of those odd concepts that is pretty difficult to play. You have to set up your dominos without the various people running into them a knocking them over before you can fill in all of the spots for them. This is a really challenging game but very outside the box compared to other games of the period. You don't see this game very often.
Bandido (Nintendo/1979)
This is a very early Nintendo game developed by Nintendo R&D1 in 1979, designed by Genyo Takeda with art by Shigeru Miyamoto. There are bandits that are move around all of the sides and you have to shoot them all to clear the level. They are also shooting back at you. You control your character with the joystick and use an eight direction switch for the gun. This is a fun game and a very early western themes video game.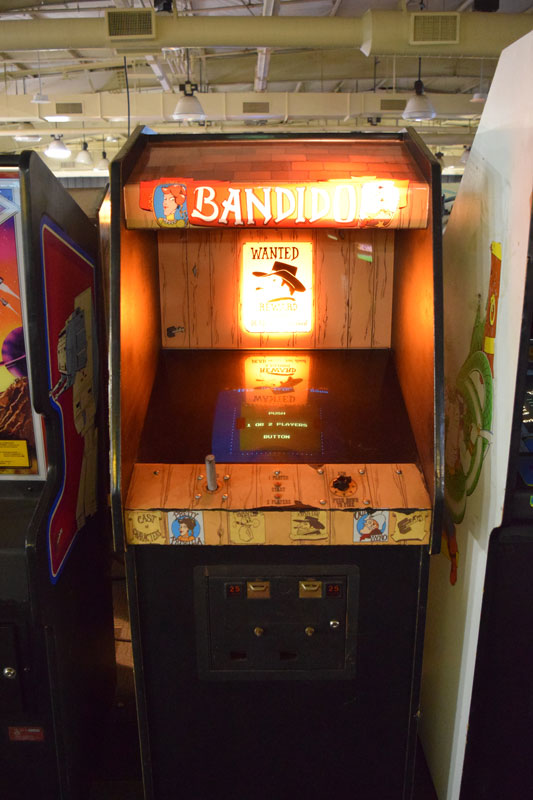 Spectar (Exidy/1980)
A sequel to Targ and the basic game play is like Pac-Man that you have to collect dots and avoid enemies. The board changes blockades that change the play-field. An interesting game that most people think is a Pac-Man clone but is really an inventive sequel to Targ.
Space Zap (Midway/1980)
This is a very unique game where you are a base and on the top, bottom and both sides space ships appear and fire at they base and you have to shoot them and there missiles before they destroy your base. The controls are four fire buttons that seems rather simple until the game starts to ramp up the attacks on you. This is a great game that is very challenging and unique. It's a defend the castle type game.
Super Don Quix-ote (Universal/1984)
Universal's first and last laserdisc based game that has pre-done animation and you have to make a choice with the joystick or buttons. This is a very rare laserdisc game because Universal didn't make that many units. They had planned other games for the cabinet every 6 months including a Mr. Do! game that never materialized. Universal stopped producing video games in 1985. It was the second to last arcade game made by Universal with their last game being a sit down driving game Top Gear.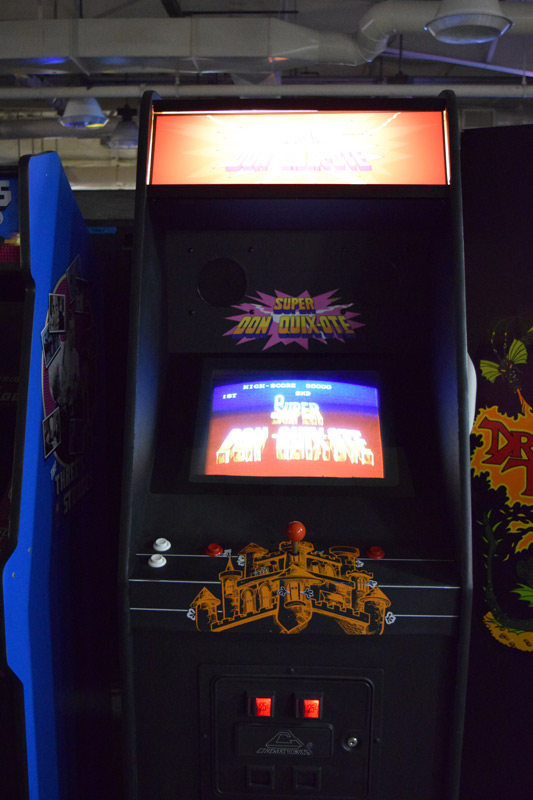 Tank (Atari/Kee Games/1974)
While Tank! upright games are fairly common the cocktail versions are rarely seen. While this is a new acquisition and may or may not be working it was really impressive to see one in person. Hopefully they can get this one working.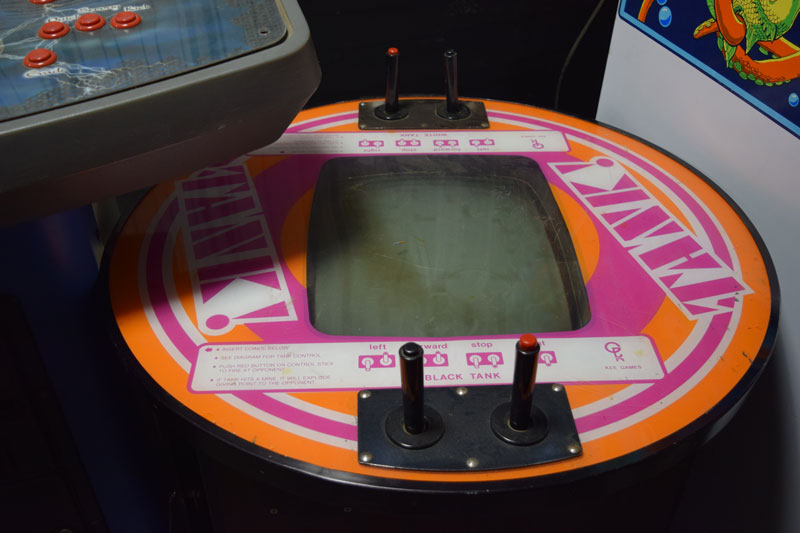 Sinistar Sit Down Version (Williams/1982)
The Sinistar sit down version is not widely seen because they were very expensive compared to the regular version but it had one thing that was a first. The sit down is the first video game with stereo sound. I really love/hate this game but will always play a sit down version when I see it.
Airball (MCI/1972)
I used to play this as a kid in the front of a department store and for years could never remember the name of the game but could tell you exactly what it was. The first time I went to the Arcade Expo press event last December I nearly passed out seeing this game again. You control a ping-pong ball with an air hose that can control the flow of air and you need to get the ping-pong ball through all of the targets in a certain amount of time. This is a real challenging game but the whole fluorescent colors are so visually impressive that this is a must play game every time I go here.
Blue Shark (Midway/1978)
This is not the video game that you see in the film Jaws (that is Killer Shark by SEGA 1972). This game is a black and white game with different depths of sea scenes that give it a semi 3-D look. You shoot sharks that are trying to get the divers. A fun little gun game that was definitely inspired by Jaws.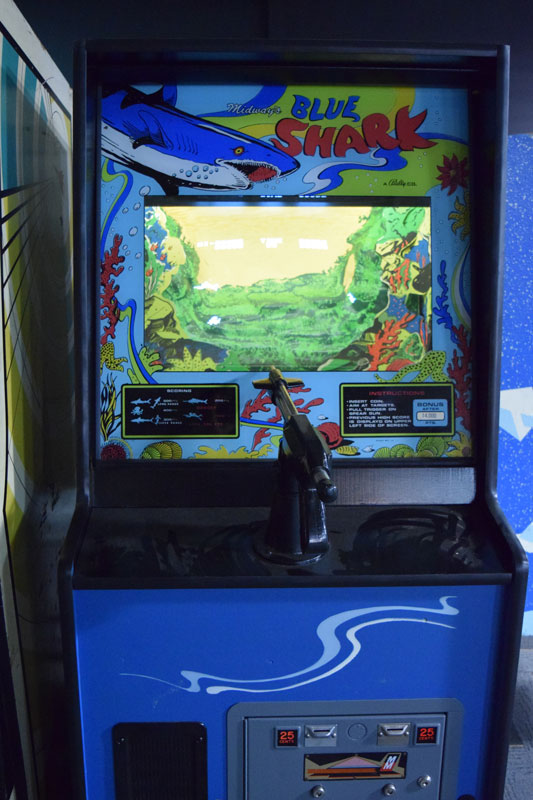 Stunt Pilot (Midway/1971)
This is a classic game that the one that they have at the facility is in immaculate condition. You fly an airplane in a circle trying to get point for flying through targets and avoiding others. If you hit something your plane changes direction. The plane is underneath and it uses mirrors to bounce the image on the play field. Mechanical game are very rare to see today and this is one of the best examples of one.
Steeplechase (Atari/1975)
Steeplechase is a black and white game that has a color overlay to make it appear that it's in color. The game is a real blast when you get six players in a race. You simply smack the button as fast as you can to win the game. Very simple but very fun.
Crater Raider (Bally/Midway/1984)
When you look at the screen for the first time you notice that it's a magnified curved screen that slightly distorts the picture. It was an attempt to make the game look bigger than it was. You are in a tank and have to rescue survivors. It's a sort of over the shoulder type game. Not great but the screen concept makes this an interesting machine.
Missile (SEGA/1969)
A real classic electo-mechanical game that has a looping film for the background and you fire missiles at the planes as they fly by. You move the mechanical toy tank to aim at them. These are exceptionally rare games to see or even play and the one here is in excellent condition. This is a must play machine that shows where SEGA started out in the coin op business.
Playtime (Midway/1974)
Everyone made their own Pong rip off game and Midway was no exception. This is a two player game that is simply pong, but considering the age of the machine it's nice to see games of its type in such great condition.
Atari Basketball (Atari/1979)
Atari made video games on nearly every sport type. While the game is pretty basic rolling those big control balls around really give you a workout. This is one of those two player games that Atari was so good at making.
Discs of Tron (Midway/1983)
While not rare or hard to find the full cabinet version of Discs of Tron the follow-up to the regular Tron arcade game is still one of the best. First it's Tron and two it's a very challenging game especially when you get to the later levels where the platforms move up and down. I have played this game a ton of times and still enjoy it every time I get a chance to play it.
GUN GAMES (ELECTO-MECHANICAL)
Finally one of my favorite areas of the facility is the Gun Room that has a nice selection of games that are in simply beautiful shape considering the ages of the machines. While most of them were not operating there were a few that people could try. The real news is the Bally Space Flight from 1969 that has been added to the area. This machine is immaculate condition and was working perfectly. This is a very challenging game and very difficult to land the ship on the rotating moon. This is a must play game and not to be missed if you go to one of the upcoming events.
Space Flight (Bally/1969)
OK while this is not a "gun game" it is in the gun-room so I am including it here. This is a very challenging electro-mechanical game where you have to try to land the lunar module on the moon while the moon is moving. Easier said than done. You have to line up the bottom of the ship with the hole in the moon crater. This game is stunning in both it's design and condition. This game really blew me away and I do remember playing this as a kid. This is a must play when you go here.
Arctic Gun (Williams/1967)
While I don't condone shooting real live animals you have to admit it's pretty cool to get a chance to hunt polar bears. With this game there is both less blood and frost bite than in real life.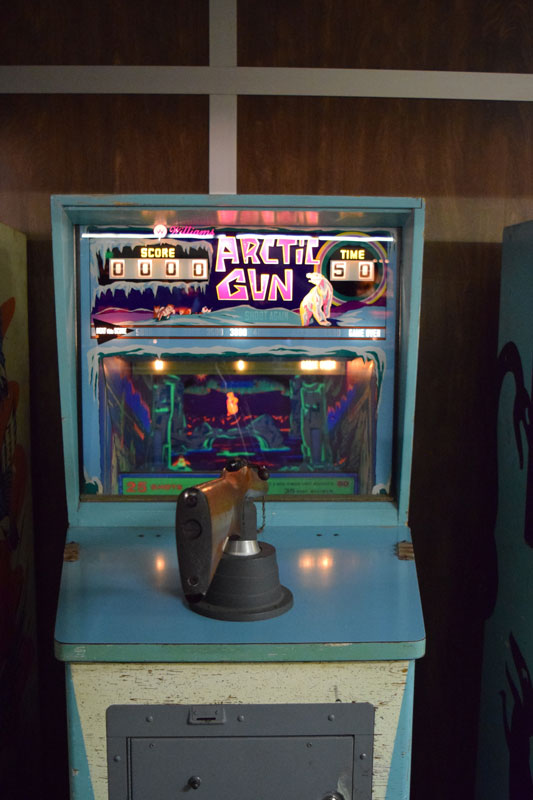 Champion Rifle Range (Chicago Coin/1962)
This is a very odd shooting game that combines shooting targets with a pinball machine. You shoot the targets as the pinball bounces around to get a higher score. It's a very neat game once you get the hang of it.
1 Million B.C. (Midway/1968)
What's better than shooting Polar Bears? Dinosaurs of course. Here you get to shoot all of them from the Brontosaurus to the Tyrannosaurus Rex. Yep it's pretty darn awesome.
It was great that Twin Galaxies is getting a permanent home but it was unclear at the press event what the plan for the future. While it has already been announced that the next Arcade Expo will be in January 15, 16 & 17th 2016 there were no firm plans currently for a Twin Galaxies event. I did find out that they are looking at a September or October for a possible date but nothing firm yet.
Here are some more photos from the event that I hope you enjoy.