frHopefully everyone had a good Thanksgiving holiday and today kicks off the Christmas shopping season with Black Friday. Make sure you stop by your local comic shop and most are offering special deals all weekend long. This was a big week for new books so let's get going.
Dark Knight III: The Master Race #1
DC Comics Story Frank Miller & Brain Azzarello, Penciler Andy Kubert, Inker Klaus Janson, Colorist Brad Anderson, Letterer Clem Robins
The big DC book of the year has landed amid speculation about Miller's actual involvement to the 53 covers for the first issue and if anyone wanted a sequel to the previous two series. I went into the book with guarded expectations and the series gets off to a soft but decent start. The one thing that I discovered was that you should read the main story before the mini comic because the story in the mini comic worked better after reading the events of the first issue. Miller and Azzarello story has all of the elements of ideas that have worked many times before in a Batman story but there in lies some of the reasons why the first issue is a little shaky. It was a good read but never quite jumped out at me and not to say that the story is bad but the first issue didn't seal the deal yet. I will give the story has some good things going for it and should build in the next few issues with this set up. The mini comic story with the Atom ended up working a little better because it's a side story from elements in the main story and was a nice short story that will continue in next months issue. Kubert and Janson's artwork on the book is very nice and while Janson can be a heavy inker at times he does a nice complement job that does not over power Kubert's pencil work. While the art is pure Kubert there is a Miller flavor that is infused into the art that keeps the book feeling in the same vein as the previous series. Is this book worth your time and money? While not a home run it was a good start that hopefully will be built upon in the next few issues. The issue that I had with the story was that it didn't really break a lot of new ground and some of the story elements were very by the numbers. I would say that it's worth buying the first issue because there is promise in it and worth it for the great artwork. Hopefully it really gets going in the next issue.
Moon Girl and Devil Dinosaur #1
Marvel Comics Writers Brandon Montclare & Amy Reeder, Artist Natacha Bustos, Colorist Tamra Bonvillain, Letterer Travis Lanham
Of all of the Jack Kirby creations I honestly never thought someone would do a modern take on Devil Dinosaur. While I love Kirby honestly Devil Dinosaur is not one of his best writing efforts. With that being said the first issue of the book builds its own universe they wisely do not forget the history of the original series. It's also another impressive attempt to reach a non regular comic reader like Ms. Marvel and The Unbeatable Squirrel Girl have done recently. While this first issue didn't knock my socks off I did enjoy the set up of the premise of the book. Montclare and Reeder give a great introduction to Lunella and making her a quite wonderful character. She is very relatable and endearing right off the bat that give the book a greatly simple charm. The story does suffer from a lot of exposition in setting up both the new and the old elements of the story. Bustos artwork was nice but there were a number of times where the detail was not there and while I liked some of his work it seemed a bit inconsistent overall. Hopefully he will get into a better groove as the series goes along. Is this book worth your time and money? I likes the start of the series and hope they have a long-term plan for the book. I did enjoy reading the book and while I am a little hesitant on the artwork the book shows a lot of promise. This is one to watch and is RECOMMENDED!
Jacked #1
Vertigo Comics Writer Eric Kripke, Artist & Colorist John Higgins, Letterer Clem Robins
Eric Kripke is best known for Supernatural television show and now he sets his sights on the comic book world and turns in a very unique and very solid book at Vertigo. In a lot of ways the concept for Jacked is pretty basic and you have read its type before but Kripke does give it a nice kick that makes it a very fun read and a good start to the mini series. He keeps the story moving along briskly in this first issue and was a solid read for a first issue. He also doesn't fill the issue with a lot of extraneous filler that plagues a lot of first issues and keeps the focus on point. Higgins artwork really seals the deal for this book. Not only does it look fantastic but the trippy drug scenes were a true visual feast and he really gives the book a balance that very few artists could pull off and Higgins nails it. Is this book worth your time and money? While the concept is not new the book was a great read and had me wanting more at the end of the issue. This book is a good ride so far and a great paring of story and art. RECOMMENDED!
Archie #4
Archie Comics Writer Mark Waid, Artist Annie Wu, Colorist Andre Szymanowicz, Letterer Jack Morelli
The new Archie continues with new regular artist Wu taking over for Fiona Staples. Waid continues to make this book a real joy to read and is dong a great story of creating great back story that is really adding to the characters that had been pretty basic over the years. He also gives the readers a good reason to come back every issue to see where the story is going to take you. Sure it's a soap opera but a damn good one. I was not overwhelmed by Wu work here compared to her wonderful work on the current Black Canary over at DC. The art seems rushed and has a noticeable lack of detail that was very disappointing but in the end not fatal. Is this book worth your time and money? This book just gets better every issue and while I was disappointed with the art it did not diminish my enjoyment of this wonderful book that continues to impress. VERY RECOMMENDED!
Black Magick #2
Image Comics Writer Greg Rucka, Artist Nicola Scott, Color Assists Chiara Arena, Letterer Jodi Wynne
The first issue was an interesting set up to the series and Rucka delivers a low-key but very enjoyable second issue. I was impressed that Rucka keeps the story moving along but still keeping things close to the vest. The story is unfolding nicely and keeping the focus tight on Black as she is trying to figure out things on the job and her secret life. Scott artwork continues to be very impressive and is really make this story work so well. Her color work on the book is really adding to the mood of Rucka's story. Is this book worth your time and money? The thing that I'm really digging about this book is that the pace of the story is unfolding very nicely and Rucka is not pushing things too fast. This is making for a great story that is going for a long-term structure that is working very well. Add in some great moody artwork and this book is turning into a real winner. RECOMMENDED!
Darth Vader #13
Marvel Comics Kieron Gillen, Artist Salvador Larroca, Colorist Edgar Delgado, Letterer Joe Caramagna
This is part 2 of the Vader Down story and while it's not quite as good as the first chapter the story is moving along nicely and gives me hope for the multi part story. Gillen keeps the story on track and while this second chapter is not as exciting as the first, it does start to flesh out some of the elements that were started in the first issue with the Jedi Temple and the Luke side of the story. There are still some good battle scenes with Vader verses the Rebels that show how powerful Vader is that hasn't really been seen before. Larroca's does a fine job on the art and has a real knack for capturing the original actors likeness that is sometimes a challenge for some artist. This is a very good-looking issue. Is this boo worth your time and money? It looks that this is going to be a good story and am excited to see where it's going to end up. If you're a Star Wars fan then this is a must buy for you.
Jughead #2
Archie Comics Writer Chip Zdarsky, Artist Erica Henderson, Letterer Jack Morelli
I was really blown away by the first issue of this new series and the second issue proves that it was no fluke. Zdarsky is creating a great first story arc for Jughead. I have to admit that I never thought that you could do a Jughead story and give it such great emotional elements that is making this a must read book. My favorite thing is the Jughead "daydream" story within a story that are such a blast to read and yet they fit right at home within the story. Henderson is a perfect artist for this book because her style fits the goofiness of the story and yet she give the art such a great visual impact that really makes the book pop in such a great way. Is this book worth your time and money? I have alway liked Jughead but I would have never thought that you could do a series based on him but Zdarsky and Henderson have proved me wrong. This book is a blast and is a great companion to the new Archie series and has me wanting more. HIGHLY RECOMMENDED!
Art Ops #2
Vertigo Comics Writer Shaun Simon, Artists Michael Allred & Matt Brundage, Colorist Laura Allred, Letterer Todd Klien
The first issue of this book was pretty wild and very enjoyable but this second issue went in a direction that I was not expecting but it worked out very well. The story takes a sharp turn and keeps a nice balance of exposition and moving the story forward. Simon's script is very imaginative and keeps the reader wondering what the heck is going on but in a weird way it all makes sense in the end. I love the fact that when your reading it there are a lot of elements to keep track of. It's not that things don't make sense but the story explores elements that are not necessarily typical paths to get through the story. What more can you say about Allred's art that fits perfectly with Simon's off beat story. There is a lot of strange visual elements that the story goes and Allred brings it all together. Is this book worth your time and money? I'm not sure where Simon and Allred are taking this story but I am hanging on a having a good time so far. There are a lot of odd twist and turns in the story and while it maybe hard for some readers I'm really loving it. This book really keeps you wondering what is going to happen nest. If you're looking for something different then you should check this one out.
Howling Commandos of S.H.I.E.L.D. #2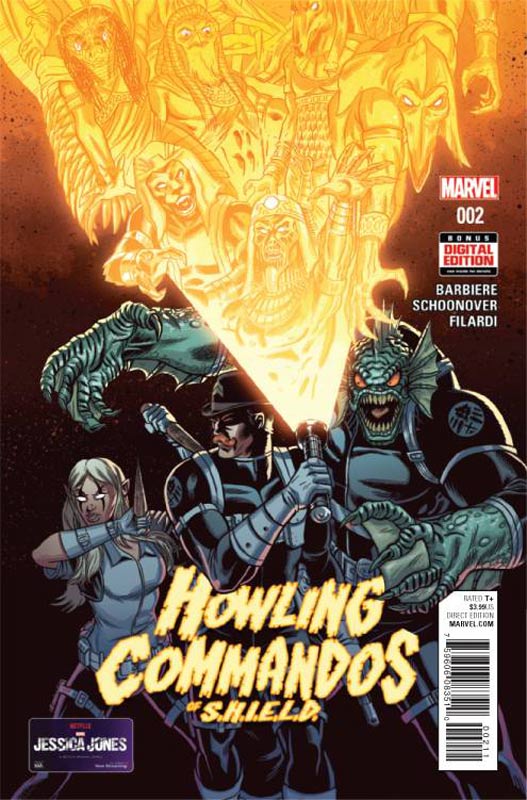 Marvel Comics Writer Frank Barbiere, Artist Brent Schoonover, Colorist Nick Filardi, Letterer Joe Caramagna
The first issue got this book off to a nice issue but the second issue really struggles. The best way to describe this book is that it reads like a Marvel Comic from the 1970's where you had a so-so story then added some other elements that attempted to make it feel fresh and new and in the end it just sits there. Barbiere's script is a by the numbers affair that you will see coming a mile away. The biggest problem is that it's just not very good and stumbles over every cliché as the story plods along. Schoonover's art is stiff and uninspired this issue. It's a throwback to the Marvel in-house style of when whoever was in the Marvel bullpen at the time would finish the issue so it would come out on time. Not terrible but very flat. Is this book worth your time and money? The first issue while not amazing was silly fun but the second issue had zero fun going for it and with a paint by numbers story and artwork are just not going to cut it in todays market. I love the idea of this book but the execution of it is pretty underwhelming and boring. SKIP IT!  
QUICK PICKS!
Will Eisner's The Spirit #5
Dynamite Writer Matt Wagner, Artist Dan Schkade, Colorist Brennan Wagner, Letterer A Larger World Studios
The first story arc is still coming along nicely and now with the Spirit back we will start seeing where he has been and why he disappeared. Solid story and art are making this a strong read every month and very much worth picking up. RECOMMENDED! 
Wild's End: THe Enemy Within #3
Boom! Studios Writer Dan Abnett, Artist/Colorist/Letterer I.N.J. Culbard
With this issue we are getting to see the bigger picture on both the martial law of the army and the fact that they have no idea of the scope of the alien invasion. Abnett and Culbard keep the story moving along nicely and the ending of this issue is a great OH SHIT! moment. Can't wait to see how this one turns out. RECOMMENDED!
Unbeatable Squirrel Girl #2
Marvel Comics Writer Ryan North, Artist Erica Henderson, Colorist Rico Renzi, Letterer Clayton Cowles
Time Travel, Doctor Doom, 1960's Fashion ?!?! Yep North and Henderson take the story in a very wild direction this issue and is a real treat to read. I'm always amazed that they come up with the wildest stories and yet keep it from spiraling out of control. This book is a great read and lots of fun. Still a winner each month. RECOMMENDED!