I know that a number of you were disappointed by yesterdays April Fools Post here at Pop Culture Maven. I wish that news was in fact true and hopefully someday Pushing Daisies will in fact return. For the record Bryan Fuller had nothing to do with yesterday's post nor did any of the cast and crew of Hannibal or Pushing Daisies. It was all my idea so don't be upset with them. I am one of Pushing Daisies biggest supporters and there was not my intention of purposely upsetting anyone. It was April Fools Day and you can't take anything seriously from the internet on that day.
To hopefully brighten up your day today I am going to share some of my pictures from the Pushing Daisies set at the Warner Bros. Lot and a few other events. I first fell in love with Pushing Daisies at San Diego Comic Con in 2007 where they showed the pilot. As you all know now, it was one of the best pilots that I had ever seen. It gave me goosebumps while watching it. I was lucky enough to go to the signing at the Warner Bros. booth and got both Bryan and Lee Pace to sign my Wonderfalls DVD. Bryan was excited that I brought it to get signed. That was the first time I met Bryan and told him that I was a fan of his shows. He was so excited to meet the fans and talk about Pushing Daisies with everyone who had seen it.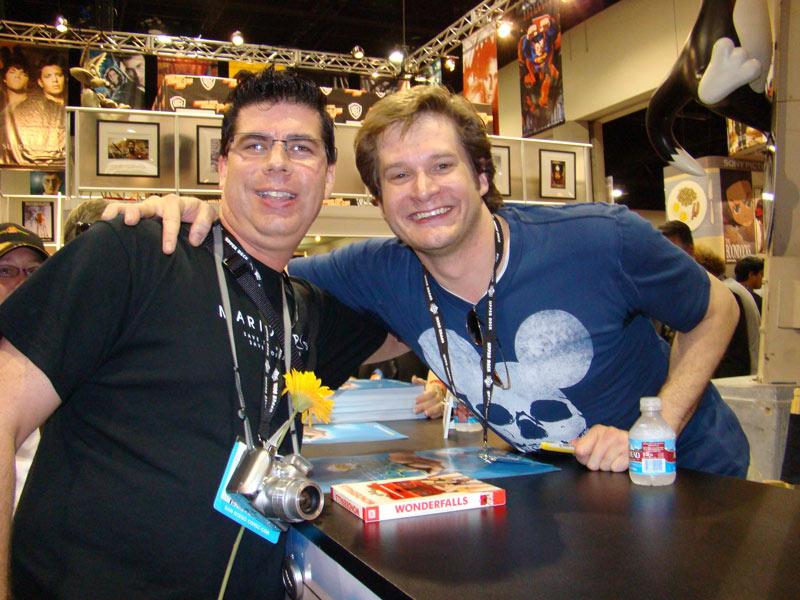 I was fortunate enough to work at Warner Bros. while Pushing Daisies was in production. I was able to meet Bryan Fuller at his office on the lot and found out what an amazing person he is. He is the kind, thoughtful and very gracious. He also gives the best hugs. I also found out that we both had something in common, he is a big of geek too. I also met a number of the cast and crew when visiting and was fortunate enough to be on the set for the next to last day for the final episode Kerplunk. I have been on sets before but none were as calm and comfortable than the Daisies set that night. Every person was super nice and the writers of the episode Gretchen Berg and Aaron Harberts were super nice and made sure that I was having a good time. They had me sit with them and the director Lawrence Trilling all evening. It was a long night shoot of the pool sequences but everyone was in such great spirits even with knowing it was the last episode. There were only a few of us there when Ellen and Swoosie were swimming and Ellen was telling us to make lots of crowd noise to help them get in the mood. This was easily 2 am and they both still had this amazing energy.
Some of the photos are a bit blurry because you didn't want to use flash photography on the sets. The sets were truly spectacular in person. The detail that was put into them was breathtaking. I was also there when they were taking down the sets and Jeff Johnson the Property Master let me have a few of the minor props that were going to be thrown away. It was very bittersweet and was overcome with emotion that day. ABC did not originally aired the final 3 episodes and the The Paley Center for Media at the Paleyfest that year show the final episodes. Brian, Ellen Green, Chi McBride and Barry Sonnenfeld came to give the show a proper goodbye. Bryan also brought some props to give away and both Bryan and Ellen stayed until everyone who wanted to talk to them got a chance. After the final episode was shown the crowd gave a standing ovation through the credits and for a good 10 minutes for Bryan and the others. Everyone was moved with emotion that day.
I have been very fortunate to be able to call Bryan a friend and have continued to be one of his biggest supporters. But I will always cherish the wonderful memories of seeing the sets and fortunate enough to say that Pushing Daisies changed my life and always has a magical place in my heart forever. The final line in Kerplunk says it all, "At that moment, in the town of Coeur de Coeurs, events occurred that are not, were not, and should never be considered an ending. For endings, as it is known, are where we begin."
 I hope that you enjoy the photos and support Bryan by watching his current show
Hannibal
that airs on NBC Friday nights at 10pm. If you want to read the Bryan Fuller interview that I did with him discussing Hannibal and Pushing Daisies you can find that
HERE
.